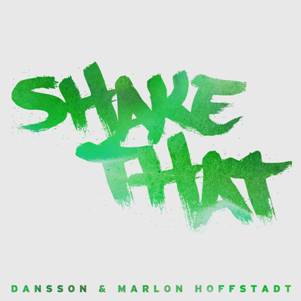 Dansson & Marlon Hoffstadt – Shake That
Marlon Hoffstadt & Dansson's 'Shake That' has proven to be one of Ibiza's biggest hit of the year – a claim supported by the fact that Shazam found that it was the second most searched for track during the entire summer season. Now the resurgent FFRR label are set to bring the magic of 'Shake That' to the UK for a full release in March.

Gradually evolving over the course of seven hypnotic minutes, 'Shake That' utilises deceptively simple elements – the irresistible rolling bassline, stripped-back beats and an imaginative vocal sample from Nate Dogg's 'Get Up' – to demonstrate why so many people have been desperate to discover exactly who is behind this addictive, pop-driven take on deep house. 'Shake That' has previously been named as Track of the Week by Ministry of Sound radio, and earned early support from Pete Tong and Roger Sanchez.

Still just eighteen-years-old, the Berlin-based producer Marlon Hoffstadt effortlessly blend attributes from house and pop to create productions which brim with emotion as well as his own distinct sense of character. His debut EP 'You And A Lovestoned Ghost' was released by Germany's Evamore Music and featured guest vocalist courtesy of Amy Lyon.

Subsequent releases have featured collaborations with David Keno, HRRSN and Cleov, and have been released by labels including BBE, K7 Records and Off Recordings. Previous support has come from the likes of Richie Hawtin, Nico Pusch and Phuture Traxx. Hoffstadt also created a You Need To Hear This mixtape for Noisey.

Dansson, a Swedish producer who is now also located in Berlin, was firmly established as a leading ghost producer for several years before recently focusing on his own material. In addition to 'Shake That', Marlon Hoffstadt & Dansson have also released the track 'Hot Strings'.