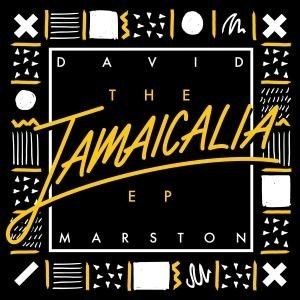 David Marston – The Jamaicalia
Up next on Soul Clap Records is the break-out debut of talented young David Marston. Soul Clap originally took notice of David a couple years back when he sent them "Gruv", a deep saxophone driven bomb that became the A side of the Jamaicalia EP. Then it took over a year for him to feel ready with his next body of music, which included the future Deep 4 Life anthem "I Don't Want", "My Love Will Be Crying" and "Trust Me". For this EP they also have the world premier of Gemini Love aka Crew Love's three headed and two faced monster, Eli Goldstein, Gadi Mizrahi and Nick Monaco, who have gotten together to present a punky, funky remix of "I Don't Want".
BACKGROUND
Marston's roots reach back to his city of birth, Chicago, then spread to the island of Jamaica, where he grew up fascinated with the new world of sound around him. Early guitar training and eclectic musical influences exposed him to classic rock, the blues, jazz, reggae and dub; inexorably the emotive power of music took its hold on him. Now he represents the city of Philadelphia and strives to make music that combines varied, contrasting, and diverse musical elements in a manner that is both intricate and elegant.
About his EP, titled Jamaicalia, in David´s words: "Jamaicalia is a marriage of Jamaica and Tropicalia. I first encountered the term Tropicalia as the caption of a photograph taken in Jamaica. Intrigued, I discovered that Tropicalia was an avant-garde art movement that was started in the 1960s in Brazil. The movement came to exemplify cultural hybridity. It encouraged cultural syncretism: the merging of various and divergent artistic influences with the purpose of creating something novel and powerful. I am fascinated by Brazilian music, and the songs that are featured on this EP undoubtedly have strong Brazilian influences. My music, to a great extent, is the result of fusion; it is a creolized music, a pastiche of diverse styles. While my music is not typically Jamaican, Jamaican culture has had a significant influence on my approach to music creation. For me, Jamaicalia is an apt title for this body of music, because it embodies an experimental amalgam of world and dance musical elements."