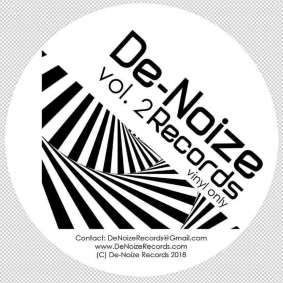 Various Artists - De-Noize Records Volume 2
New York label De-Noize Records is back with another limited edition vinyl only EP that packs a real punch across three standout tracks from Malbetrieb, Paul Ursin and Audio KoDe.
Established in 2013 this label offers up a mix of established artists and hot newcomers, with a sound that is always eclectic and inspired by some of NYC's hottest clubs from the 80s to the present day. This year, De-Noize and friends will return to the infamous Cavo Paradiso (Mykonos) to showcase the label and its success over the last five years.
Opening the EP, Dutchman Malbetrieb has a passion for melody and progressive house sounds. He runs his own Klopfgeist label and has released the likes of Darko Esser and Tale of Us, and the subtle build towards euphoria that characterises his tracks is present and correct in 'Sonic.' It's a deep house track with solid kick drums and majestic, cosmic synth lines doing a slow dance up top that really gets you under its spell.
Next up, Paul Ursin has been in the game for the last decade and from official Simple Minds remixes to originals on Noir Music he has a truly global fan base. His excellent 'Connection' is a twisted tech tune with molten synths gurgling away beneath edgy pads. The drums are stark and the whole atmosphere is compelling throughout, with the rugged groove driving the whole club forward when it drops.
Last of all, American producer Audio KoDe is an insane turntablist who has opened for P Diddy on world tour, played all over the globe and been a resident at Cavo Paradiso as well as releasing on the likes of Get Physical. His 'Final Moment' is an excellent track with huge airy and swinging drums. It's where house and techno meet with emotive pads and hypnotic rhythms all carrying you away into the night.
This is an truly interesting EP that showcases three original productions from a trio of top artists.
Tracklist:
1. Malbetrieb – Sonic (Original Mix)
2. Paul Ursin – Connection (Original Mix)
3. Audio KoDe – Final Moment (Original Mix)