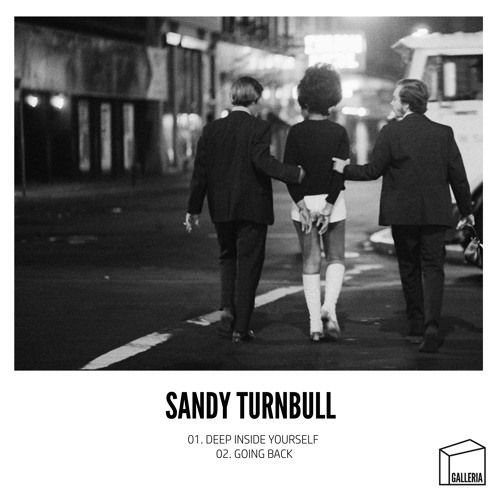 Sandy Turnbull - Deep Inside Yourself / Going Back
Hot off the heels of his filtered disco house gem, 'Make Me Cry', Sandy Turnbull rides through the gates of 2017 armed with a new EP, which features two supercharged slabs of exquisite house – 'Deep Inside Yourself' and 'Going Back'. Fans of Turnbull, arguably one of the most versatile UK producers around right now, will be delighted when the Galleria Records label-don unleashes his latest material on 3 February. Turnbull combines impeccable production with intelligent use of percussion and sampling, to deliver yet another taste of dancefloor heaven.
2016 was an exceptional year for the long-standing UK producer, Sandy Turnbull. Focused, as always, only on the dancefloor, the quality of his productions continues to push him further into the spotlight. In addition to the release of 'Make Me Cry', he received an overwhelmingly positive response to his 'After Comiskey Park' EP, with support from the likes of Tony Humphries and Mark Farina, and enjoyed some impressive accolades from the world's leading dance press. Over his 15 year career, his output – whether deep, jackin or disco – has remained solid, constantly impressing the DJ elite, including Derrick Carter, DJ Sneak, Soul Clap, Todd Terry, MK, Jimpster, Doorly, Groove Armada and more; as well as attracting a range of quality labels to sign his work, including Guesthouse, Solid Ground, Look At You, Heavy, and Open Bar Music.
Turnbull has dazzled dancefloors worldwide with his killer tunes, including his Traxsource #1 'The Most Fantastic Thing' featuring DJ legend Danny Krivit (which spurred the re-launch of Soulfuric Deep), and with his Traxsource House Chart #1 'Camino' released on John Julius Knight's Blacklist label.
The leading track from Turnbull's latest EP 'Deep Inside Yourself', is a smouldering slice of underground house, scattered with filtered disco, spacey effects and a cool female vocal hook set to an addictive cowbell infected groove.
Turnbull keeps the dance floor well-oiled with more percussive, hip-swaying disco beats on 'Going Back', delivering a slow burning groove teased with filtered sweeping strings and evocative vocal samples.
'Deep Inside Yourself' marks Galleria Records' 9th release and its first of 2017, a year that will see Sandy Turnbull continue on his mission to provide the finest house music, infused with grooves to fill any dancefloor.
www.soundcloud.com/sandy-turnbull
www.facebook.com/sandyturnbull.music/
https://twitter.com/sandyturnbull
www.instagram.com/sandyturnbull