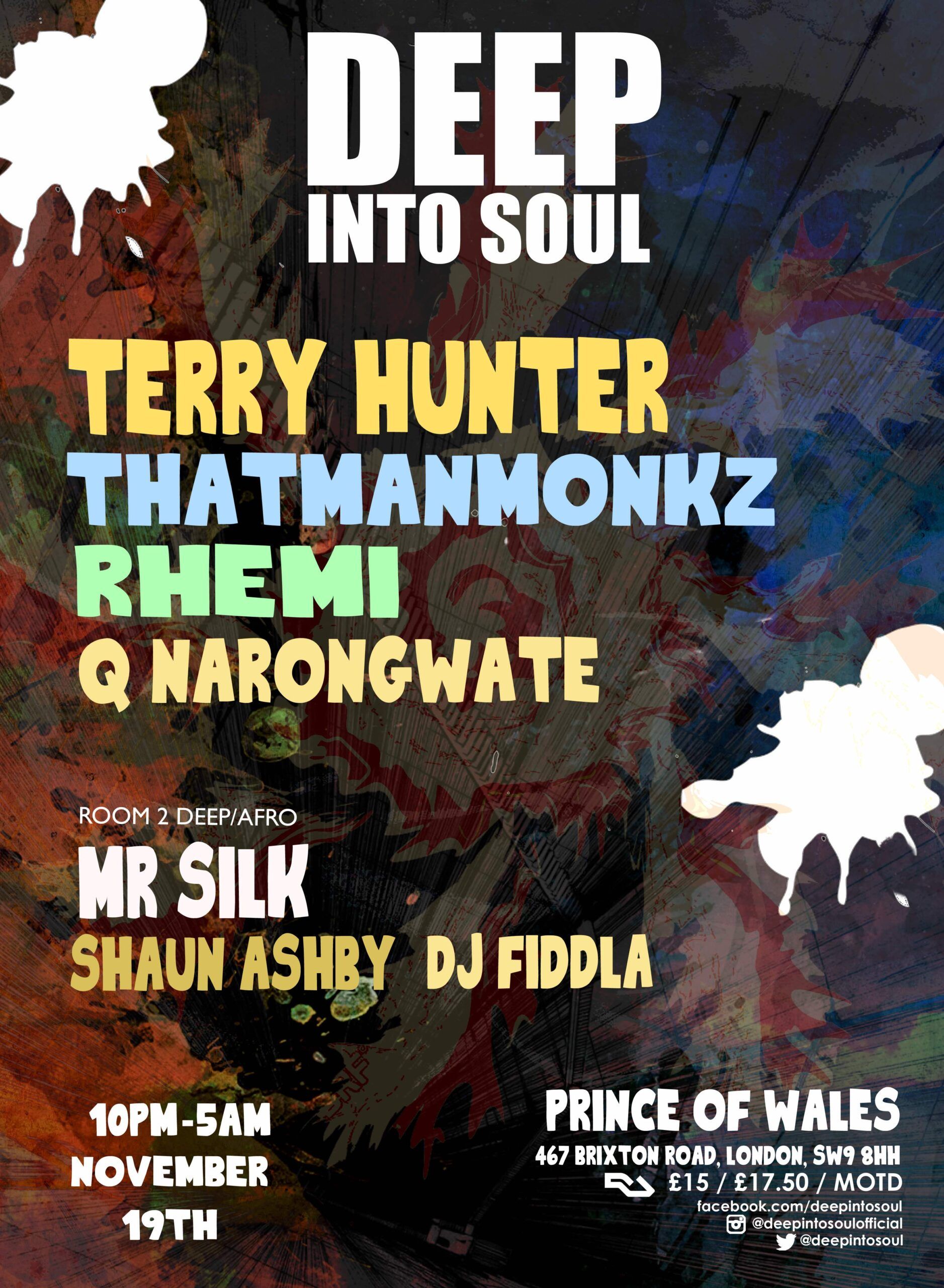 Deep Into Soul
Deep Into Soul round off their residency at Brixton's Prince Of Wales for 2016 delivering a timely booking for one of the hotly tipped producers of the year thatmanmonkz spinning alongside Chicago's legendary DJ & Producer, Terry Hunter, behind the seminal 'When I Fell In Love' and his T's Box label. Joining the residents Rhemi Music's Neil Pierce and Ziggy Funk on Saturday November 19th get set for one of the capital's most explosive and friendly house music parties.
Chicago native, Terry Hunter, has traveled the globe sharing his passion for soulful house music while continuing to produce dance floor hits for his Ts Box record label. Terry debuted on the scene with 'Madness', a basement-style track that became much more in the 90's before going on to mastermind UBQ Project's seminal 'When I Fell In Love' track on Music Plant. From here he started to tour his uniquely soulful and deep house sound across the globe and is a regular fixture at the Suncebeat Festival in Croatia, and Mi-Soul and Soul Heaven in Ibiza, with regular shows on Mi-Soul radio. With a huge catalogue of tracks alongside longtime friend Kenny Dope, Terry also remixed the Kanye West track Addiction (Dope Wax), which has become a staple in DJ record crates.
Hotly tipped UK DJ & Producer, Thatmanmonkz is still being hailed for his debut full-length, Columbusing, on Delusions Of Grandeur in January this year and in little over three years Sheffield-based Scott Moncrieff has since clocked up releases on Classic, Kolour LTD and Delusions of Grandeur while taking care of his own Shadeleaf Music imprint.
'monkz manages to tread a fine line of simultaneously picking up props from all angles and wrecking dance floors the world over whilst remaining resolutely underground, and focused on the more interesting corners of dance music. RA stated that 'Despite the pivotal part his hometown has played in electronic music history, you can't shake the feeling that if this were the work of some auteur from Detroit, thatmanmonkz would receive much wider recognition from the house community'. Prior to this, 'monkz was best known his work alongside Toddla T as Small Arms Fiy.
Phuket's Q Narongwate has built up a huge following on the island for his distinctive style of deep n' dubby soulful house rocking the dance floors at events such as Soundwave Sundays Beach Party at Laem Singh, Stereo Lab, Catch Beach Club, Bliss Beach Club and his monthly residency with the Phuket House Mafia. He's garnered high praise fom his peers across the world including Louie Vega who tips him as "The best DJ on the island" and Parrish Wintersmith (electronicamagazine.com) "Q has good taste along with a keen knack for track selection at the right time". With productions on labels such as South Soul, Yaak, and Soundpersecond, DiS is proud to showcase the London debut for Thailand'd DJ Q.
Joined by the prolific residents Rhemi Music's Neil Pierce & Ziggy Funk, whose Rhemi Music is one of the UK's flagship house label now up to its 28th release with 'Feeling Myself' by The Journeymen, and which launched the career of UK vocal group, Hanlei. Completing the party line up is
The party continues as Room 2 heads into afro, latin and the deep house sounds of Mr Silks best known for his #BANGtheDRUMS show on BANG Radio 103.6FM every Thursday at 10pm. Igniting the dancefloor with smooth mixes of foot stomping delight Mr Silks has worked with DJ Chuckie (Let theBass Kick) and Party Squad (Holland) as well as DJ-ing and hosting parties for Hollywood superstars such as Will Smith, Samuel Jackson, alongside music Superstars such as Faith Evans, SWV, Akon,Musiq Soul Child and The Prince of Brunei. Mr Silks joins the much loved party residents Shaun Ashby and Deejay Fiddla keeping the dancefloor moving with a smorgasbord of house sounds until the sun rises.
Get ready to dance your ass off with an insanely friendly young dance crowd that appreciate some of the finest house music that the capital has to offer in an unrestrained party atmosphere. A hotly anticipated gathering to close off Deep Into Soul's blazing year and can't wait to take the journey!
Bearing all this in mind, please get your tickets early to avoid disappointment, and Early Birds are only £12.00 and see you on the dance floor!!
Having celebrated their 5th Anniversary in March, Deep Into Soul continue to carve out their own unique niche fusing a blend of all things house from legendary International headliner DJ/Producers such as Danny Krivit, DJ Spinna, DJ Spen & Teddy Douglas from the Basement Boys, Joey Negro, Paul 'Trouble' Anderson, Fish Go Deep and many more alongside stellar longstanding Resident DJ/Producers Neil Pierce & Ziggy Funk aka Rhemi Music, on fire right now for their hugely soulful belter 'Mask Off' featuring Lifford and Hanlei, which Louie Vega has been hammering all summer & notched up a No 1 in the Traxsource Soulful House 10.