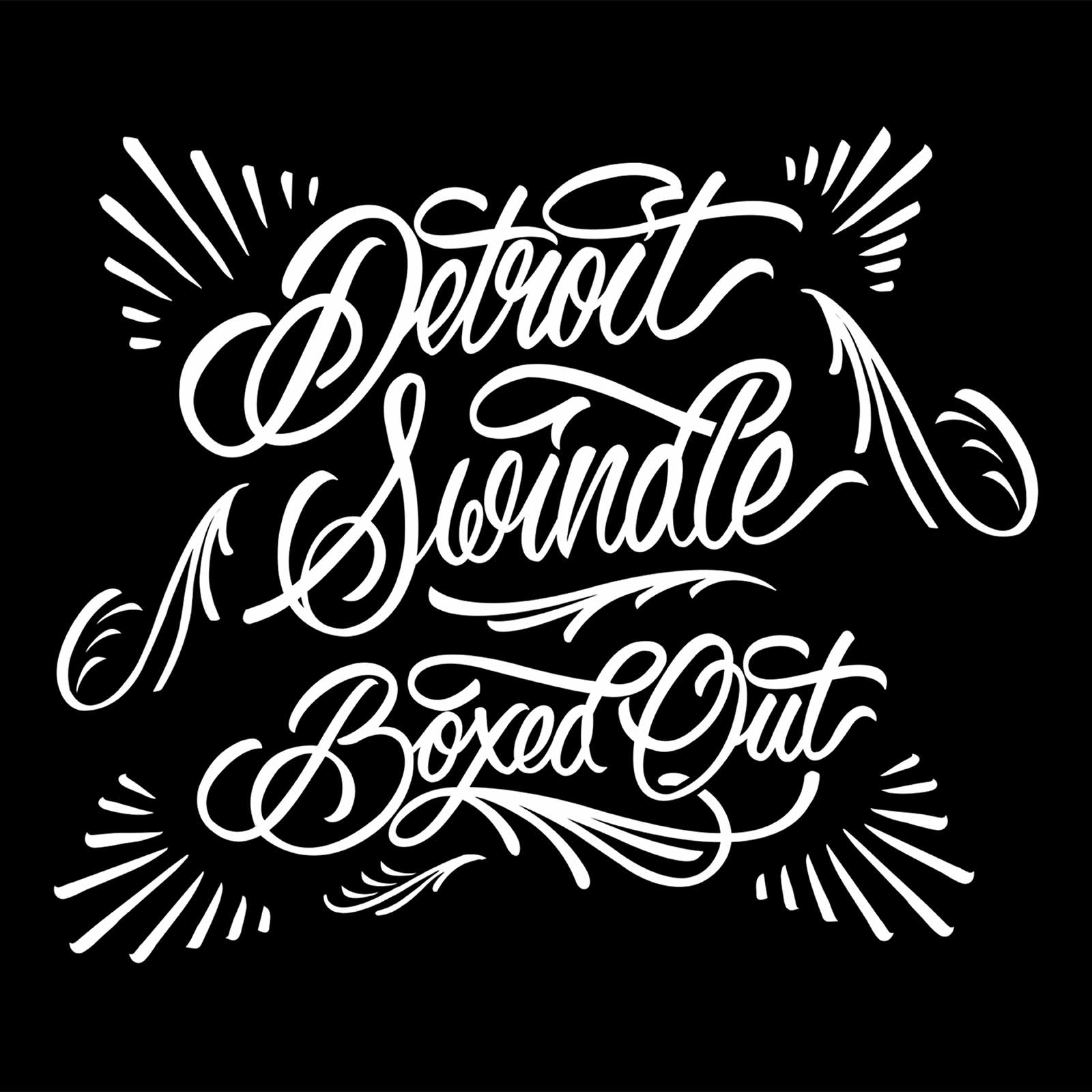 Detroit Swindle – Boxed Out
Lars Dales & Maarten Smeets have had quite a run the last few years. From making music for the hell of it, to making tens of thousands of fans all over the world happy with their releases, mixes and performances; it's almost like they appeared out of thin air. With a string of releases on renowned labels like Dirt Crew, Freerange and Tsuba and now their own Heist imprint alongside remixes for the likes of Greco Roman, Club Mod, Jalapeno and Room With A View, they've sucker punched the house scene and waved around their 12" scepter to rule them all. Now the Amsterdam based duo reveal their debut album on the label where it all started.
Having released their debut EP 'Nothing Else Matters' on Dirt Crew in 2012, the cat was well and truly out of the bag. Featuring the now 'classic' Detroit Swindle track 'Jick Rames' the EP proved a massive breakthrough with its ultra slow tempo combined with Detroit / Chicago-esque feel and hip hop attitude and the world began to take notice.
Along with their well received release on Huxley's Saints & Sonnets, this marked the jump start of their musical career and defined the sound the guys would take, combining early 90s garage styles with deeper Detroit and Chicago house influences. Their music sounded so fresh and new that you could immediately pick out a Detroit Swindle track when you heard it in clubs. It was something about their way of building breaks and especially the rhythms that had a typical 'Detroit Swindle' style with lots of shuffle and off-grid action going on.
The new album is preceded by the single 'Huh, What!' which also boasts a jacking techno remix from Lazlo Dancehall (aka Leon Vynehall and A1 Bassline) which leads us neatly to the duo's new opus, 'Boxed Out'. A 13 track DS symphony. It has everything you would expect from the Swindles: some slow grooves with a hint of disco, some deep house, some banging club monsters and hey, even some leftfield hip hop jams.
The album opens with 'B.Y.O.', a track that balances nicely between the DS shuffle and an old school New York style block party. The track is a taste of things to come, hinting towards a big party vibe but mellow enough to make it a really interesting listen.

The one thing Detroit Swindle are known for best is their knack for picking the right vocals. For 'Boxed Out', they came up with some perfect partnerships. They recorded '64 Ways' with none other than one of America's finest soul singers: Mayer Hawthorne. Being a fan of their sound he proposed a collaboration in return for a remix. '64 Ways' has a lazy shuffle, a bunch of catchy rhodes chords and a few well placed layers of synths that give this track a hint of 'Detroit Experiment', wrapped up in an almost poppy house jam.
One of the other vocal tracks is 'Thoughts of She', that effortlessly samples the voice of UK soul singer Alice Russell from Quantic Soul Orchestra's 'Pushing On'. There's also the gorgeous track 'Center of Gravity' that has Berlin based, Ghanese-Canadian soul singer Sandra Amarie on vocals. If there is one track that reflects the true spirit of Detroit Swindle's music, a mixture of soul and UK garage meets Detroit house slowed down to a sexy groove with some of their trademark pads and stabs, then this surely is it.
They have also pushed themselves to explore different tempos, which not only resulted on some slow house burners, but also in two hip hop tracks. 'For the Love of…' is a homage to the old school sounds of J. Dilla, A Tribe Called Quest and The Pharcyde, combining off-beat shuffles, a gritty bass line and a warm cut-up soul sample. 'You, Me, Here, Now' is almost a love song, disguised in a s(w)ing-a-long down tempo type of track. It's one of those 'one more tune' kinda tunes.
So there's hip-hop, there's soulful vocals, but It just wouldn't be a Detroit Swindle album without a few bangers on it. 'Huh, What!', 'Shotgun', 'The Fat Rat' and 'He's Just This Guy, You Know?' are all relentless dance floor monsters, pushing the tempo to match old school Chicago and New York house cuts from the late 80s and early 90s.
With these tracks 'Boxed Out' has a great combination of gritty percussion, hot vocals and catchy chords and it is this recipe that has become the much-loved trademark of Detroit Swindle's house universe. The album has a little bit of everything in exactly the right dose, making it both a good listen and an extremely infectious club album.
Their tremendous rise in the house scene has already seen the duo perform across the UK, Ireland and European mainland every weekend for the past two years, gaining much respect with both their DJ and live sets whilst this year will also see the pair tour the USA, Australia, Asia and South Africa as Detroit Swindle continue to bang the box!