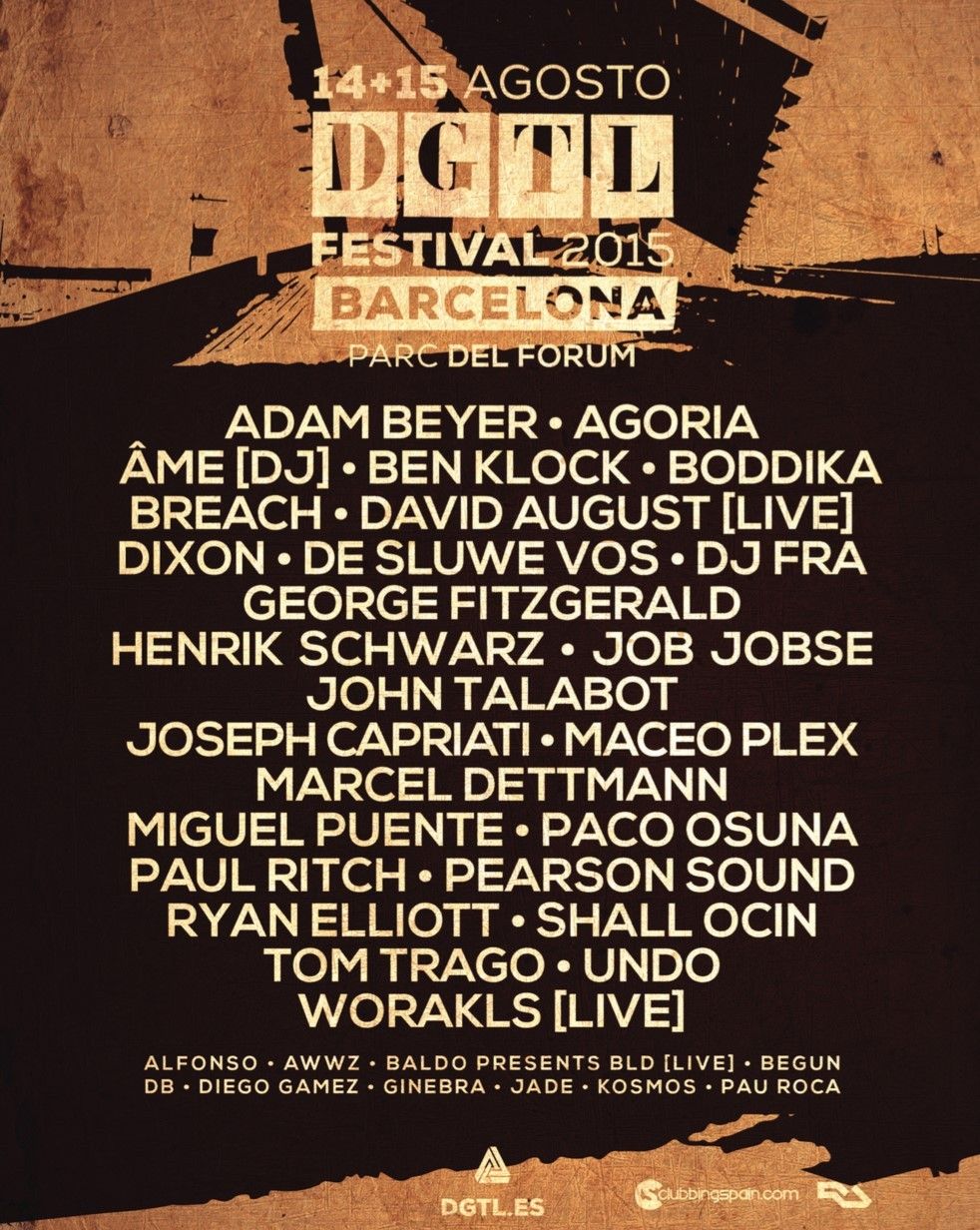 DGTL Festival Barcelona confirms Adam Beyer and Henrik Schwarz
Barcelona, June 22.- The DGTL Festival 2015, which this summer travels for the first time from Amsterdam to sunny Barcelona, has revealed this edition's full line-up. Adam Beyer and Henrik Schwarz are the last two additions to a bill also featuring Maceo Plex, Ben Klock, Âme, Marcel Dettmann and Joseph Capriati, along underground masterminds John Talabot, George FitzGerald and Job Jobse. The festival will take place in August Friday 14 and Saturday 15 at Parc del Forum, thus becoming the only electronic music event to be held in the city this month.
During the weekend, more than 40 national and international artists will present the best of electronic music on three stages located in a unique setting. The bill also features emerging names from the local scene, as well as others from the Netherlands, the festival's country of origin.
The Amsterdam-based Festival divides its program into music, an interesting digital art proposal to be held also at Parc del Forum and a Sustainability Program. In this regard, on Saturday June 20 DGTL Barcelona hosted Surf & Help, aimed at collecting garbage on the beach to prevent marine animals from dying when confusing food with debris or becoming trapped in plastic container, putting their lives at risk. Volunteers were given a free day ticket.

On 14 and 15 August, Parc del Fòrum will turn into one of the leading underground festivals of the industry, which focused on progress in all aspects. You may see new designs of scenarios and lighting and art installations. Special emphasis will be made on innovations in sustainability through the DGTL Revolution Project, which last October was awarded with two of the four stars of 'A Greener Festival'. This year's edition will focus on Plastic Waste. DGTL will launch an intensive program aimed at collecting, sorting and recycling of all plastics used during the festival.

Want to join the DGTL Barcelona experience? See the complete schedule and info on tickets and packs on www.dgtl.es.
LINE-UP
in alphabetical order
Agoria (FR)
Adam Beyer (SWE)
Alfonso (ES)
Âme [DJ] (DE)
Awwz (ES)
Baldo presents BLD [live] (ES)
Begun (ES)
Ben Klock (DE)
Boddika (UK)
Breach (UK)
David August [live] (DE)
DB (ES)
De Sluwe Vos (NL)
Diego Gamez (ES)
DJ Fra (ES)
Dixon (DE)
George FitzGerald (UK)
Ginebra (ES)
Henrik Schwarz (DE)
Jade (ES)
Job Jobse (NL)
John Talabot (ES)
Joseph Capriati (IT)
Kosmos (ES)
Maceo Plex (US)
Marcel Dettmann (DE)
Miguel Puente (ES)
Paco Osuna (ES)
Pau Roca (ES)
Paul Ritch (FR)
Pearson Sound (UK)
Ryan Elliot (US)
Shall Ocin (ARG)
Tom Trago (NL)
Undo (ES)
Worakls [live] (FR)

EVENT INFO
Event: DGTL Festival 2015 – BARCELONA
Dates: 14 + 15 August
Times: 15.00 – 03.00 (Friday) and 15.00 – 03.00 (Saturday)
Venue: Parc Del Forum, Barcelona
Ticket sale: www.dgtl.es/tickets
Weekender €59,50 – Day ticket €32,50
Line-up: http://dgtl.es/en/line+up/

Event: https://www.facebook.com/events/1062271370467394/
18+ event
For more information and high resolution, royalty free pictures contact:
DGTL Barcelona Press & PR Office:
[email protected]
Marketing Manager DGTL
David Opdam
[email protected]
+316 27544789