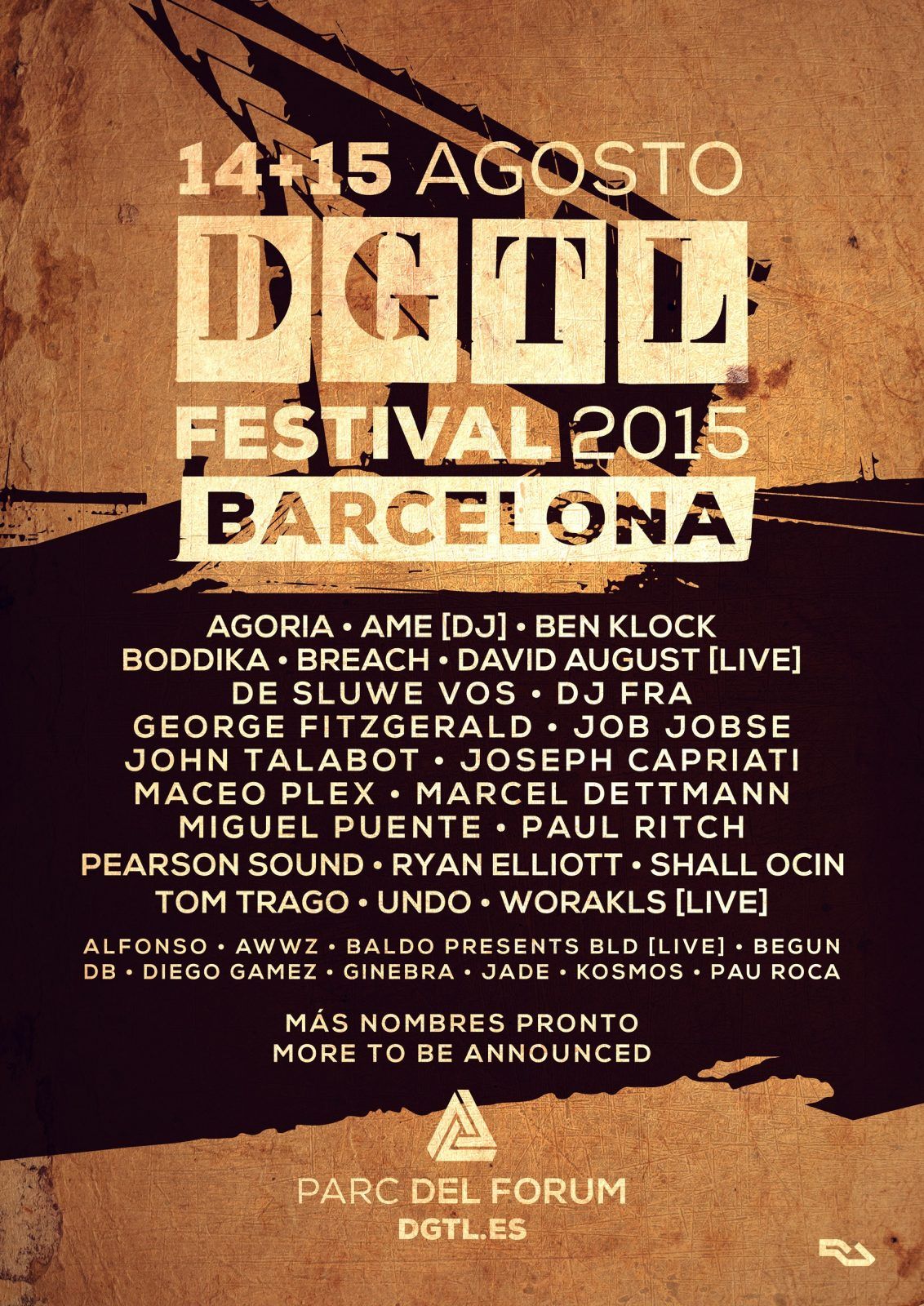 DGTL Festival Barcelona
DGTL festival 2015 travels to always-sunny Barcelona for the very first time this summer and just announced its comprehensive two-day, weekend lineup moments ago!

The highly anticipated first DGTL Festival Barcelona is set to take place on Friday 14th and Saturday 15th of August in Parc Del Forum. 40 artists will showcase the best of innovative electronic music around today at 3 beautifully located stages.

Headliners include Maceo Plex, Ben Klock, Âme, Marcel Dettmann and Joseph Capriati, as well as underground masterminds such as John Talabot, George FitzGerald and Job Jobse.

The second release of the line-up will reveal more big guns soon. Tickets for DGTL festival Barcelona are now available.
The Amsterdam based festival – renowned for it's total concept of line-up, Art and Sustainability program – settles in Parc del Forum, a gigantic concrete platform on the Northern part of Barcelona's beautiful coastline and is a match made in heaven for DGTL. The venue will be transformed into one of the industry's leading underground festivals, with a progressive approach on every aspect. Expect innovative stage designs and lightning, art installations and sculptures from around the world and sustainable innovation through its DGTL Revolution project, which has been awarded a two out of four star rating by 'A Greener Festival' last October. The theme of this year's Revolution in Barcelona is Plastic Waste. DGTL will run a full program for separating and recycling all plastic used during the festival.

Want to join the DGTL Barcelona experience? For the full program, tickets and travel packages keep please visit our website www.dgtl.es

Special priced tickets for DGTL festival Barcelona are now available!
Early bird weekender (€55)

LINE-UP
in alphabetical order
Agoria (FR)
Alfonso (ES)
Ame [DJ] (DE)
Awwz (ES)
Baldo presents BLD [live] (ES)
Begun (ES)
Ben Klock (DE)
Boddika (UK)
Breach (UK)
David August [live] (DE)
DB (ES)
De Sluwe Vos (NL)
Diego Gamez (ES)
DJ Fra (ES)
George FitzGerald (UK)
Ginebra (ES)
Jade (ES)
Job Jobse (NL)
John Talabot (ES)
Joseph Capriati (IT)
Kosmos (ES)
Maceo Plex (US)
Marcel Dettmann (DE)
Miguel Puente (ES)
Pau Roca (ES)
Paul Ritch (FR)
Pearson Sound (UK)
Ryan Elliott (US)
Shall Ocin (ARG)
Tom Trago (NL)
Undo (ES)
Worakls [live] (FR)

More to be announced…
EVENT INFO
Event: DGTL Festival 2015 – BARCELONA
Dates: 14 + 15 August
Times: 15.00 – 03.00 (Friday) and 15.00 – 03.00 (Saturday)
Venue: Parc Del Forum, Barcelona
Ticket sale: available now via www.dgtl.es/tickets
Early bird weekender (€55,-)
Line-up: http://dgtl.es/en/line+up/

Event: https://www.facebook.com/events/1062271370467394/
18+ event