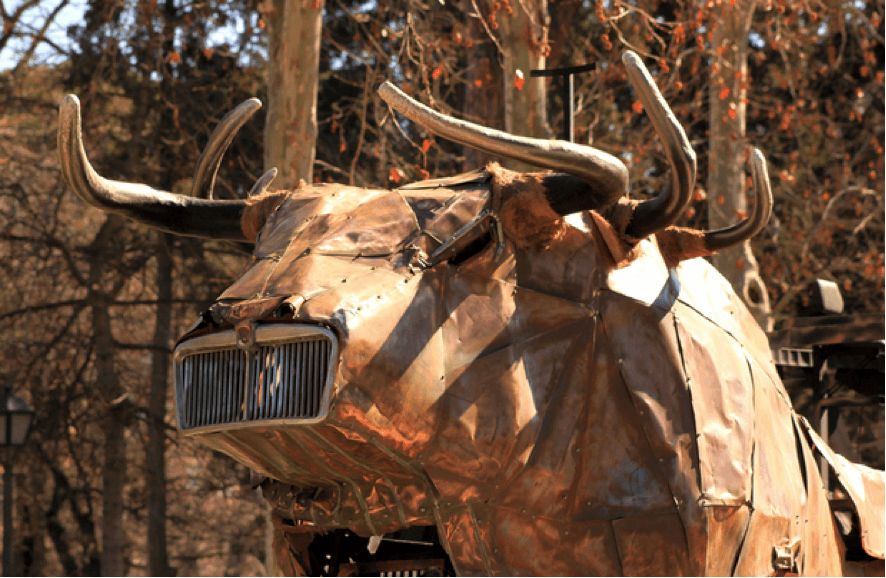 DGTL hits Barcelona next weekend
DGTL's weekend of electronic glory is getting closer. DGTL Barcelona announces its timetable and the full DGTL Art line-up, which will showcase a variety of innovative lighting, futuristic sculptures and crazy interactive performance acts to enhance the ambiance. Extravagant futuristic art will flood Parc del Fòrum for the delight of attendees, who will see Toro Viriato's and Big Man's sculptures by Carros de Foc; Mapping Screenings on the Parc's solar panels, turned into screens by Slurp.tv; stage visuals by Phono; Paquito's Big Metal Tree, that will serve as a meeting point for many an attendee; and the Lasers Plaza.
All this in an environment with a total DGTL look and feel. Attendees will enter the festival by crossing a gate made with 44 containers, lending it the industrial touch that characterizes it. Shadow areas will also have a DGTL's touch, as well as all the festival's trash bins, made with giant cans.

DGTL is the world's only festival with a Trash Army of its own, made up of volunteers who will work in three different shifts to collect the trash left by attendees and, what's most important, to recycle it . The Trash Army initiative of DGTL Revolution, the sustainability pillar of the festival, has been carried out since the festival's first edition celebrated in Amsterdam. It was also implemented for the first time in Barcelona at last year's Sonar Festival, where a volunteer team collected the rubbish left at the San Sebastià Beach after several days of partying and dancing.
A Yummy Foodie Line-Up
Along with announcement of the full line-up, DGTL Barcelona has also presented the gastronomic choice for this year, which comprises several food trucks among which are Green Heart and a huge selection of thai delicatessen; The Dog is Hot's famous hot dogs; Patatera's gourmet potatoes and the Mediterranean cuisine with German touches by Fogons Urbans. In addition, there will be a Mojitos & Sangria Bar and a Maka Maka stands selling for two days Barceloneta's most popular burgers. During the days before the festival Maka Maka's famous beach stand will launch offers to give away tickets among its customers.
Revolution Market & Cashless
DGTL Barcelona has also announced other novelties, such as the presence of the Revolution Market selling sustainable and/or local brands; Cashless points for online purchasing (purchases will be returned if need be after the event, or the chance to rent chargers in the venue.)
DGTL Barcelona
DGTL travels from Amsterdam, where it's already an established festival, for the first time to sunny Barcelona this summer. The line-up feautres Maceo Plex, Ben Klock, Âme, Adam Beyer, Henrik Scwarz, Marcel Dettmann and Joseph Capriati, along with underground masterminds John Talabot, George FitzGerald and Job Jobse. The festival will take place in August on Friday 14 and Saturday 15 at Parc del Forum, thus becoming the only electronic music event to be held in the city this month.

During the weekend, more than 40 national and international artists will perform the best electronic music on three stages located in a unique setting. The bill also features emerging local and Dutch artists, The Netherlands being the festival's country of origin.

Want to join the DGTL Barcelona experience? Check out the full line-up and further information about tickets and pack here: www.dgtl.es.

EVENT INFO
Event: DGTL Festival 2015 – BARCELONA
Dates: August 14 + 15 2015
Schedule: 15.00 – 03.00 (Friday) y 15.00 – 03.00 (Saturday)
Recinto: Parc Del Fòrum, Barcelona

Ticket selling: www.dgtl.es/tickets
Weekender €59,50, One Day €32,50

Ticket selling at the door:
Weekender €65, One Day €37,50

Website: www.dgtl.es
Facebook: www.facebook.com/dgtlbarcelona
Event: https://www.facebook.com/events/1062271370467394/