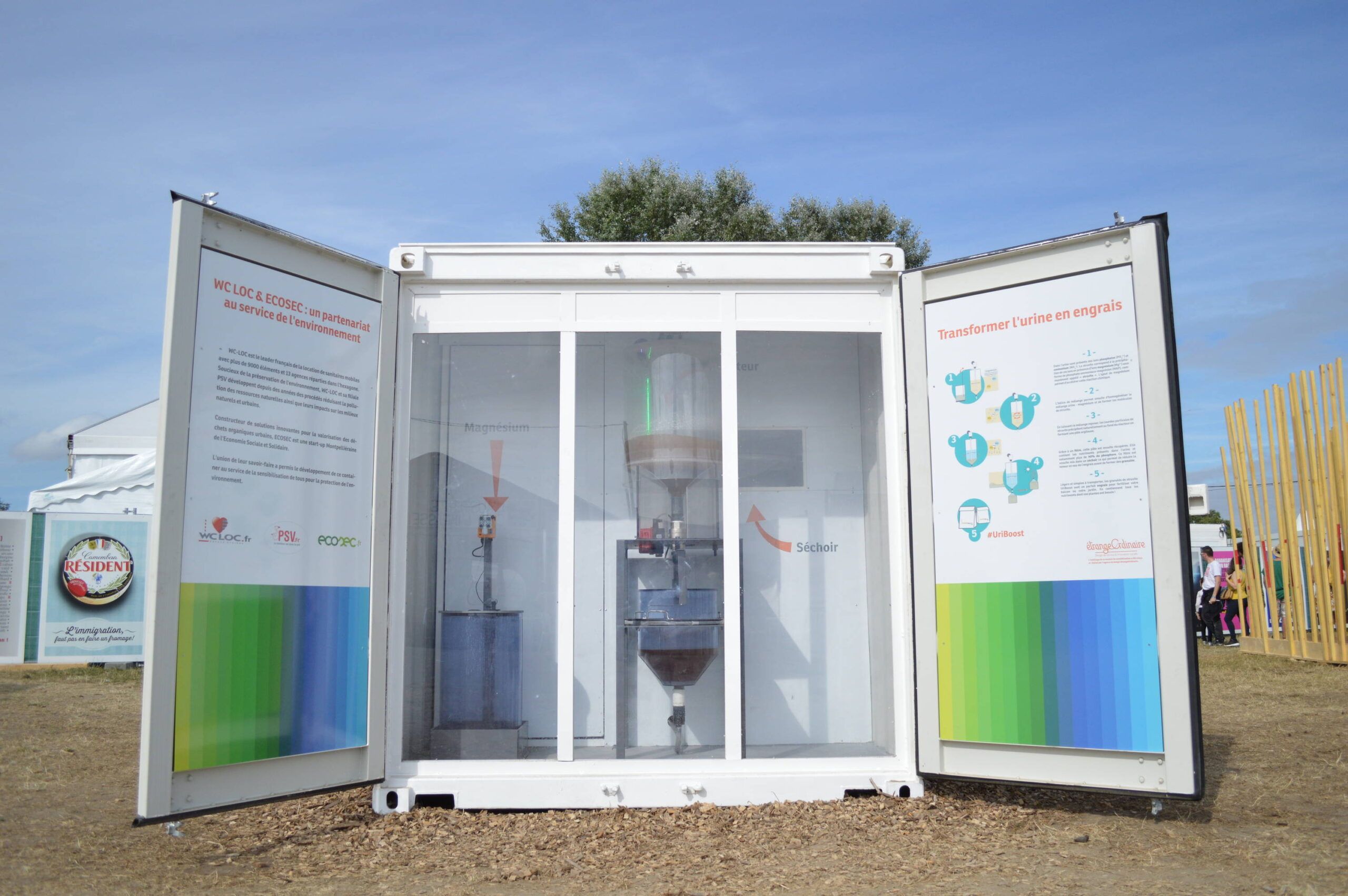 DGTL 'Revolution' – A zero waste festival…
DGTL Barcelona will recycle visitors' pee into fertilizer for farmers.
The festival unveils its Art and Revolution sustainability plans for 2017
DGTL multiplies the actions of its Revolution program with a pool that will help raise awareness about saving water by not consuming meat and boost the Food Makers project with refugees; while the DGTL Art side will star the Brazilian visual artist Muti Randolph with the European premiere of his work "Supergrid"
In its third edition, DGTL Barcelona reinforces one of the event's fundamental projects: the 'Art & Revolution' program, sustainability being one of the main pillars. The festival presents the artists that will be part of the DGTL Art line up, with the European premiere of Brazilian artist Muti Randolph's imposing Supergrid installation among them, along with numerous innovative initiatives that DGTL Revolution will implement this year with the aim of reducing its footprint.
Some of the main actions within the program are urine recycling, the awareness pool, a meatless food court that'll only sell vegetarian food, the 'Food Makers' project which involves refugees, and bike rentals. Also, the entire festival is now 100% grid powered and made a commitment with
Barcelona Sostenible, a local network formed by the city council that connects 600 sustainable brands, universities, initiatives, and so on, all of which strive towards the many sustainable goals the government has set.
DGTL Revolution, towards a "zero waste" festival
Sustainability remains the main objective of the DGTL Revolution. Fundamental changes to the festival set-up and day-to- day activities are being made in order to meet this goal. Themes like Going Veggie have substantially increased awareness about the hidden environmental cost of consuming meat and the overall impact meat consumption has on a global scale. Throughout the year, an exhaustive search for the newest technological innovations has been carried out in order to help reduce waste, lower CO2 emissions, increase awareness and stimulate sustainable participation amongst visitors. Here are some numbers to give an idea of the change a festival goer can make at DGTL Festival by eating meat-free for 2 days: all of DGTL Festival's visitors combined (40.000 people) can save up to 53.000 kg of CO2 (non-bio), which is equal to almost 295 return flights from Amsterdam to Barcelona.
Pee recycling
The sustainability focus for this Barcelona edition is the recycling of urine phosphate to produce plant fertilizer. This has never been done in Spain on such a scale; the plan is to recycle 3000 liters of pee per day. This project aims to communicate, in a surprising and fun manner, that there are ways to recycle that might be highly unusual, although very interesting and effective. DGTL will install special toilet cabins, which will provide information on ecological issues such as the nitrogen cycle, the phosphorus crisis and water scarcity. All of the urine collected in these cabins instantly enters the recycling process and begins to produce phosphate, which is an excellent fertilizer for trees, plants, vegetables and fruit.
The LED panels installed on the sides of the toilet cabins show the usage count in real time as well as displaying a calculation of the amount of phosphate produced and the CO2 savings compared to conventional toilets. The integrated reactor transforms the urine into struvite, a phosphate-based fertilizer. Automated and easy to understand, this fertilizer recovery cycle is quite a spectacle. Once dry, the fertilizer is donated to local farmers:
Refugee Food project
Another project comprised in the Revolution program is Food Makers, an association that works behind the cooking stoves with refugees, immigrants and other groups at risk of social exclusion to offer them something as basic as an occupation, thus fostering a realistic way to integrate them into the host society. In accordance to the theme 'Going Veggie', introduced in 2016, Food Makers will include a new product called heura, a soy protein that has the same texture as chicken, used for the first time ever in DGTL festivals. This time, meat in all noodles and/or teriyaki dishes will be replaced by heura. Regarding the veggie initiative, an 'awareness pool' filled with foam cubes will show the amount of water saved thanks to the consumption of vegetables instead of meat during the festival. Every 100 grams of meat will save 2250 liters of water, which adds to a total of 68,7 million liters throughout the festival weekend.
Plastic recycling on the spot
Another of the initiatives included in the program is plastic recycling with Taller Esférica, a group of industrial designers that will organise workshops and attendees how to manufacture their own recycled keychains on the spot.
Bike transport
Regarding transportation: the festival has partnered up with Baja Bikes to offer bicycle rentals at very competitive prices so that more visitors will hopefully travel to the festival by bike instead of by car, bus or metro. Inarguably, it is the most environmentally-friendly means of trasnportation.
Taxis, on top of polluting with their CO2 emissions, are more expensive and the metro does not run all night (except on Saturdays), which leaves the bike as the best option. Through this collaboration, attendees will be able to benefit from a 50% discount on Baja Bikes rentals throughout the DGTL week, from August 7 to the 13.
DGTL Art, a first-rate integral program
In addition to music, technology and sustainability –through the Revolution Program–, DGTL also aims to track and disseminate today's most relevant cultural and artistic projects. This year, DGTL Barcelona will offer a wide variety of performances and conceptual art installations in a first-rate integral program.
Just like in previous editions, the DGTL Art program will be based on the sustainability of the projects presented, the degree of participation and interaction of users with the installations and the level of complexity and authenticity. Highlights include artist Muti Randolph's impressive Supergrid installation, which will be premiered in Europe at the festival. Also, the locals Playmodes, a reference in visual arts in the city, will be coming back and the collaboration of the studios Palnoise and Volume Tricks will be presented.
Muti Randolph – Supergrid
Muti Randolph studied Visual Communications and Industrial Design at the Pontifícia Universidade Católica do Rio de Janeiro, where he lives. As one of the pioneers in computer art in Brazil, he has been shifting from virtual 3D to real 3D spaces by creating sets, installations and interior architecture projects.
At DGTL Barcelona he will create, for the first time in Europe, Supergrid, an installation in which he plays with overlapping effects on partially transparent panels, using a software specially created for this project. His idea is to observe the relationships between lines that overlap in space. In a corridor, the images will be generated in real time. As people walk, the overlaps will change, providing a different and continuous experience.
Playmodes – Crossing Lines
Playmodes will present 'Crossing Lines', an immersive light and sound installation. Using LED tubes placed inside 4 cargo containers, they will create an abstract space, a labyrinth of light that visitors can explore and enjoy. Audiovisual content for the installation is made in real time using self-made generative software tools. Since both sound and light will be generated live, no content will be repeated while the installation is active.
'Crossing Lines' tries to create a dreamlike space, an atmosphere of abstract geometry and sound in which the changes of perspective build the illusion of traveling, taking visitors through an immersive and futuristic journey.
Palnoise & Volume Tricks – Icosahendricks
Visual studios Palnoise and Volume Tricks will create a 3D geometric LED installation with a 20-sided body. It is a project entirely made with a 3D printer and LED bars. An exclusive creation in which the modular form of the volumetric lights embodies an elegant and totally surprising creative atmosphere. This will be the first time the installation is shown in Barcelona.
Monica Rikic & Marta Valverde – Oscilightor
This project is a beautiful 3D geometric installation set on a tall stand that visitors can climb up to take pictures. Participants will see the frequencies they give off in relation to each other, as well as to space and time. This is a unique experience provided by a large format interactive installation that, with harmonious light, draws the relationship between two people when balancing their bodies on connected pendular swings. The effect is like that of a harmonograph, a machine that was popular in the 19th century and which produced beautiful, hypnotic graphics by mapping the relationship between two oscillating pendulums.
Peter Ankone – Infinity Experience
The immersive Infinity installation represents the entrance to a new world in which visitors will be alone with dozens of reflections of themselves. Every person's image will be distorted and sent to a world in which they can let themselves go by moving, dancing and exploring this unique project called Infinity.
More info at DGTL website.
You can also join the Facebook event here.