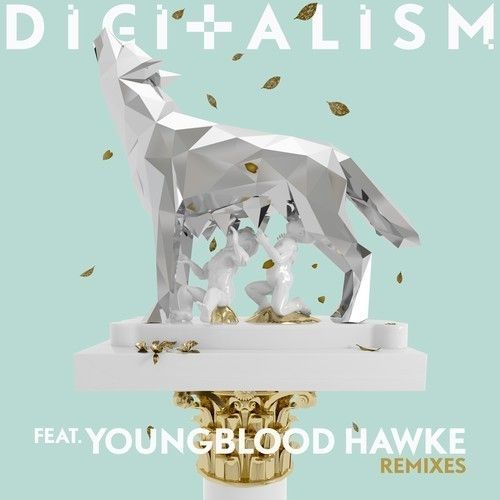 Digitalism – Wolves
Having hinted at a change in direction with a soundcloud-only release at the start of the year, Hamburg duo Digitalism are back with 'Wolves,' the first proper single that further underlines this new direction. The track, set for release on 14th July via their own Magnetism Records, features Youngblood Hawke and aims to marry their own trademark European electronic sound with the US bands catchy, indie-pop vibes. The track has been given the deluxe remix treatment it deserves with Ed Banger favorite Riton, fellow German duo Booka Shade and the legendary RAC serving up their own reworks of the original.

It is fitting that 'Wolves' is finally ready for release and it may seem somewhat overdue for the fans that heard it premiere as the opening track of the pairs Boiler Room set back at Melt! Festival in 2013 and once again as part of their much-lauded 'I Love Techno' DJ Set later that year. Since then, the band's socials have been a constant hive of discussion and speculation over the new sound, and demands for its release have been constant. The boys spent the early part of this year in LA, writing and producing new music, road testing new demos and trying out new ideas at their twice monthly East LA Warehouse parties. The reaction to these shows was incredible, police helicopters shutting down one sell out party due to eagerness of some unlucky fans who didn't manage to get tickets.

The collaboration with Youngblood Hawke came about when Digitalism invited them to write a vocal for 'Wolves.' The result came together immediately, the song weaving multiple stories together with the basic premise evolving around the idea of companionship. In many ways, the track inadvertently picks up the mantle of classic European, electronic music dating back to the 70's with Giorgio Moroder and Donna Summer – these italo-disco pioneers bringing together the synthesized sounds of Europe with American songwriting and vocals. It has the structure of an indie song but with EDM arrangements and techno and house sensibilities. 'We like the use of light and dark; the song is upbeat and creates a euphoric atmosphere and the lyrics paint a grimmer picture.' Youngblood Hawke

Youngblood Hawke's debut single 'We Come Running' was featured as iTunes' Single of the Week, with live performances on Jimmy Kimmel, Rachel Ray and The Tonight Show with Jay Leno to name a few. Their 2013 debut full-length 'Wake Up'received praise from Rolling Stone, NME, The Huffington Post and more, leading to countless sold-out headline shows throughout last year.

The Digitalism story began when Jens Moelle & Ismail Tufekci met working in a record store in Hamburg with friend and fellow giant of electro Alex 'Boys Noize' Ridha in the early naughties. Like contemporaries Justice, Erol Alkan and Soulwax, their first album 'Idealism' epitomised the indie-dance crossover sound of the time with follow up 'I Love You Dude' (2011) showcasing a more refined sound and techno based production. Tracks such as 'Circles' and 'Miami Showdown' became instant classics, thrusting them into the electronic spotlight and headlining stages across the world. As DJ's, they also began carving a following, their house and techno driven sets delivering hours of carefully programmed music, spanning many genres, but always maintaining their trademark sound.

This led to them being added to !K7 Records illustrious roster which includes Maya Jane Coles, Scuba, Tiga, Trevor Jackson, 4-Tet and John Talabot and their 2012 DJ Kicks release included 6 exclusively recorded tracks. The reception was ubiquitous and a long period of DJ touring entailed. Two years on the band have released on some of the biggest labels in dance music. Pryda, Spinnin, Toolroom, Kitsune and Axtone all released chart topping Digitalism tracks and supported DJ sets at some of the best clubs across the globe, affirming their position as a dance act to be reckoned with.

With more material on the way imminently and a new album due to drop in early 2015, the Wolves of Hamburg will have you howling into next year!