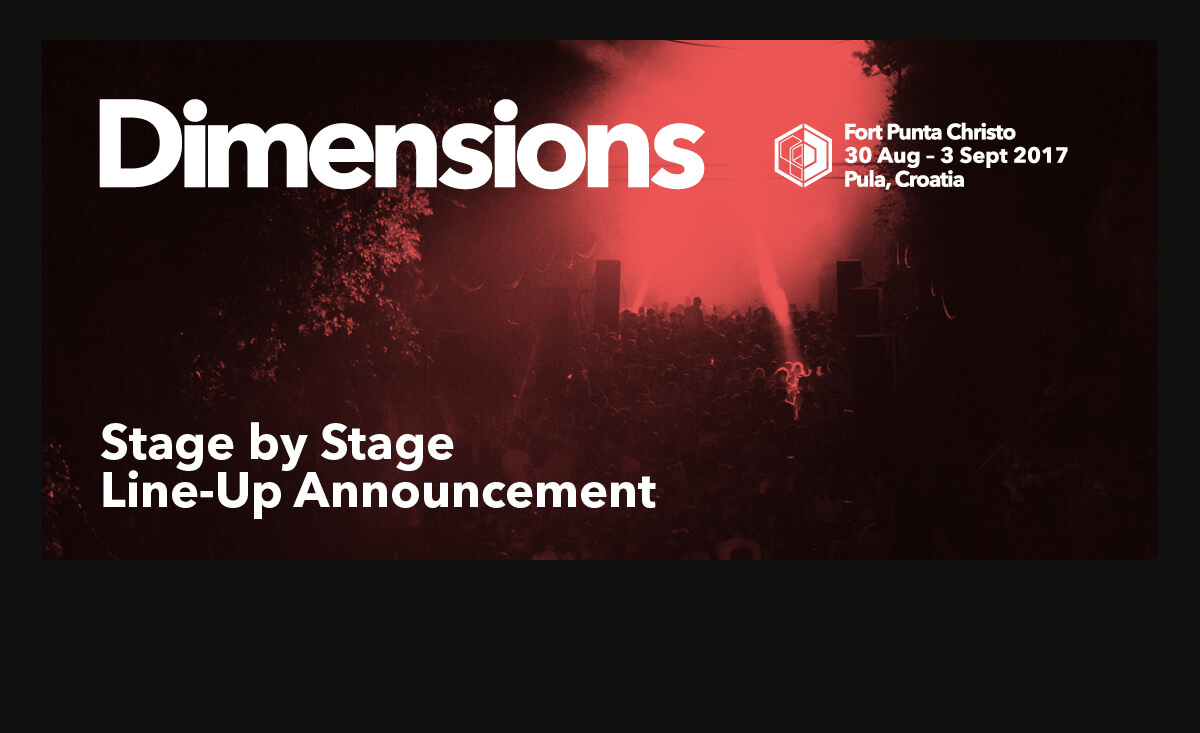 Dimensions Festival stages revealed
Dimensions Festival prides itself on putting together one of the most eclectic, discerning and diverse line-ups to be found the world over, each year inviting principal artists from the house, techno, disco, bass, soul, funk, and left-field worlds to its fortress home. Now the countdown is on with just over three months to go, the day to day breakdowns for the seven solid stages are here; with takeovers from Hessle Audio, Zeezout, Clone Records, Resident Advisor, Stamp The Wax, Metalheadz, Exit Records, Bodytonic and more hosting Dam Funk, Floating Points, Shuggie Otis, Jeff Mills, Joy Orbison, Tama Sumo & Lakuti, Willow and over 100 more names. Taking place at the end of summer between 30th August – 3rd September in it's idyllic abandoned fortress spot, Dimensions Festival is the not-to-miss event for any electronic aficionado who likes their sounds varied. Tickets are selling fast with only final tier tickets left at £140, now is the time to secure a place at Dimensions Festival.
Across four packed out days and nights from the 31st August onwards, the Dimensions Festival's fortress home is in full operation; home to seven stages with individual personalities; from the iconic Moat area through to the sun-kissed Beach stage. Attendees can discover fresh new breakout acts, or revisit classic talents that have laid the foundations. THE CLEARING is known for hosting major live names, and after Larry Heard's first live set in 25 years last summer, 2017 sees The Clearing kick once again. Catch institution Floating Points, jazz-influenced sample-king Romare, Ghanaian highlife enigma Ata Kak and famed Italian experimentalist Alexander Robotnick all delivering captivating shows, plus unmissable performances from UK x Jamaica funk soul legends Cymande, the one and only Shuggie Otis, and of course, leading Chicago electro export Aux 88. DJ sets come from the 'epitome of modern funk' Dam Funk, disco dons Horse Meat Disco and Brilliant Corner's fam Mafalda & Donna Leake on the Thursday, with choice selector Floating Points, techno OG Jeff Mills, queen of minimal Nina Kraviz and Daphni across the rest of the week, plus Scott Grooves and Mahogany signee Dan Shake.
Dimensions' leafy GARDEN STAGE expands this year to make way for an impactful set of names; starting with a Thursday takeover from leading Amsterdam party crew, Zeezout, who'll bring Mr Ties and Josey Rebelle intergalactic affair, plus special guests Mr. Saturday Night. Friday and Saturday see all-night affairs with Marcel Dettmann taking control first, and undisputed Chicago godfather and Sound Signature founder Theo Parrish stepping up on the Saturday. Finishing proceedings on the Sunday are some of the Worldwide FM family and friends; with soul, hip-hop, house, Afro, Latin, electronica, jazz and beyond coming from Gilles Peterson, Danny Krivit, Telefon Tel Aviv and Worldwide FM resident Thris Tian.
Armed with a supreme system and visuals to boot, THE VOID is a Dimensions arena that is loved by all, covering the deeper, darker zones of the electronic underground. First up to host is Resident Advisor, where Joy O heads up proceedings with bass-tinged selections, and Club Der Visionaere resident Binh, breakout producer Powder and sound explorer Leo Leal at the helm, then Friday sees Bodytonic unite a heavy bill with house enigma Maurice Fulton, Romare, Bradley Zero and Butterside Up. A real underground affair is set for Saturday, one for techno / electro heads with Levon Vincent, Billy Nasty, Resom and all set to takeover the monster stage, topped off by one for the modular heads; London Modular Alliance. Rounding off the weekend is Berlin dream team, Berghain resident Tama Sumo & Uzuri Recordings Lakuti, Paul St Hilaire & Rhauder (live), hotly-tipped producer/DJ Willow and Moses & Nuno.
One of Dimensions most iconic arenas is THE MOAT; a 70 foot deep stage that is home to sounds that shake the soul with bass; techno, electro and left-leaning house adventures. 2017 sees a welcome return for the Hessle Audio crew, bringing a cast of label heroes and friends to this revered spot, including head honchos Ben UFO, Pearson Sound and Pangaea, plus electro's lady of the hour Helena Hauff and A Made Up Sound (live.) Hessle Audio also mark a decade in the game in 2017, so this will be a mammoth party not to miss. Label boss Serge takes the controls as his Rotterdam imprint Clone Records,calls upon A Made Up Sound, Conforce and Randomer to explore everything from oddities to fist-pumping techno. Across the four days of Dimensions there'll also be eclectic electro from OG Mike Dehnert, Motor City lifer Luke Hess, Dynarec (live) Upwellings (live) and Ekstrakt DJs, plus a super special unannounced label takeover on Sunday from a celebrated Russian export.
In the heart of the Dimensions Fortress, the vast STABLES boast another anticipated set of names, with proceedings kicking off with Modern Love's Andy Stott and Demdike Stare venturing through electronic rarities of a leftfield persuasion, joined by fellow leftfield figures Kaitlyn Aurelia Smith, Black Amiga and Thea HD, while Friday sees electro in it's finest form with veteran producer Radioactive Man, jackin' funk master Gary Gritness, and Detroit electro duo Dopplereffekt, who return to this year's festival with brand new music. The festival's very own Dimensions Soundsystem provide support. Definitely one for the crate-diggers, Saturday sees a cast of names journey through soulful house, disco, rare grooves, plus much more; brought to you by prized collectors Sadar Bahar, Antal, Sassy J, Interstellar Funk and Kamma & Masalo. Final fun on the Sunday comes in the form of a Music Is My Sanctuary takeover, another one for the soul-searchers and more hip-hop and rap groove fans, with MNDSGN, Sofie (Stones Throw / NTS) Gilla and MIMS founder Lexis, plus a performance from one of hip-hop's most unique voices – Jonwayne.
MUNGO'S COURTYARD has been part of Dimensions since day one, the heart and soul of the festival with a system to reflect that. Dimensions mainstay and Deep Medi boss Mala heads up the Thursday bill, with Kode 9, Equiknoxx, Mungo's Hifi and Exodus exploring bass-fueled dancehall and dub. Friday is an EXIT Records takeover with a host of DnB's finest, including imprint founder dBridge as well as Alix Perez, Skeptical and Fixate aboard. High-energy drum and bass continues its course as Metalheadz takeover on Saturday with Goldie, plus top end BPM selections from Randall b2b Bailey, Doc Scott and Kid Drama, plus Onemind perform live. Deep, off-kilter dub and bass is set for the closing night, with On U Sounds vs Tectonic taking control; with Adrian Sherwood live, Tectonic boss Pinch and iconic home soundsystem Mungo's Hifi all on board.
The spot to catch sets in the most idyllic of settings whilst relaxing on the Croatian shores, Dimensions' BEACH STAGE sees acts wander through funk, world, soul, disco and more, with unmissable live shows. Esteemed magazine Stamp the Wax take the reins on Thursday, with DJ Okapi, cosmic Thai-influenced breakouts Khruangbin and Cosmic Slop as well as resident DJ's Aaron L & Harri Pepper. It's then jazz and funk on Friday with Dam Funk, Moses Boyd Solo X, Alma Negra and Brilliant Corners' Donna Leake & Aneesh. Antal, bluesy funk act Kerem Akdag, Croatian quartet Chui and Dimensions Sound System hold it down on Saturday, and the final Sunday event sees feel-good soul, disco and house vibes from Nicky Siano, Amp Fiddler, Oyvind Morken and Rob Shields – the perfect end to Dimensions 2017.
To check full day-by-day stage breakdowns, head to www.dimensionsfestival.com
As well as the four Fortress days (31st – 3rd,) there's plenty more happening pre-and post; with beach action each night from Wednesday 30th until Monday 4th, as well as the Opening Concert with Grace Jones, Moderat and Moses Boyd on Wednesday 30th. For those sticking around, festival-goers can extend their holiday each side of the main festival. The Croatian town of Pula is easily accessible by taxi from the Dimensions site and is complete with excellent transport links, apartment accommodation and historic sites. For those wishing to remain on-site, or for more info on accommodation options including boutique camping, head to dimensionsfestival.com/accommodation/ to look at what is available. Flight options from the UK are direct options to Pula, with Trieste, Ljubljana, Zagreb, Venice Treviso or Venice Marco- Polo airports just a transfer away. Coach packages and flight packages are all available to view / purchase at dimensionsfestival.com/travel/. Keep your eyes on the Dimensions channels for further news on line-up, boat parties and artists, see you at the fort!