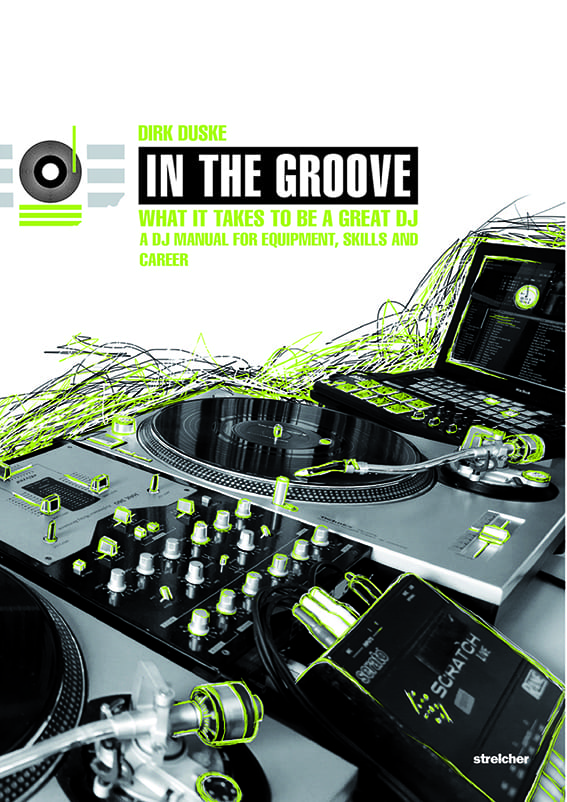 Dirk Duske – DJ Manual "In The Groove"
"DJs teach themselves everything they need to know! They don't need a book to do that." Author Dirk Duske has frequently encountered these and similar assertions. But readers of this book will quickly realise that it takes more than just two turntables, a DJ controller, a mixer, a laptop and 150 tracks to perform as a DJ. Even practice at home and plenty of time spent spying on the "professionals" cannot guarantee a career as a DJ. Based on his 30 years of experience as a professional DJ, Dirk Duske delivers the proof in this unique teaching manual. The detailed descriptions he provides cover factors such as why certain DJs acquire fame, and which psychological parameters are important in this process. He also gives full and frank answers to previously unresolved questions such as: what do DJs earn? How do DJs get their first gigs, and what's the best way of creating a dramatic narrative within a set?
Readers are given exclusive access to a constantly updated and expanding online library containing screenshots from the book, helpful links and audio and video examples.
Readers will find chapters on the following topics, among others:
– how DJ culture emerged
– tips on which DJ equipment to buy, and how it is operated
– mixing, cutting, scratching and beat juggling, along with exercises
– a guide on how to launch and build a successful DJ career
– specifics of various events
– business, marketing and producing
Format:
In The Groove – What It Takes To Be A Great DJ: A DJ Manual For Equipment, Skills And Career
744 pages
21 x 14,8 x 3,4 cm
1 Kg
Stadtstreicher GmbH, Chemnitz; 1st edition (4. November 2015)
English
ISBN-13: 978-3980930376
Sale price:
34,95 Euro/ US-Dollar
25,90 Pound