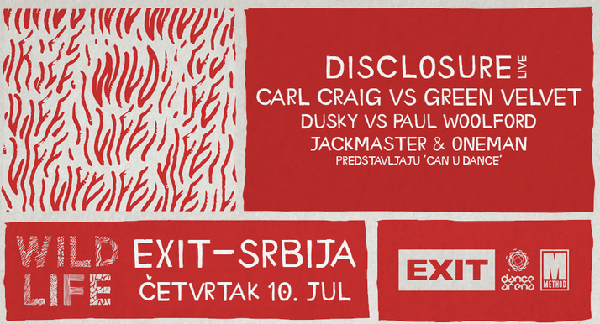 Disclosure present WILD LIFE at EXIT Festival
The world-renowned EXIT Festival Dance Arena is the place to be this summer, presenting the most exclusive concepts in the electronic music scene. First up on Thursday, July 10th DISCLOSURE are bringing their special WILD LIFE show to Serbia. Also being announced is the first names of Part II of Exit's fifteen years in Dance back to back specials. If you were there for the Decade of Dance in 2009 you will remember the groundbreaking performances. Get ready for another set of surprises!
Revealed to the world just a few days ago, WILD LIFE, is a conceptual night presented by Disclosure showcasing performers they love. Featuring alongside DISCLOSURE's LIVE set, will be exclusive b2b performances including; CARL CRAIG vs GREEN VELVET, DUSKY vs PAUL WOOLFORD and JACKMASTER & ONEMAN present Can U Dance!
Playing at EXIT for the first time will be the unstoppable British duo DISCLOSURE, who set new foundations when it comes to electronic music, proving that alternative electronic music can succeed in the commercial music world with no compromise whatsoever. Brothers Guy (22) and Howard (19) Lawrence already have a name to themselves, proven by sold-out performances and chart-topping tracks, as well as a significant change in the British electronic music scene which opens doors to many new underground talents. This year, they released their debut album Settle which has already reached number one at the UK Album Chart, and was also nominated for the Best Album at the Mercury Awards 2013 and Best Dance/Electronica Album at the Grammy Awards 2014. For the upcoming Brit Awards, Disclosure are nominated in four categories: MasterCard British Album of the Year, British Single, British Group, as well as British Breakthrough Act, also announcing a special performance at the awards featuring one of the hottest new names, the New Zealand singer Lorde. They are coming to EXIT Festival with their live set, which is praised as one of the best live performances in the world of electronic music.
Celebrating the 15th Edition in true EXIT style, the iconic Dance Arena will do the second part of their infamous back to back sets revered in 2009 for their 10th Edition. This year sees another selection of DJs performing in battle and it's going to be another memorable year.
First up is Carl Craig vs Green Velvet. Electronic music visionary and the creative magnate, Carl Craig, owner of the eponymous label Planet E is going to shake the Dance Arena once again, and joined by Green Velvet will be here to elevate partying to the fullest! An eccentric Chicagoan, musician and producer best known for his cyberpunk hairstyles and numerous house music hits, going under the name Green Velvet, is already considered a favorite by Dance Arena's visitors since his closing of the EXIT festival in 2009 together with Carl Cox. This year, in a special b2b session with Carl Craig, he is ready to pump up EXIT's Dance Arena!
Next up is Dusky vs Paul Woolford. The London duo Dusky have proven very productive and imaginative when it comes to writing elegant orchestral grooves and piano themes, as well as creating heavier house and techno rhythms, and this is exactly what defines their genre – composing electronic music with a significant touch of depth, soul and originality. After several joint gigs, a special chemistry arose between them and Paul Woolford, also known as Special Request, a man who built his flourishing career as a DJ, producer, label owner, remixer, collaborator and experimentalist.
And finally introducing Jackmaster & Oneman presents Can U Dance, a new show being showcased at only a handful of shows this summer, which promises a great party on four turntables! Oneman is a synonym for Rinse FM, a very well known radio station, a brand and a subculture. Jackmaster not only is a co-founder of the highly influential label Numbers, but is also an amazing DJ – he simply lives to play people records, which is enormously felt in his eclectic sets, containing a wide span of music, from forgotten classics to some of the hottest dance floor hits. Together, they will present a concept that surpasses the idea of b2b without great manifesto or conceptual nonsense, no masks or go-go dancers, it's all about what comes out of those speakers. Yes, U Can Dance.
Joining the already announced Skrillex, Rudimental, Dub Fx And Koven the 15th edition of EXIT Festival will be marked with the sign of EXIT ADVENTURE, which will take us to EXIT, held from July 10th to 13th at the Petrovaradin Fortress in Novi Sad, continuing at SEA DANCE FESTIVAL, held from July 15 to 17 at the beautiful Adriatic Jaz Beach in Montenegro. Get ready for an unforgettable road trip and enjoy a diverse range of artists, for seven unforgettable nights spent with your best mates in the sizzling hot Balkan sunshine. Sounds good? It's time for EXIT ADVENTURE!
Watch the video announcement here…
Buy tickets here: www.exitfest.org/en/worldwide