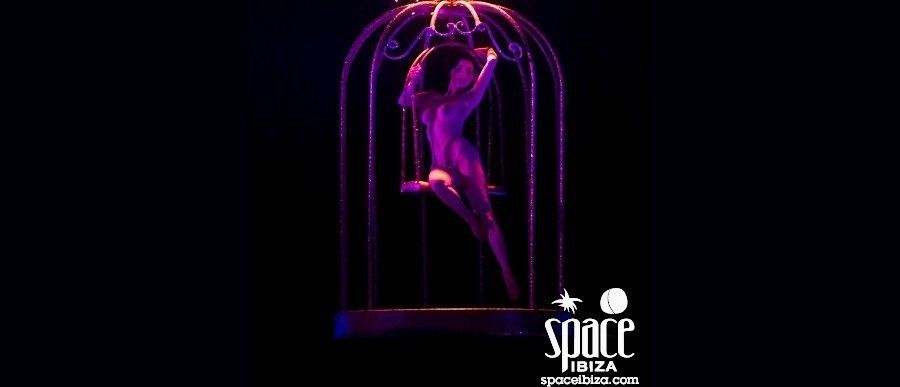 Dita Von Teese 26th August at Space Ibiza
World's Burlesque queen will present an exclusive show in Europe next August 26th on Café Olé

Dita Von Teese, the undisputable Burlesque queen, will get undressed once again in Spain for the first time in two years. Last time the Spanish audience was able to admire her was back in 2011 on another Café Olé show. The actress and model, who reached worldwide popularity thanks to her marriage with the singer Marylin Manson, will perform next Monday August 26th on one of the burlesque nights in Café Olé at Space Ibiza. Back in 2011, she presented her show called Bird Cage, where she appeared in a golden cage, as if she were a bird coming from paradise. Dressed up with a tight corset full of pink feathers, precious stones and strass crystal, she slowly started to take off her clothes, simulating peacock's moves, until the moment she ended up taking a shower inside the cage, leaving it all out, with just a couple of nipple tassels remaining on her. On her next show, the world's most famous show girl, will present for the first time in Spain another performance which content still remains confidential.
Heather Sweet, Dita's real name, currently lives between Hollywood and Paris, surrounded by her pets and rarely showing up in public events, that's why it is quite hard to find a place where to attend to one of her shows. The artist, born in 1972 in Michigan (USA) started her career back in 1992, becoming a strong advocate of new Burlesque, a comic, musical and erotic gender entertaining US citizens over a century between 1840 and 1960. Some of her shows have included horse's carrousels, a giant powder puff, a filigree made heart and a vintage claw-foot bathtub among others. Her feather fan dance, inspired by the burlesque dancer Sally Rand, was performed with the world's biggest feather fan, exhibited now at Sex Museum in Hollywood. Another famous show is the one where she swims in a giant Martini glass.
Her burlesque professional career has included some memorable performances. In a New York's Art Academy supporting performance she showed up wearing diamonds for the worth of 5 million dollars. In addition, Von Teese became the first guest superstar performing at the Parisian Crazy Horse Cabaret Club back in October 2006. She has been on several magazine covers such as Vanity Fair, Vogue, Elle, Playboy, Interview and many others.
She has performed on high-level events with renowned artists like Elton John's Life Ball and Victoria's Secret Fashion Show, as well as exclusives parties for Louis Vuitton, Christian Louboutin, Marc Jacobs, Chopard, Jean Paul Gaultier, Cartier or Roland Mouret. According to the Vogue magazine, she occupies the 13th position as world's best dressed woman. As a model, highlights her work with photographer Pierre and Gilles.
"I'm a good dancer and a pretty girl, but, above all, a great showgirl", says Dita in her book Burlesque, and the Art of the Teese. "I sell –quoting her-, in one word, magic. Burlesque is a world of illusion and dreams and, above all, striptease. While I take a bath in my Martini glass, ride my carousel horse or pop up from my giant powder puff, I live my most glamorous fantasies and bring my nostalgic imagery back to life" "Let me show you my world of gorgeous pin ups, tempting stripteases and femmes fatales. You can surmise about my life, but a lady never shows it all" she ends.
More info in www.dita.net