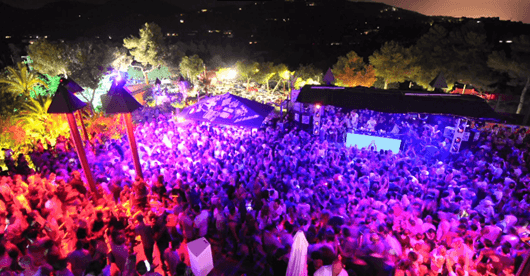 Diynamic finally reveals new Ibiza residency!
Diynamic finally reveals new Ibiza residency!
The new Diynamic event series goes under the name "Diynamic Outdoor" and will take place at "Cova Santa", a so far largely unknown stunning venue tucked away in the picturesque landscape in the centre of the island. Every Tuesday from July 22nd to September 9th Diynamic presents a daytime event in the true spirit of Ibiza. Sunshine, good vibes and above all, quality electronic music presented by the very best Diynamic has to offer.
When setting up the plans for Ibiza 2014, Diynamic, the Hamburg based music and event label, felt like it was time for something new. It was the right moment to get further and make the next step. The Diynamic crew loves Ibiza and that is why they wanted to bring some innovation and diversity to the island, but keeping the original spirit of the so-called magic island: This is what "Diynamic Outdoor" is all about!
And fortune kept on smiling: An amazing location fell into Dynamic's hands just at the right time. Cova Santa, a delightful spot a few miles from the little village San Jose, where olive trees grow and nature is at its purest. If you do understand a few words of Spanish, you might have guessed that "Cova" is the Spanish word for cave – and that is for a reason: "Cova Santa" is a venue adjacent to a real cave, which pirates used in the 15th century. It has a rich history of holy men and cultures seeking refuge within its safe walls. It was one of the islands main tourist attractions in the 1950's. Nowadays its impressive interior houses one of the best wine cellars in the Balearic Islands. Cova Santa is a stunning venue with its beautiful outdoor terrace, an own indoor club and natural atmosphere.
Until just recently it has not really been used for parties. There were a few secret events before though, some hush-hush after parties, only DJs and their closes followers. 2014 is the official debut for "Cova Santa" as a club venue and Diynamic is glad to be part of it.
"Diynamic Outdoor" is about the pure experience of electronic music. A place for people to enjoy themselves out in the open. Actually, Diynamic Outdoor is what Ibiza was always about. The parties will take place on eight Tuesdays starting from July 22nd through September 9th. They will start in the afternoon, continue until midnight and then – for those who cannot get enough – move into the intimate indoor club of Cova Santa.
The line-up features simply the best of Diynamic: Solomun, H.O.S.H., Adriatique, Kollektiv Turmstrasse, David August, Stimming and more DJs and live acts from the Diynamic roster.
Everyone at Diynamic is super excited. Enjoying the view of the hills of Ibiza, watching the sunset and dancing in the moonlight together with our friends and the Diynamic family. Party with taste and respect to the environment that surrounds it. Summer may come!
DIYNAMIC OUTDOOR
with Solomun, H.O.S.H., Adriatique, Kollektiv Turmstrasse, David August, Stimming and more Diynamic DJs and live acts.
Every Tuesday from July 22nd until September 9th
Cova Santa
Ctra. San José, km 7 (junction to Sa Caleta)
07817 Ibiza (Spain)