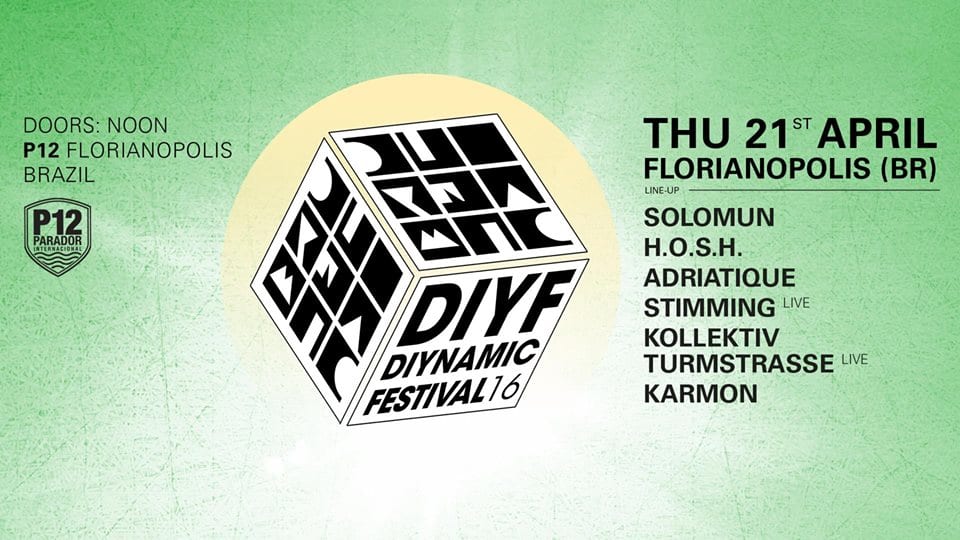 Diynamic goes South America
A whole label going on a trip? It's true! The second half of April will see six Diynamic artists touring through South America, bringing two own festivals, hosting a stage at Tomorrowland and presenting a Diynamic Showcase at Warung. Solomun, H.O.S.H., Adriatique, Kollektiv Turmstrasse, Stimming and Karmon will play at Diynamic Festival Brazil (21.04.), Diynamic Showcase at Warung Beach Club (22.04.), Diynamic Stage at Tomorrowland (23.04.) and Diynamic Festival Buenos Aires (30.04., without Kollektiv Turmstrasse).
Since the early days of Diynamic, South America always welcomed the label's artists with open arms. A long lasting relationship has been built since then, with boisterous parties and all-night-dancing as cornerstones of it all.
Kick-off for Diynamic's South America Tour will be the Diynamic Festival Brazil at P12 Parador Internacional in Florianapolis on Thursday, April 21st. This will now be the third instalment of the Diynamic Festival in Brazil, so the size of the venue has been upgraded.
The next day the whole crew will travel to Itajai together, home of legendary Warung Beach Club, to hold the already traditional Diynamic Showcase there.
On Saturday, April 23rd the crew heads over to Tomorrowland Brazil to host the Diynamic Stage, now for the second year in a row.
And for the grand finale on Saturday, April 30th Solomun, H.O.S.H., Adriatique, Stimming and Karmon head over to Argentina for Diynamic Festival Buenos Aires.
The finest of Diynamic Music will return to South America:
– Solomun, who is taking some time off touring to work on new music in the studio
– H.O.S.H., who just released a massive remix for Australian band Rüfüs
– Adriatique, who are about to release an EP on Cityfox and a Diynamic collab-EP with Lehar
– Kollektiv Turmstrasse, whose "Sorry I'm Late" was Beatport's most selling track 2015
– Stimming, who's releasing his 4th album in April
– Karmon, who locked himself into his studio for the last weeks to work on some new material
Diynamic Festival Brazil: www.facebook.com/events/103024290089028/
Diynamic Showcase at Warung Beach Club: www.facebook.com/events/240693046265258/
Diynamic Stage at Tomorrowland Brazil: www.facebook.com/events/657671591039263/
Diynamic Festival Argentina: www.facebook.com/events/1511970512443354/
Diynamic South America Tour 2016
with Solomun, Adriatique, H.O.S.H., Kollektiv Turmstrasse (except Argenttina), Stimming, Karmon
Thu., 21. April: Diynamic Festival Brazil / P12 – Parador Internacional / Florianopolis / Brazil
Fri., 22. April: Diynamic Showcase at Warung Beach Club / Itajai / Brazil
Sat., 23. April: Diynamic Stage at Tomorrowland Brazil / Parque Maeda / Itu / Brazil
Sat., 30. April: Diynamic Festival Argentina / Centro Costa Salguero / Buenos Aires / Argentina