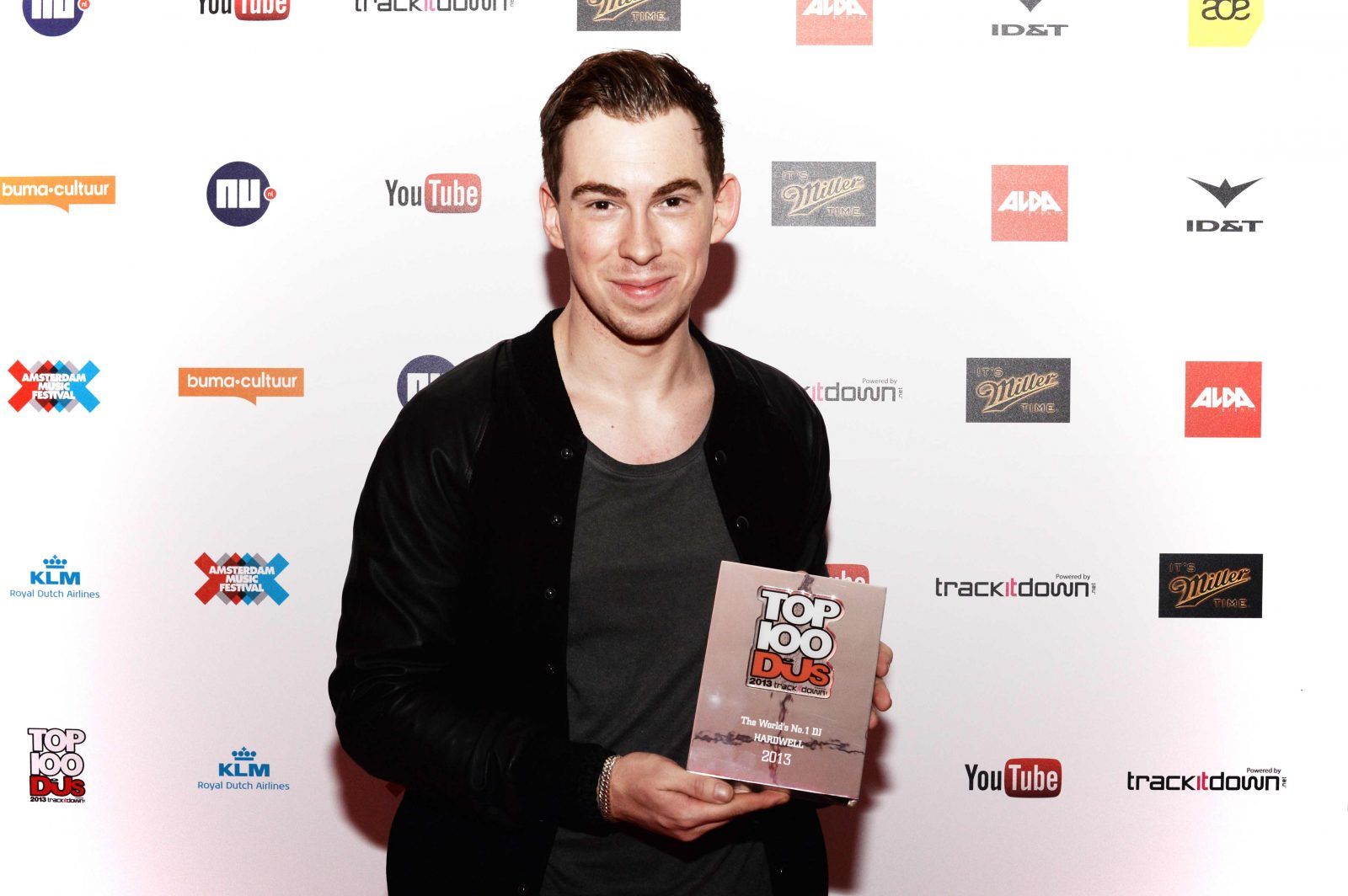 DJ MAG TOP 100 DJS POLL 2013 – THE RESULTS
The DJ Mag Top 100 DJs Poll has a new winner, Hardwell. The Dutch DJ/producer has replaced five-times winner Armin Van Buuren and been crowned the world's No.1 DJ for the first time, making him the youngest ever winner at only 25 years of age. Hardwell received the award at the DJ Mag Top 100 DJs Poll Awards party presented by legendary producer, Giorgio Moroder, held for the third consecutive year during the Amsterdam Dance Event (ADE). The show took place at Amsterdam's RAI venue as part of the Amsterdam Music Festival, an initiative of ALDA events and ID&T.
In the Poll's 20th year, the Dutch superstar, Tiësto, has been awarded the inaugural Top 100 DJs Legend Award brought to you by KLM, carrier of the world's best DJs. KLM recognises that Dutch music pioneers including Armin van Buuren, Tiësto, Hardwell, Nicky Romero, Sunnery James and Ryan Marciano, plus promoters like ID&T and labels like Armada, have flown around the world multiple times, setting international standards within the electronic music scene. As a big supporter of the pioneering Dutch spirit and a carrier of 'Dutch pride', presenting a historical award like this was a natural fit to KLM, particularly as the awards are in the company's hometown and that 2013 is the 25th anniversary of the Dutch dance music industry. Watch the highlights of the award ceremony at the Amsterdam Music Festival on klm.com/music
The award for highest new entry, was given to Dyro, making it a hat-rick for Holland and further evidence of EDM's newfound dominance of the Poll.
After receiving the award in front of a capacity crowd at Amsterdam's RAI venue, Hardwell played an electrifying DJ set before flying to London for the UK edition of the DJ Mag Top 100 DJs Poll party at Electric Brixton, held in association with Ministry of Sound. There he joined a line-up featuring Dimitri Vegas & Like Mike, Quentin Mosimann and Bob Sinclar.

Released on 21 October, Ministry of Sound and DJ Mag have joined forces for the second consecutive year with a 3 CD album release including a selection of the Top 100 of 2013 across CD 1 & 2 and a special edition bonus CD of the best voted DJ's from the past 20 years. The 3 CD package includes all of 2013's Top 10 and all past Top 100 winners.
ABOUT THE TOP 100 DJS POLL
In 2012, Armin van Buuren was crowned the No.1 DJ for a record fifth time, toppling David Guetta. Other previous winners include Tiesto (three times), Paul van Dyk (twice), Paul Oakenfold (twice), Carl Cox (twice), Sasha and John Digweed.
The Top 100 DJs Poll powered by Trackitdown is a publicly voted open poll. It inspires fierce debate all year round with speculation on the world's top DJ, new entries and biggest climbers, dominating online discussion and beyond. 2013's edition saw votes from approximately 750,000 people, making it the biggest music poll in the world.
HISTORY OF THE POLL
The Top 100 DJs Poll began as an editorial feature in October 1993, to celebrate DJ Mag's 100th issue. It was predominantly UK-based at first, but when the poll was opened up to the international scene via website voting, it truly exploded. There have been a few attempts at imitation, but DJ Mag's Top 100 DJs Poll has remained the definitive list. As well as its significance for individual DJs, the Top 100 DJs Poll also documents the growth – or decline – of dance music scenes, reflecting the ebb and flow of genres as new sounds and scenes take hold and spread.
CHARITY PARTNER
Once again, the Top 100 DJs Poll's charity partner is Last Night A DJ Saved My Life (LNADJ). The Last Night A DJ Saved My Life charitable foundation unites the global dance music community to raise vital awareness and funds for humanitarian and environmental causes. Please see http://lastnightadjsavedmylife.ning.com/ for further information.
TRACKITDOWN
Trackitdown was launched in 2004 as the first electronic music digital download website in Europe and has now grown to carry one of the most extensive catalogues of electronic music on the planet. The online store provides high quality MP3s, Wav files and related merchandise as well as tickets to the best events around the world. Trackitdown.net supplies 350,000+ customers from over 200 countries.
AMSTERDAM DANCE EVENT
The Amsterdam Dance Event (ADE) is the leading electronic music conference and the world's biggest club festival for electronic music. Taking place from October 16th – 20th, the event offers a unique blend of daytime conferences, including interactive workshops, technical demonstrations and in-depth round-table discussions, alongside a nighttime music festival with performances by over 2000 DJs & acts at 95 venues around the city. The annual event attracts 4,500 business professionals and 250,000 festival visitors from all around the globe.
The Amsterdam Dance Event is organized by the Amsterdam Dance Event Foundation, an initiative of Buma. For more information visit: www.amsterdam-dance-event.nl
ABOUT MILLER GENUINE DRAFT
Miller Genuine Draft is a beer synonymous with all the energy and excitement of the city at night. Miller Genuine Draft utilizes an innovative cold filtering process that allows this beer to deliver the ultimate in smooth refreshment, making it the perfect accompaniment for partying in the city with friends. No matter where your night takes you, you can always count on Miller Genuine Draft to deliver smooth refreshment every time.
For further information on Miller Genuine Draft please visit www.itsmillertime.com <http://www.itsmillertime.com/> or www.youtube.com/miller <https://www.youtube.com/miller>
Miller Genuine Draft have teamed up with DJ Mag for a twelve month content partnership to deliver the most engaging EDM information to fans across the globe. You can follow this content at www.djmag.com/miller <http://www.djmag.com/miller> .
ABOUT ALDA EVENTS:
ALDA Events is a global producer, concept developer and promoter of DJ and event concepts. ALDA Events works from a 'whole concept perspective' using her broad experience and knowledge in the field of stage design, technical production, video, special effects, decor design and entertainment for every production and collaborates with world famous DJs such as Armin van Buuren, Hardwell, Sander van Doorn and Sunnery James & Ryan Marciano.
BUMA/STEMRA
Buma/Stemra is the collecting society for electronic music in the Netherlands and represents the interests of music authors worldwide.
TOP 100 DJS POLL 2013 RESULTS AND ANALYSIS
The full version of this text will appear in DJ Mag's annual Top 100 DJs Poll issue, published on 30 October. Analysis written by Carl Loben.
The Top 100 DJs poll is a popularity contest – by definition, the DJ who gets the most valid votes finishes highest in the poll, and this year that honour has gone to a young Dutch DJ — Hardwell. Hardwell has knocked five-times winner Armin Van Buuren off the top spot – so it's congratulations to Hardwell, the youngest ever winner of the coveted Top 100 DJs poll.
Hardwell's victory can be seen as a triumph for EDM — although Hardwell himself prefers to term his DJ style 'house'. EDM is the US term for 'electronic dance music' that has come to mean the all-conquering blend of electro-house, trance and dubstep. Enduring leader of the #trancefamily, Armin, who himself has been name-checking EDM, has slipped to No.2 and just behind him Avicii (No.3), Tiesto (No.4) and David Guetta (No.5) are all paid-up members of the EDM family – although Guetta, too, still calls himself 'house'. With Dimitri Vegas & Like Mike shooting up a whopping 32 places to No.6, Nicky Romero up 10 places to No.7 and Steve Aoki up seven to No.8, the top ten is rammed with big EDM players.
Indeed, with Alesso up to No.13, Calvin Harris up sixteen places to No.15 and twin sisters Nervo (one of only two female acts in the poll) up 30 places to No.16, most of the top twenty consists of EDM jocks.
Skrillex's mutant bass music variant sees him just outside the top ten (while Zedd and Knife Party both jump into the mid-twenties), and you're hard-pushed to find many trance DJs in the top twenty. W&W make a healthy leap, although they decline to use the T-word when describing themselves, and only Dash Berlin, Aly & Fila and of course Armin out of the top twenty self-identify as trance.
So has trance become a dirty word? Assorted significant DJs have been quietly dropping the T-word from their descriptions over the past three years, following on from Tiesto who did this in his bid to embrace other styles and conquer America. With Markus Schulz down eight places to No.21, Paul van Dyk down 16 to No.32, ATB down 12 to No.33, Sander Van Doorn down 21 places to No.39, Ferry Corsten down 20 to No.42, Cosmic Gate down 41 and Gareth Emery down a massive 37 places to No.51, most of the trance big hitters have taken a tumble this year. Fresh-faced Orjan Nilsen is down 17 places too, and young Arty from Russia falls 29 positions to No.57. Only Andrew Rayel, up 49 to No.28, and re-entries for Myon & Shane 54, Tiddey, Matt Darey, Solar Stone and John O'Callaghan ensure that the second tier of trance stalwarts remains strong. Does this mean that more trance DJs and clubbers will become absorbed into the EDM motherlode? Only time will tell.
Other big EDM new entries include Krewella from America, Martin Garrix from Holland, Dannic from Holland, and highest new entry Dyro — also from Holland. The latter three are protégés of new No.1 Hardwell (himself a protege of Tiesto), featuring on his label Revealed and with the same management company, and continue a theme of the Top 100 DJs poll whereby proteges are dragged into the poll on the coattails of their more well-known mentor/label boss.
If it has been a tremendous year for EDM and not so great for trance, it hasn't been too bad for hardstyle. Headhunterz may have slipped down to No.23 and Noisecontrollers tumbled 39 places to No.66, with Wildstylez, Wasted Penguinz and Brennan Heart all falling too, but hardstyle-lite act Showtek are up to No.27 and gabber mentalist Angerfist is up eight places to No.34. Frontliner is up 42 places to No.37, Da Tweakaz are up to No.86, and there are new entries for Vicetone and Gunz For Hire.
With big room house being sucked into EDM, it's arguable as to who the highest house DJ is now. With the award going to Hardwell, and aside from Guetta you could say that the next three house DJs are the individual Swedish House Mafia jocks – Ingrosso, Axwell and Angello, in that order. As a trio, the Swedes are down to No.26, and another anomaly is that Daft Punk have jumped 22 places to No.22 – even though they haven't DJ'd for years. They have though, of course, released the biggest electronic album of the year — 'Random Access Memories'. Fellow French house DJ/producers Bob Sinclar and Martin Solveig both remain in the 100, although they've both been flirting with their fair share of EDM in recent times.
There used to be tons of techno DJs in the Top 100 list, but this has now been reduced to just two —Richie Hawtin and Carl Cox. Both have kept virtually identical positions to last year – in fact, Richie is up two places — possibly off the back of their Space Ibiza residencies, and the fact that they continue to innovate and entertain.
Diplo has finally made it into the Top 100, but largely the new entries to the chart are young guns. Incredibly, Martin Garrix from Holland was only born in 1996, while Vicetone is only 20. Other Top 100 mainstays such as Porter Robinson (21) and Madeon (19) are showing that you don't have to have served your dues for a decade in order to make it in the DJ world these days, and the new No.1 Hardwell himself is only 25 — when Paul Oakenfold and pals were kick-starting the UK scene in 1988, Hardwell was born.
DJ MAG TOP 100 DJS POLL 2013 – COMPLETE RUNDOWN:
1 UP 5 HARDWELL – WINNER
2 DOWN -1 ARMIN VAN BUUREN – HIGHEST TRANCE DJ
3 NONE AVICII – HIGHEST PROGRESSIVE DJ
4 DOWN -2 TIESTO – HIGHEST ELECTRO DJ + KLM DJ LEGEND AWARD WINNER
5 DOWN -1 DAVID GUETTA
6 UP 32 DIMITRI VEGAS & LIKE MIKE – HIGHEST DJ GROUP
7 UP 10 NICKY ROMERO
8 UP 7 STEVE AOKI
9 NONE AFROJACK
10 DOWN -3 DASH BERLIN
11 DOWN -1 SKRILLEX
12 DOWN -7 DEADMAU5 – HIGHEST LIVE ACT
13 UP 7 ALESSO
14 UP 11 W & W
15 UP 16 CALVIN HARRIS
16 UP 30 NERVO
17 DOWN -9 ABOVE & BEYOND
18 UP 16 SEBASTIAN INGROSSO
19 UP 4 AXWELL
20 DOWN -1 ALY & FILA
21 DOWN -8 MARKUS SCHULZ
22 UP 22 DAFT PUNK
23 DOWN -12 HEADHUNTERZ – HIGHEST HARDSTYLE DJ
24 UP 27 ZEDD
25 UP 8 KNIFE PARTY
26 DOWN -14 SWEDISH HOUSE MAFIA
27 RE-ENTRY SHOWTEK
28 UP 49 ANDREW RAYEL – HIGHEST CLIMBER
29 DOWN -3 FEDDE LE GRAND
30 NEW ENTRY DYRO – HIGHEST NEW ENTRY
31 DOWN -2 LAIDBACK LUKE
32 DOWN -16 PAUL VAN DYK
33 DOWN -12 ATB
34 UP 8 ANGERFIST
35 DOWN -11 DADA LIFE
36 DOWN -6 KASKADE
37 UP 42 FRONTLINER
38 UP 19 STEVE ANGELLO
39 DOWN -21 SANDER VAN DOORN
40 NEW ENTRY MARTIN GARRIX
41 DOWN -1 PORTER ROBINSON
42 DOWN -20 FERRY CORSTEN
43 DOWN -8 CHUCKIE
44 NEW ENTRY KREWELLA
45 DOWN -8 COONE
46 DOWN -1 CARL COX – HIGHEST TECHNO DJ
47 UP 6 BOBINA
48 UP 10 OMNIA
49 DOWN -17 ORJAN NILSEN
50 DOWN -14 ZATOX
51 DOWN -37 GARETH EMERY
52 UP 14 BINGO PLAYERS
53 DOWN -10 INFECTED MUSHROOM
54 DOWN -2 ERIC PRYDZ
55 UP 7 TOMMY TRASH
56 DOWN -15 WILDSTYLEZ
57 DOWN -29 ARTY
58 UP 15 R3HAB
59 DOWN -5 MADEON
60 NEW ENTRY VICETONE
61 DOWN -12 BRENNAN HEART
62 DOWN -6 DJ FEEL
63 NEW ENTRY GUNZ FOR HIRE
64 NEW ENTRY DIPLO
65 DOWN -15 TENISHIA
66 DOWN -39 NOISECONTROLLERS
67 UP 19 MIKE CANDYS
68 NEW ENTRY ANTOINE
69 UP 5 QUENTIN MOSIMANN
70 UP 30 PROJECT 46
71 NEW ENTRY BLASTERJAXX
72 DOWN 8 D BLOCK AND S TE FAN
73 NEW ENTRY DILLON FRANCIS
74 NEW ENTRY DANNIC
75 NEW ENTRY ADARO
76 UP 2 RICHIE HAWTIN
77 DOWN -29 MARTIN SOLVEIG
78 UP 12 FELGUK
79 RE-ENTRY MYON AND SHANE 54
80 DOWN -41 COSMIC GATE
81 NONE HEATBEAT
82 RE-ENTRY JOHN OCALLAGHAN
83 DOWN -8 WASTED PENGUINZ
84 NEW ENTRY TIDDEY
85 RE-ENTRY SKAZI
86 UP 13 DA TWEEKAZ
87 NEW ENTRY TENASHAR
88 UP 6 BOB SINCLAR
89 DOWN -19 BENNY BENASSI
90 NEW ENTRY STAFFORD BROTHERS
91 NEW ENTRY BL3ND
92 DOWN -23 PAUL OAKENFOLD
93 DOWN 21 MAT ZO
94 NEW ENTRY DIEGO MIRANDA
95 NEW ENTRY DJS FROM MARS
96 RE-ENTRY MATT DAREY
97 DOWN 38 UMEK
98 RE-ENTRY SOLAR STONE
99 NEW ENTRY UMMET OZCAN
100 DOWN 12 RAN D