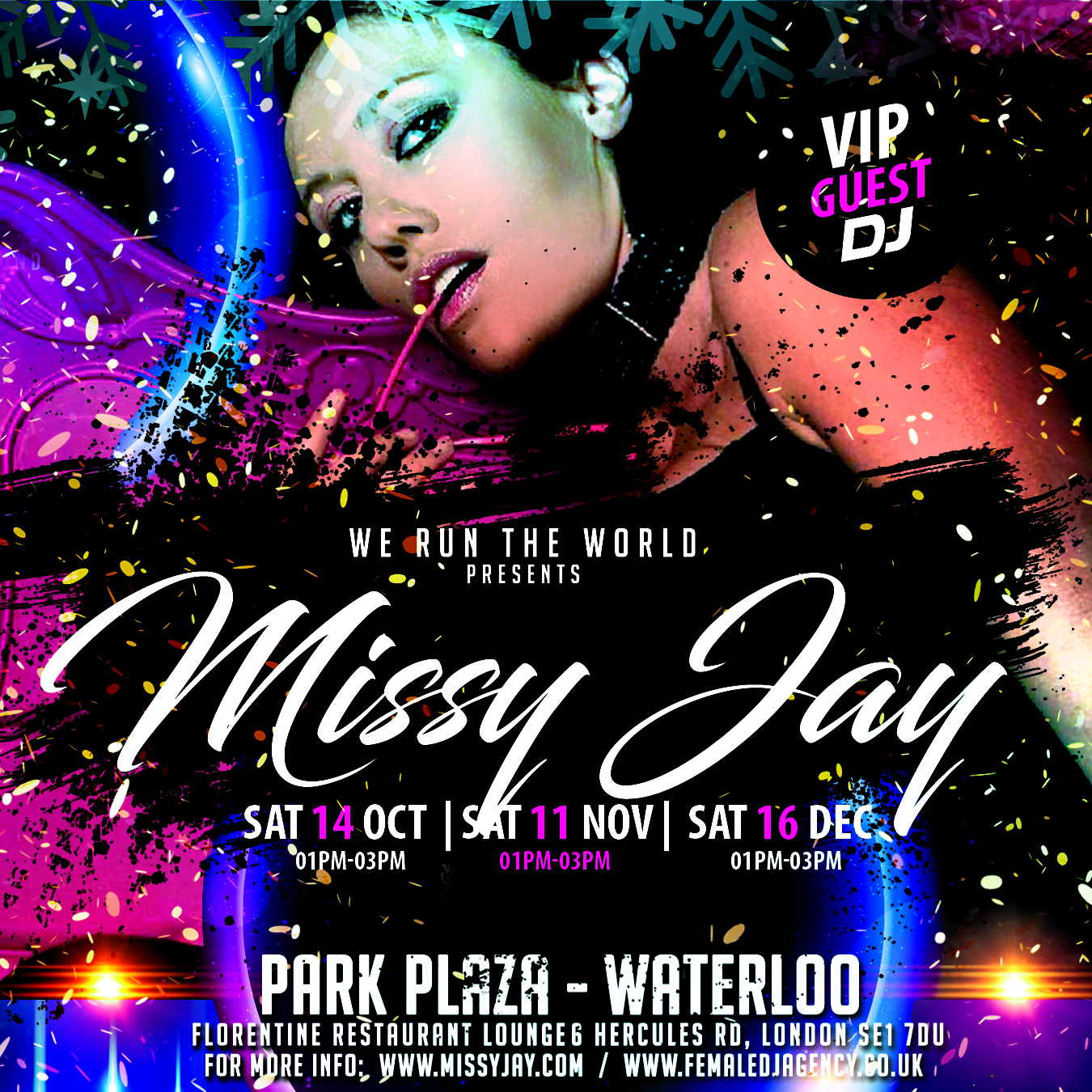 DJ Missy Jay Confirms Upcoming Performances at London's Park Plaza
London, UK–Sept. 30, 2017 –DJ Missy Jayconfirmed that she will be performing at London's prestigious Park Plaza during dates throughout the rest of 2017. The popular DJ wrapped up a highly successful gig at the venue on Sept. 30 and will be making several return visits to share her unique skills that has made her one of the most highly sought female DJs in the world.
"I am very happy to play again at Park Plaza Hotel, Waterloo," said Missy Jay. "I really enjoy the hotel environment and the music I play there. I guess they love me too, as I have dates booked until December with them. You might also see me soon playing for them in some of their resorts in the Middle East and Asia. Stay tuned!"
Missy Jay is booked to play at the Park Plaza on the following dates:
Oct. 14, 2017
Nov. 11, 2017
Dec. 16, 2017
One of the hardest working DJs in the business, Missy Jay has also signed with a major distribution company for her JayLand podcast that's currently broadcast in Europe, the U.S. and in South Africa. Launched in 2016, her podcasts is also a platform for promising new DJs. Missy Jay encourages talented artists to send her their demos and selects five each week to be featured on the podcast.
The DJ has earned the respect of her peers, is rated one of the Top 10 best female DJs worldwide by music industry professionals, and has received numerous awards for her work on several continents. She holds multiple technical and musical degrees, is a music producer, and owns and operates her own music label, MJM Records.
Missy Jay's upcoming gigs at the Park Plaza provides music lover with an opportunity to see the talented DJ in action. The powerhouse performer specializes in luxury events and venues around the world, pounding out techno, house and funky house beats that have made her a global favorite.
Media Contact
Andy Riccio
Manager
Phone: +447785113071
Email: [email protected]