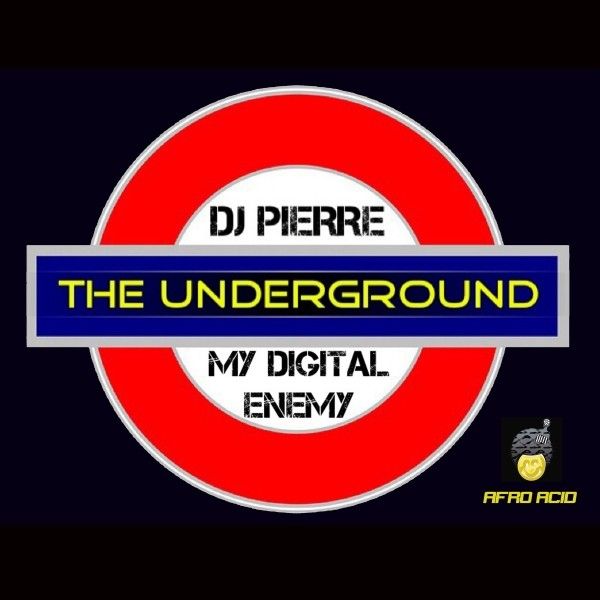 DJ Pierre & My Digital Enemy Hot new Tune, 'The Underground'
'people….feel the music…hear the sound…from the underground…the underground…welcome to the underground'
Chicago DJ/Producer and label head DJ Pierre is back on the Mother Ship. Having set the bar extremely high as one of the innovators involved in the creation of the very first Acid House track and the WildPitch movement, it was difficult for DJ Pierre to explore creatively "outside the box". So his label Afro Acid was born out of a need to simply be unique and different – running in the opposite direction of the crowd.
Following that very principle Pierre has teamed up with UK DJ/Producers My Digital Enemy to create an absolute floor stopper that isn't easily boxed in. It's simply good music whose Original mix hits with driving energy.
DJ Pierre's Wild PiTcH mix will definitely leave any sized room big or small feeling the nostalgic vibe of a time where it was simply about the music. That familiar retro disco-infused sound urges us to take the journey back to the true foundation and beginnings of house music. By the break-you find yourself transported Back to The Underground.
Newcomer Ronnie Spiteri adds a deeper more minimal groove and welcome to the underground.
DJ Pierre has also teamed up with the limited edition UK clothing brand NoWayBack to launch a unique series of DJ Pierre tee shirts. http://www.nowaybackstore.co.uk/collections/dj-pierre
Catch Dj Pierre on the decks in April 2015 on 11th: It'll Do – Dallas, Texas, (USA)
17th-18th: D-edge – Sao Paolo, Brazil
24th: The Club – Paisley, Scotland, UK
25: Constellation – Liverpool UK
My Digital Enemy has become a phrase that is immediately associated with cutting edge House music. The duo consists of Serg & Kieron who have been working together on various projects for more than ten years. Enjoying commercial success with two tracks including one that reached the No 3 spot in the UK National charts lead them being regularly asked to remix the worlds biggest artists including Snoop Dogg, Beyonce, Ke$ha, Britney Spears, Usher, Lady Gaga & Groove Armada.
2014 saw their 'Shamen' track supported by Radio 1's Pete Tong & Danny Howard and in 2013 they managed to notch up an impressive five Beatport House Top 10 tracks, with three of those in the Top 3 spot.