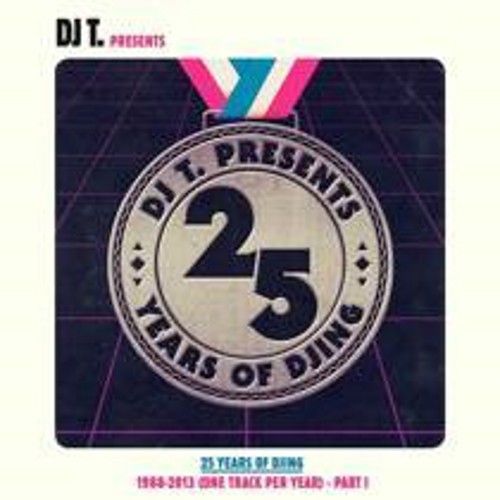 DJ T. PRESENTS 25 YEARS OF DJING
Thomas Koch aka DJ T. has now been integral to the electronic music scene for a quarter of a century. To mark the occasion, the German DJ, producer, founder of Get Physical and lauded German electronic magazine Groove has curated two compilations. "DJ T. presents 25 Years of Djing (1988-2013 – One Year, One Track)", will be split into two issues of 25 tracks each, introducing one track for every year he has been active. DJ T. has spent months researching, unearthing and licensing a broad array of tracks for the compilation, with many of the inclusions never before available digitally, ranging from well-known hits to forgotten gems and has even touched up, edited and re-mastered some of them to ensure they sound their best for their use in contemporary dj sets.

"DJ T. presents 25 Years of Djing" is just the latest in a long line of essential compilations (and artist albums, mix CDs, edits and remixes) to which this man has put his name. It aims for this to be his very personal homage to the once popular and opinion-leading compilation – a format that has lost much of its influence and sway in the digital age, and takes in myriad styles and scenes that have informed his career to date.

Both parts of the compilation boast a balanced mix of well-known hits and secret gems covering the entire breadth of musical styles that have influenced DJ T.'s sound over the last 25 years. Many nuances of techno, deep and tech house are represented along the way and prove DJ T. to be a selector with long arms and deep crates. Along the way there are plenty of delights from the likes of Chicago original Fast Eddie and his classic 'Acid Thunder', Todd Terry's definitive New York house jam 'Searchin'' and the frantic technoid leanings of DJ Hell vs Richard Bartz with their 'Take A Shot' contribution. The recent passing of Romanthony makes the inclusion of his anthem 'The Wanderer' all the more pertinent, whilst modern classics from Kiki in the form of 'Good Voodoo' and 'Beat That Bitch' from jOHNNYDANGEROUs sound as good today as they ever have.