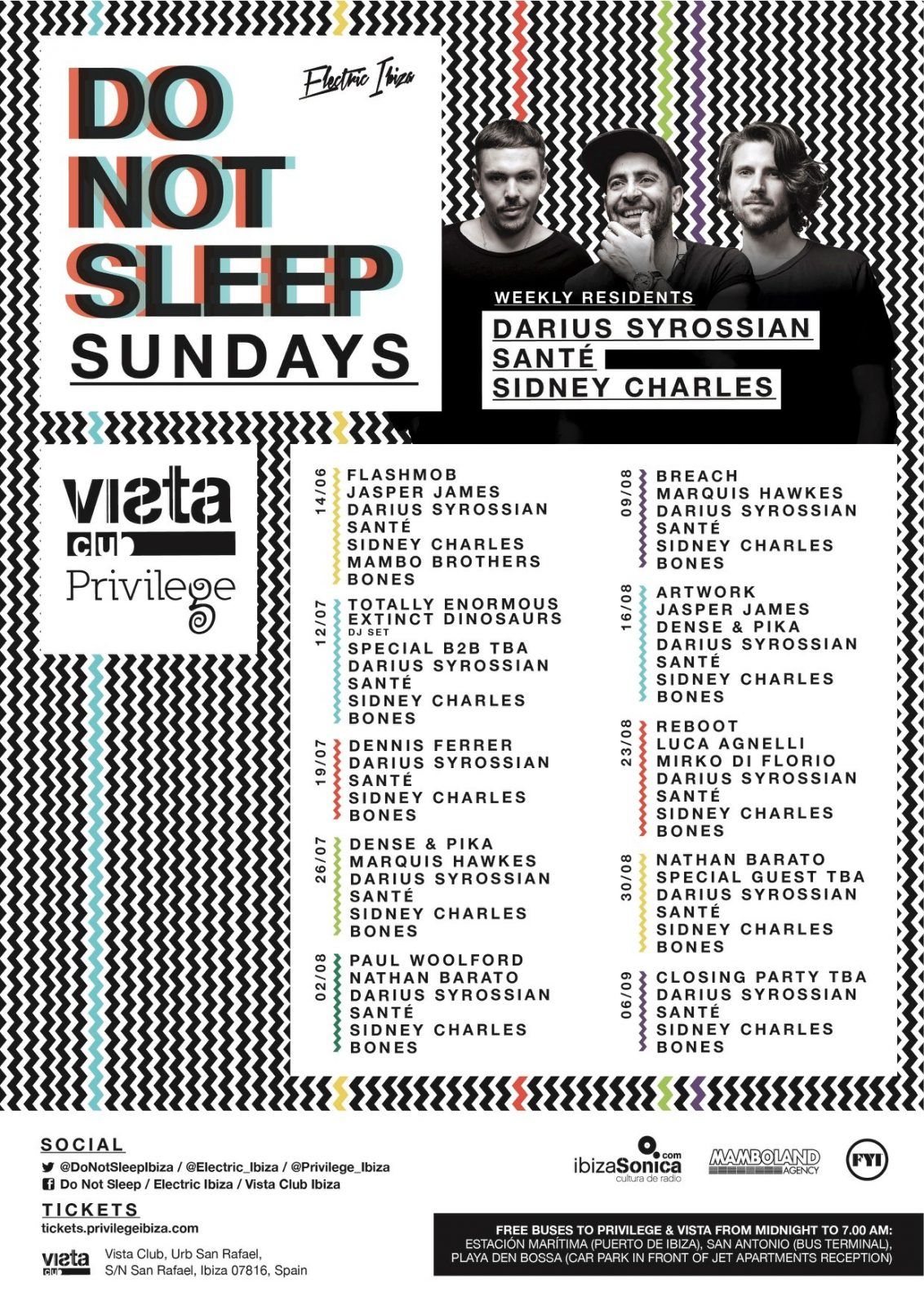 Do Not Sleep Ibiza Announce Full Season Lineups
Do Not Sleep has already announced its intentions for Ibiza this summer: the brand new party night for 2015 that has secured the very special Vista Club in the grounds of Privilege as its home, and the big hitting Darius Syrossian, Santé and Sidney Charles as its residents, is a party for those who like something edgy and different, something fresh and exciting, and for those who want to see exclusive, world class back to back sets from some of the most technically gifted DJs out there.
Do Not Sleep kicks things off at Vista Club on the 14th June, with a pre-opening party, headlined by huge Defected duo Flashmob along with Jasper James, as a welcoming gathering for the Do Not Sleep crew. This Party was originally going to be held on the beach but is now to take place at Do Not Sleep's proper home, Vista Club. As to keep the original free beach party ethos intact, there will be 500 free tickets given away for the night online [Available here – http://bit.ly/donotsleep14june] and it will also be free to those with Do Not Sleep workers wristbands, here is a quote from the residents Darius Syrossian, Santé & Sidney Charles about the 14th June event…
'When our residency was confirmed, we wanted to do a 1 off party with free tickets, to show to people we want to give something back, for the people on the dancefloor! so we decided on a 1 off event with free tickets and also free to workers with do not sleep wristbands' #brosovereuros
This special party then, will set the tone for the mouthwatering, carefully curated line-ups to follow over the rest of the season.
The official opening party commences on the 12th July when globally acclaimed star Totally Enormous Extinct Dinosaurs (dj set) drops in plus there's a special B2B that's still to be announced that will join the proceedings alongside residents Darius Syrossian, Santé, Sidney Charles and Bones.
Sunday 19th then finds US house star and Objektivity boss Dennis Ferrer headlining, before the UK techno duo from Hotflush, Dense & Pika, then play on the 26th alongside Marquis Hawkes.
Into August and the 2nd finds Leeds legend Paul Woolford headlining with Nathan Barato also spinning. A week later on the 9th, chart topper and Aus man Breach is joined by Houndstooth associate and ghetto house producer Marquis Hawkes. The 16th then finds dubstep pioneer Artwork, Jasper James and Dense & Pika all line up for a huge gathering. On the 23rd Reboot joins the party alongside Luka Agnelli and Mirko Di Florio. The 30th features Nathan Barato with a special guest still to be added, before a huge closing event that will be announced for September 6th brings a close to a stellar 1st year programme for the Do Not Sleep brand.
Do Not Sleep are hosting Vista Club as a pre-season showcase this Friday 29th May for the Privilege Opening Fiesta:
LINEUP:
Heidi B2B Cajmere
Eagles & Butterflies
Mambo Brothers
Iban Mendoza
Bones
Finally as the sun rises the huge glass wall framing the vista of Ibiza will capture the spirit of the party perfectly, Remember… "Cool Kids Do Not Sleep…"
LINEUPS:
SUNDAY 14TH JUNE
FLASHMOB
JASPER JAMES
DARIUS SYROSSIAN
SANTÉ
SIDNEY CHARLES
(back2back2back)
BONES
Vista Blue – Mamboland
MAMBO BROTHERS / JASON BYE / ANDY BAXTER
SUNDAY 12TH JULY
TOTALLY ENORMOUS EXTINCT DINOSAURS [dj set]SPECIAL B2B TBA
DARIUS SYROSSIAN
SANTÉ
(back2back2back)
SIDNEY CHARLES
BONES
SUNDAY 19TH JULY
DENNIS FERRER
DARIUS SYROSSIAN
SANTÉ
SIDNEY CHARLES
BONES
SUNDAY 26TH JULY
DENSE & PIKA
MARQUIS HAWKES
DARIUS SYROSSIAN
SANTÉ
SIDNEY CHARLES
BONES
SUNDAY 2ND AUGUST
PAUL WOOLFORD
NATHAN BARATO
DARIUS SYROSSIAN
SANTÉ
SIDNEY CHARLES
BONES
SUNDAY 9TH AUGUST
BREACH
MARQUIS HAWKES
DARIUS SYROSSIAN
SANTÉ
SIDNEY CHARLES
BONES
SUNDAY 16TH AUGUST
ARTWORK
JASPER JAMES
DENSE & PIKA
DARIUS SYROSSIAN
SANTÉ
SIDNEY CHARLES
BONES
SUNDAY 23RD AUGUST
REBOOT
LUKA AGNELLI
MIRKO DI FLORIO
DARIUS SYROSSIAN
SANTÉ
SIDNEY CHARLES
BONES
SUNDAY 30TH AUGUST
NATHAN BARATO
SPECIAL GUEST TBA
DARIUS SYROSSIAN
SANTÉ
SIDNEY CHARLES
BONES
SUNDAY 6TH SEPTEMBER – CLOSING PARTY
LINEUP TBC
DARIUS SYROSSIAN
SANTÉ
SIDNEY CHARLES
BONES