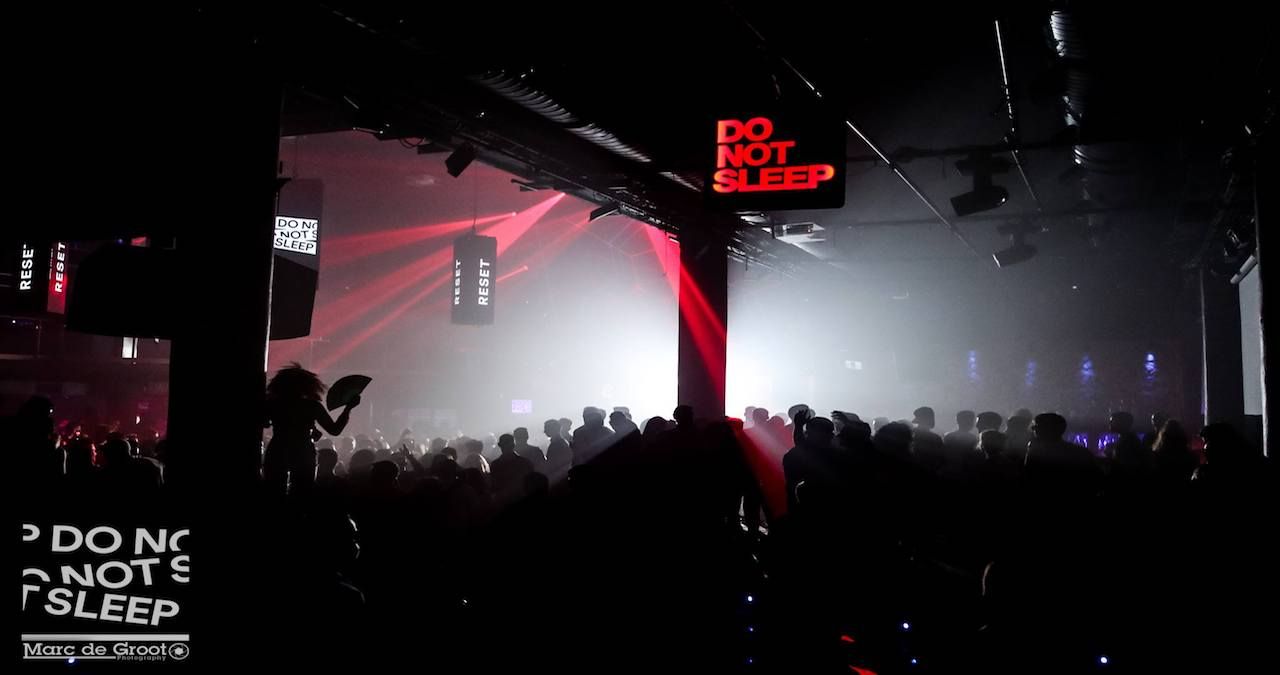 Do Not Sleep Ibiza – London
Saturday 29th September will witness Do Not Sleep make their debut at London's Oval Space, one of the capital's most revered venues for underground House and Techno. Taking place 2 days after their Amnesia closing party, they will be bringing some of their favourite artists to the capital to cap off a brilliant summer

General sale tickets are now live for Do Not Sleep's debut at Oval Space. Tickets are priced at just £17.50 and will run on a limited basis, before they increase in price. If you plan to attend the event, grab your tickets now!

Do Not Sleep's pedigree within the underground house and techno world speaks for itself. From Ibiza residencies at Vista Club, the legendary Space and now taking over the temple that is Amnesia every Thursday, the imprint is constantly evolving and surrounding themselves with some of the most exciting artists on the planet. Saturday 29th September will witness Do Not Sleep make their debut at London's Oval Space, one of the capital's most revered venues for underground House and Techno. With stand out appearances at Studio 338 and Ministry of Sound, Do Not Sleep are no stranger to the best venues in the capital and this visit will be on different. See you on the dance floor….

Giorgia Angiuli has proven time and time again that she is one of the most unique artists on the circuit, being able to evoke deep fascination in every listener's heart. She sets the whole dance floor on fire with her unusual and energetic live performances. Her extremely creative mind can handle a lot – she effortlessly goes from being a dreamy vocalist to playing the keyboard, drum pads and sound toys, the last being something that she's a huge fan of. The Italian talent has played at some of the most renowned clubs in the world including Berghain in Berlin, Rex in Paris & Hive in Zürich and 29th September she will step into another one of the world's most respected venues…Oval Space!

Whether Mathias Kaden is opening the night, owning the primetime or closing the night, he naturally absorbs the vibe and radiates his own energy back, proving each time again that his intuition and crowd reading skills are somewhat supernatural. With more than 1500 gigs under his belt, Mathias still radiates addictive enthusiasm at every show. Music wise he likes to keep his standards high and sound fresh. In the era of overproduction, he politely refuses to jump on the wagon and continues to stay true his vision to make records that will stand the test of time.

Caleb Calloway has mastered the fine balance of giving the crowd exactly what they want while keeping his deeply ingrained musical influences present. His sound is an intricate fusion of tropical sounds of Puerto Rico and underground dance music of Chicago, Texas and New York. His sets at HYTE Ibiza made his name in the party scene and opened up the doors to many other top events across Europe and US.

Southampton's DJ and producer Ronnie Spiteri has made a jaw dropping rise within the last three years. He's been consistently dropping numerous EPs and singles under the highly respected labels like Knee Deep in Sound, Kenja and We Are Brave. The highly productive producer keeps up the work ethic when DJing as well – he's been tearing up the dancefloors at clubs such as Ministry of Sound, Pacha, The O2 Academy and at various one-off events in the South of the UK.

Venue:
Oval Space, 29–32 The Oval, London E2 9DT
This event is strictly 18+

Oval Space is a multi-use arts space in Bethnal Green that has become synonymous with the capital's most forward-thinking and exciting programme of music events, becoming one of the most sought after venues in London. From an unassuming entrance, the club opens up into a cavernous warehouse loft with a state of the art d&b audiotechnik sound system and two outdoor terraces. With floor to ceiling glass windows along one side and an uninterrupted view looking out onto the behemoth decommissioned gas works, watching the sun rise over the industrial landscape in East London has become an iconic clubbing experience

MORE ABOUT DO NOT SLEEP
Do Not Sleep over the past few years has forged both a strong and resilient reputation with Ibiza's underground. With an impeccable track record of carefree dance floor camaraderie, Do Not Sleep has long been flying the flag for quality music as a strong party proposal. Their family of DJ's and house music protagonists have been exploring the sounds of the underground to fuel Ibizan nights during past residencies at Privilege, Space and Sankeys. As the 2018 season is upon us they find their new spiritual home at one of the best-known and internationally renowned clubs Amnesia.
Summer 2018 sees Do NOT SLEEP joining forces with ABODE – another fast-emerging UK club brand which shares a parallel ethos alongside a strong international following and fanbase. Delivering a contrasting but complimentary house sound, the two brands joining forces will unquestionably form a standout Thursday event for Ibiza in 2018 filling the space left by the legendary club brand Cream.

Commenting on the approaching 2018 Season, Do Not Sleep's Neil Evans states:

"When we first started Do Not Sleep I remember clearly that there was a strong desire to be nomadic, holding the ability to take our party vibe around the island in high regard. We have a big Thursday slot to humbly fill; but we are confident that the main room at Amnesia fits our sound entirely. Darker tracks that have real soul translate well in that space"
Do Not Sleep's clubbing philosophy has been transparent from the start – inaugural parties capturing the excitement of unannounced guests and international artists paired with the adrenaline and atmosphere that they have now become tethered with.

Fundamentally rooted in the Ibizan spirit and focussing on delivering contemporary DJ's across leading and emerging names of the underground scene there is a no-gimmick and inclusive emphasis that has successfully seen Do Not Sleep create parties around the world.
Oval Space, 10pm – 6am
Saturday 29th September 2018

Giorgia Angiuli
Mathias Kaden
Caleb Calloway
Ronnie Spiteri
Bowler & T.Bunts

Tickets: www.donotsleep.london / This event is strictly 18+
Facebook: www.facebook.com/donotsleepibiza