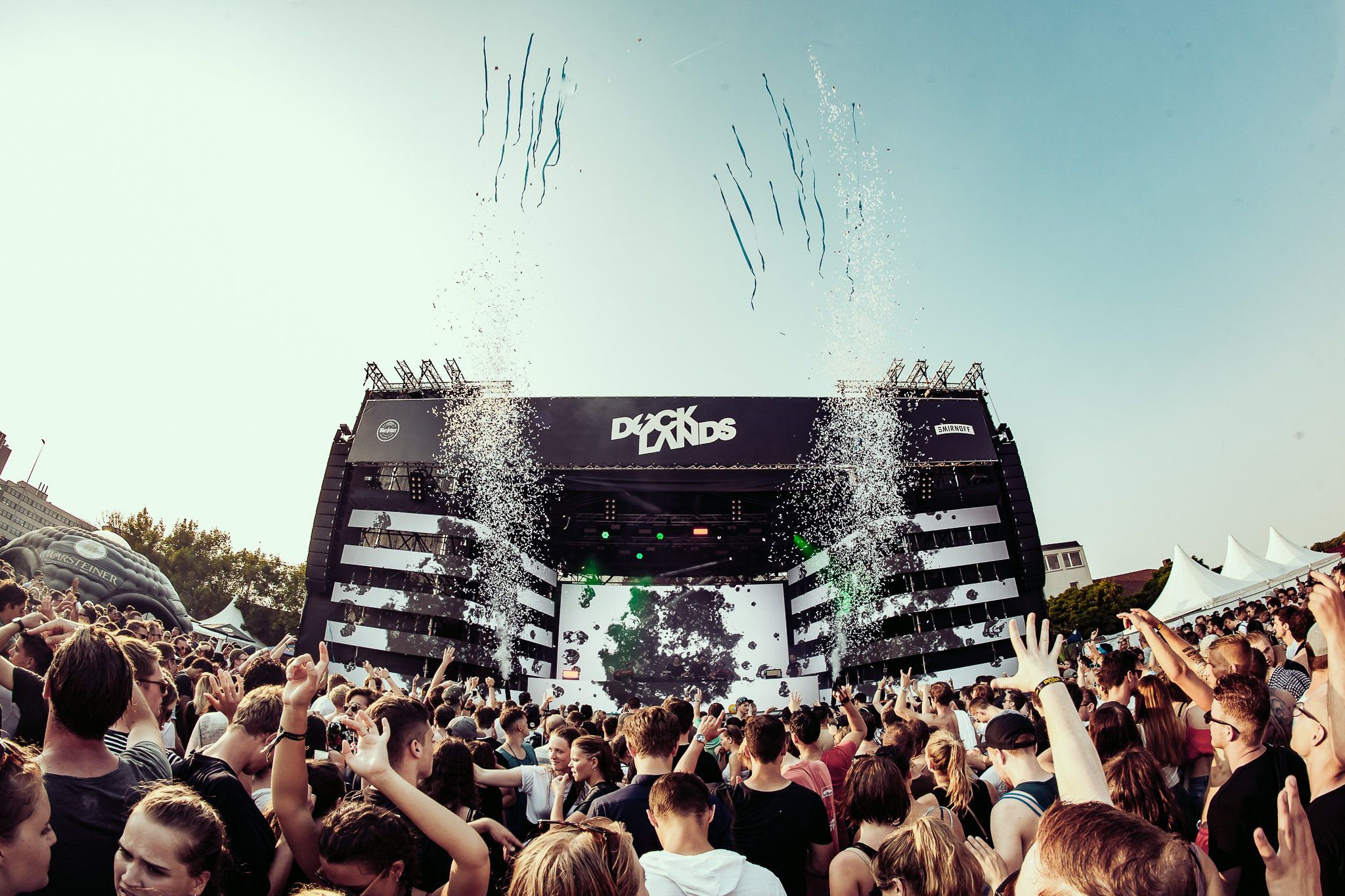 Docklands Festival 2019 – 1st Line up announcement
On June 1st 2019 Münster, Germany will – for the 10th time – be THE place to be for all pilgrims of authentic electronic underground music, when DOCKLANDS FESTIVAL 2019 opens its gates. Just like the past years they provide a day & night edition with 24 hours of nonstop program on 3 impressive open air stages at day and 12 Floors by night all in all including 100 magnificent national and international artists representing the underground electronic music scene.
Out of gratitude towards their incredible audience who made this 10th anniversary possible in the first place, Docklands complements every ticket with special add ons this year: Each ticket includes a starter kit of 3 Euro tokens for drinks. Additionally, the ticket allows the use of busses & trains in the area of Westphalia (Westfalentarif) on the event day itself and the following day until 11am.
Without further ado we want to present the FIRST ACTS of the most impressive LINE UP Docklands ever had (in alphabetical order)! Get your Docklands ticket now and join the 10th anniversary on June 1st 2019 in Münster, NRW, Germany.
Adriatique
The Swiss duo has been wowing the crowds with their dark, melodic releases on Diynamic and Afterlife for a decade now and makes us want more! In 2017, they were dignified with an invitation to the famous Essential Mix by BBC Radio 1 and just now they are blowing critics' minds with their debut album "Nude".
ÂME II ÂME
Under the project name ÂME Kristian Beyer takes care of epic DJ sets and Frank Wiedemann of impressive live shows that are among the best in the world. Much rarer is the two of them coming together and perform as a duo under the name ÂME II ÂME. For our 10 year anniversary you get powerful Innervisions sound from two of their best artists united in an extraordinary B2B!
Amelie Lens
Next to their famous chocolate, she definitely is the best export Belgium has to offer: Amelie Lens is taking the electronic music scene by storm. "A legend already," is the verdict of our 2018 headliners Pan-Pot and we can only agree!
Gerd Janson
With Gerd Janson's unique sound House and Techno function as a base for an enormous amount of different influences from UK Funk, Synth Pop, US House, Industrial and Disco. Gerd Janson has been serving the hottest house and disco cuts at Frankfurt's Robert Johnson where he has been hosting the Liquid club nights. Without a doubt, he is one of the hottest talents of the German DJ scene.
Job Jobse b2b DJ Tennis
Life and Death label manager Job Jobse rapidly developed to one of the most asked DJs on the DJ Circuit, what most definitely comes along with his impressive musical range. His L&D colleague DJ Tennis founded the first ever strictly electronic booking agency of Italy called DAZE and aroused worldwide attention with his tracks "Make It Good" and "Floating Boy". His Sets are unique and full of energy, which for sure is related to his past in the punk scene. For the 10th Docklands anniversary these two magnificent artists provide a B2B-Set together.
Maceo Plex
Maceo Plex from Dallas, Texas stands for innovative dark house music like no other. The drumcode artist has performed in over 40 countries, released 70 singles & EPs and 5 albums and graces every legitimate DJ top 30 list worldwide.
Rødhåd
Dystopian boss Rødhåd delivers the perfect balance of timeless techno. His style is deep, powerful and melancholic – From dub to techno back to house. In 2012 he released his first record on his label Dystopian, followed by tours to Japan, Australia and the honoring as "Break Through Artist Of The Year" by Resident Advisor.
Stephan Bodzin live
Key virtuos Stephan Bodzin delivers surprising and breathtaking live performances time and again, giving everyone who experiences the goosebumps of their lifetime. After his main stage closing last year was cut short after only 1.5 hours by a huge thunderstorm, there is no question that we will end this finale in 2019 in style.
AND MORE TO COME…
Get your Docklands ticket now and join the 10th anniversary on June 1st 2019 in Münster!
Tickets: https://www.docklands-festival.de/tickets/
Homepage: www.docklands-festival.de