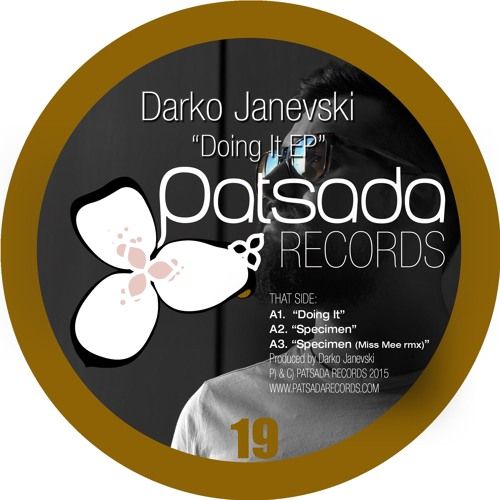 Darko Janevski - Doing It EP
Patsada Records has aimed their house music radar at Sofia, Bulgaria to discover up-and-coming producer Darko Janevski. Born in Macedonia, Darko has previously provided his funky brand of house music for Epoque Music Electronic and on a number of compilations, and these two new cuts for Patsada truly signal a talent on the rise. "Doing It" is a classy house number, building hypnotically over its nearly eight minutes with sharp, rhythmic sounds and filtered vocal loops. This one is perfect for that peak moment in a long after-hours set. "Specimen" follows, delivering a fresh track on a jazzy tip.
The drums have a good bit of swing, and a bouncing bass line creates forward motion. Cool chords and vocal snippets further help place the cut firmly in the DJ's queue. As a bonus, Patsada's Miss Mee is on hand for a slammin' remix of "Specimen", adding big stabs and raising the tempo just a tad. Smart rhythmic cut-ups of the spoken vocals and a prominent low end combine in an appealingly energetic mix. It's official: Darko Janevski's new single brings the goods.
Label and Artist Links:
www.patsadarecords.com
www.soundcloud.com/darkojanevski