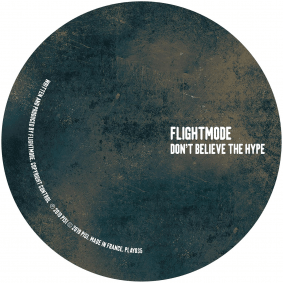 Flightmode - Don't Believe The Hype EP
For the first release of 2019, the ever-consistent Play It Say It turns to an established producer who is launching an anonymous new alias. The music speaks of someone with a love of raw, analogue sounding house and techno with machine made soul.
First out of the blocks is the brilliant and adventuring 'Don't Believe The Hype'. Built around expertly programmed drums that remain restless throughout, it has dynamic synths and acid twitches, moments of serenity and chord-based optimism all stitched in along the way. It's the sort of expansive, cinematic track that envelops the whole club and oozes class and production know how.
On the flip, 'One Night Forever' is a totally different but equally unique proposition: it has fizzing synth lines bringing a dystopian feel to dark bass and razor sharp hi hats. Broken drums amp up the energy levels, and the warped synths pump the party. This is a busy, urgent cut of fantastically realised future music that brings plenty of freshness to the dance floor.
Whoever this artist is, they have a genuinely unique perspective and more than enough skills to realise their bold and brave new ideas
Tracklist:
A Don't Believe The Hype
B One Night Forever