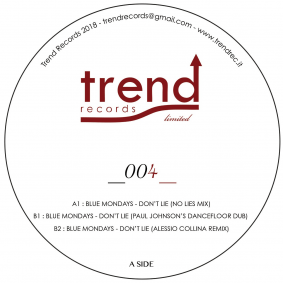 Blue Mondays - Don't Lie EP
Blue Mondays bring their brand new single 'Don't Lie' to Trend Records with remixes from Dance Mania's Paul Johnson and label boss Alessio Collina.
Alongside regular releases on the likes of Rebirth among many others, Blue Mondays also have their own Tunes from Blue Mondays (TFBM) label and now join the Trend Records roster with a new single. Accompanying them on this release is Paul Johnson on remix duties, a man whose history has seen him release on Dance Mania, Peacefrog, DJax Up Beats and Cajual as well as a remix from label co-founder Alessio Collina who's been picking up support from the likes of Jimpster, Kerri Chandler and DJ Sneak on his releases over the past few years.
Kicking things off, Blue Mondays present their No Lies Mix of 'Don't Lie' bringing harmonious, funk-infused vocals and a crunchy bass groove before a rugged kick, choppy vocals and crisp synthesiser blips sound throughout Paul Johnson's Dancefloor Dub version. Rounding off the release we have Alessio Collina delivering his rework of 'Don't Lie', utilising shuffled cymbals alongside a punchy kick and rumbling sub to bring a warmer, more refined sound to things.
Blue Mondays 'Don't Lie' EP drops on Trend Records on 25th June 2018.
https://www.facebook.com/bluemondaysmusic/
https://soundcloud.com/bluemondays
https://www.facebook.com/DJPaulJohnson/
https://soundcloud.com/djpauljohnson
https://www.facebook.com/alessiocollinareal
https://soundcloud.com/alessiocollina
Tracklist:
1. Don't Lie (No Lies Mix)
2. Don't Lie (Paul Johnson's Dancefloor Dub)
3. Don't Lie (Alessio Collina Remix