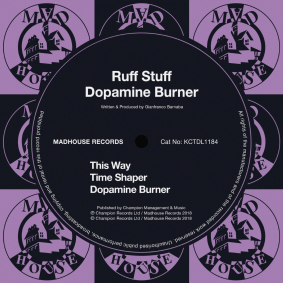 Ruff Stuff - Dopamine Burner
Italian talent Ruff Stuff heads to Madhouse Records this April to reveal his impressive three track EP 'Dopamine Burner'.
Italian born, Berlin based DJ/producer and vinyl enthusiast Gianfranco 'Nanni' Barnaba, aka Ruff Stuff, has emerged onto the scene in style over recent years, with his slick blend of old-school house, garage and harsher techno territories finding favour amongst the likes of Cinthie and Black Loops to name just a few. Following recent releases on the likes of Berlin Bass Collective, Quality Vibe, Neovinyl and his own Ruff Stuff Music imprint, mid-April marks a label debut on Kerri Chandler's Madhouse Records, delivering three classy house cuts in the process.
'This Way' opens proceedings as rich organ chords combine with slick percussion arrangements to reveal a production packed full of swing, whilst 'Time Shaper' introduces a hazy, slow-blooming groove, fusing delicate hats and warping melodies throughout. Last up, title cut 'Dopamine Burner' concludes the EP in fine fashion as an infectious core bassline guides listeners through an ever-evolving journey across six and a half minutes accented by dusty drum licks, spiraling lead synths and hypnotic pads.
Ruff Stuff 'Dopamine Burner' is out on Madhouse Records on 12th April 2019.
Tracklist
1. This Way
2. Time Shaper
3. Dopamine Burner