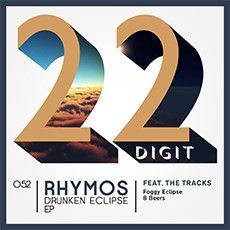 Rhymos - Drunken Eclipse EP
22 Digit Records is a UK based label which has an eclectic sound that releases everything from Ambient House to Deep Techno. After celebrating its 50th release last month with a special EP from Tom Ellis, the label is now proud to present two original tracks from Rhymos.
Hotly tipped but perhaps not instantly recognizable to some Aaron Binstead aka Rhymos heads up the Whistleblower label, which he runs with close friends Alan Fitzpatrick (Drumcode) and Reset Robot (Truesoul).
Highlighted as one to watch in the August 2015 edition of DJ Mag (UK) he has a back catalogue of releases on labels including Guy Gerber's label Rumors, Murmur, Kina Music, Sintope, Overall Music and DJ W!LD's label Catwash.
In the words of DJ Mag "Rhymos isn't just another purveyor of greyscale Tech House by numbers…" which is proven by this forward thinking EP of House that takes in elements of break beat and Techno.
Track one titled "Foggy Eclipse" starts with rattling hi-hats and the spare use of an eerie synth stab. With machine like precision each drum hit is perfectly placed and the track builds with a four to the floor kick pattern, but this changes at the half way point with an introduction of a broken beat, as the track takes a whole new direction. Dark and mysterious this is a masterclass of how Tech House should be done, with both style and individuality.
Second up is the tougher and slightly more dancefloor focused "8 Beers," which starts with a Detroit influenced pad sound. Simple in its idea, the lead pad sound forms the tracks driving element, whilst rigid percussion hold the groove. Full of Techno influence, it's hard to tell if this is a Tech House or Deep Techno track, but with such a good stripped back sound that's full of energy does genre really matter?