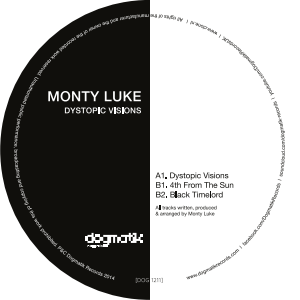 Monty Luke - Dystopic Visions EP
This December will see Dogmatik round off the year with a new release from Monty Luke, comprising three original tracks from the Detroit based producer.
Monty Luke has a long standing in electronic music having been releasing material since the turn of the century via the likes of Mothership, his own imprint Black Catalogue, and also Planet E where he's collaborated with label-head Carl Craig. Here Monty joins the Dogmatik roster with a fresh three-tracker, slotting him in alongside Neville Watson, Vakula, Berkson & What and RNDM on this year's releases.
Title-track 'Dystopian Visions' opens and lays the foundations for this tripped-out release, Luke employs spaced out arpeggios and smooth strings alongside dusty raw rhythms to radiantly display the influence of his current home, Detroit.
Up next is '4th From The Sun' which takes on a more low-slung feel bringing an amalgamation of gritty vocal samples and funk-laden bass licks into the limelight, running alongside organic percussion and tension building strings. Rounding off the package is 'Black Timelord' which breaks up to the rhythmic aspects to a bumpy off-kilter feel, while snaking synth horns, airy chords and sporadic vocal murmurs intricately blossom and unfold throughout the composition.
Monty Luke's 'Dystopic Visions' EP is out on Dogmatik 16th December 2015.
Tracklist
1. DystopicVisions
2. 4th From The Sun
3. BlackTimelord