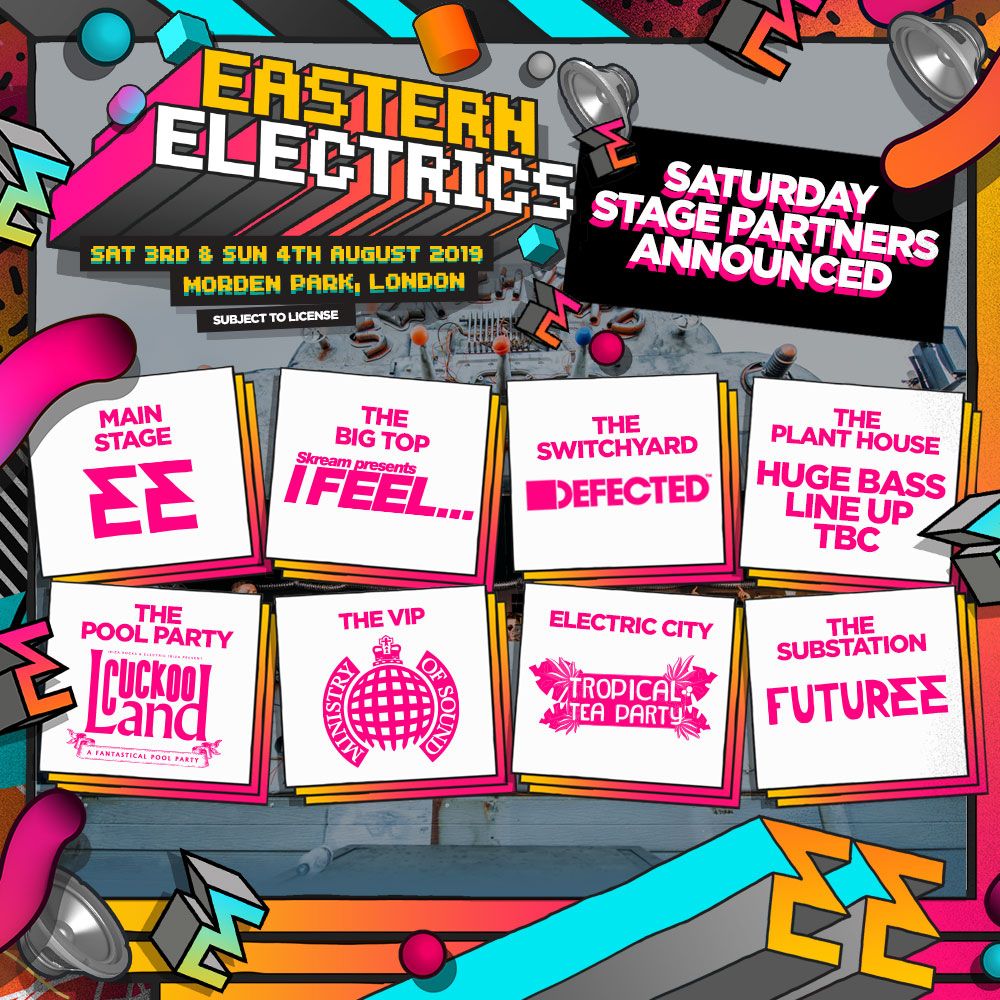 EASTERN ELECTRICS 2019
3rd – 4th August 2019, Morden Park
EARLYBIRD Saturday – £25 / Sunday – £20
EARLYBIRD Weekend – £45
A party known for it's fun frolics, world-class line-ups and magical production, Eastern Electrics is an annual highlight of the UK festival calendar, and 2019 is shaping up to be it's strongest outing yet. A solid selection of clubbing institutions will make up the seven stage hosts, expect a mix of house and techno heavyweights, garage gods and disco dons to descend on the lush Morden Park between 3rd – 4th August 2019. Saturday stage partners are here, plus Sunday tickets on sale; and with early bird weekenders just £45, grab one now for a bargain price.
At the centre of the Eastern Electrics universe is the Main Stage, where ravers will find electronic royalty and special guests smashing it out. Plus, there's top-spec production and pyrotechnics to take things to the next level. Next up, it's the Big Top – roll up, roll up! The shady, club setting has been home to South London boy Skream for the past four years, and now he brings his fresh 'I Feel' brand to the Big Top. This'll be packed from doors to close. Another EE mainstay, The Switchyard, is the industrial stage, made up of shipping containers for a fully immersive rave experience. For 2019, number one house huns, Defected, step up to host; expect an all-star cast from the labels friends and fam.
The latest edition to the EE set up is The Plant House; a summery arena filled with lush, leafy plants and a see-through roof where the sun will stream through. This arena will explore the low-end, darker sounds of UK bass and garage – a massive stage host to be announced soon here (TQD and Rinse have hosted the past two years as a hint!) Another HUGE addition is Ibiza Rocks and Electric Ibiza presents Cuckooland, bringing a full-on pool party to Morden Park. This swimming pool centred-stage isn as The Substation, the FuturEE stage is a platform for next gen talent, watched over by scene veterans like Sam Supplier and Normski. Last but not least, our friends at Ministry Of Sound take over the VIP area with shorter bar queues, posh toilets, a huge range of cocktails and high-end drinks on offer. Plus there's intimate sets from in-demand DJs, fun pop ups and OF COURSE – bragging rights.
Last year saw Eastern Electrics expand into a full weekender, with hip-hop, bass, garage and more at the forefront, and stage partners including Rinse FM, Matt Jam's Lamont's History of Garage and Bass, RAM Records, Star of EE, South London Soul Train and So Fresh, So Clean. There'll be another superstar Sunday on the cards for 2019, and tickets for this are already on sale for a bargain at just £20.
With fairground rides, street food, glitter, cocktails and more, set in the idyllic settings of Morden Park, there is no reason not to miss this festival. As always, Eastern Electrics ticket prices are a steal with Saturday tickets starting at just £25 for a Saturday day ticket and £45 for a weekend ticket. VIP ticket options are available too, of course. More info : www.easternelectrics.com
SATURDAY STAGES :
Main Stage – Eastern Electrics main stage
Big Top – Skream presents 'I Feel'
Switchyard – Defected
Plant House – TBA
Pool Party – Ibiza Rocks and Electric Ibiza presents Cuckooland
Electric City – Tropical Tea Party
FuturEE
VIP – Ministry Of Sound
SUNDAY INFO COMING SOON!
EASTERN ELECTRICS FESTIVAL 2019
3rd – 4th August || Morden Park
EARLYBIRD Saturday – £25
EARLYBIRD Sunday – £20
EARLYBIRD Weekend – £45