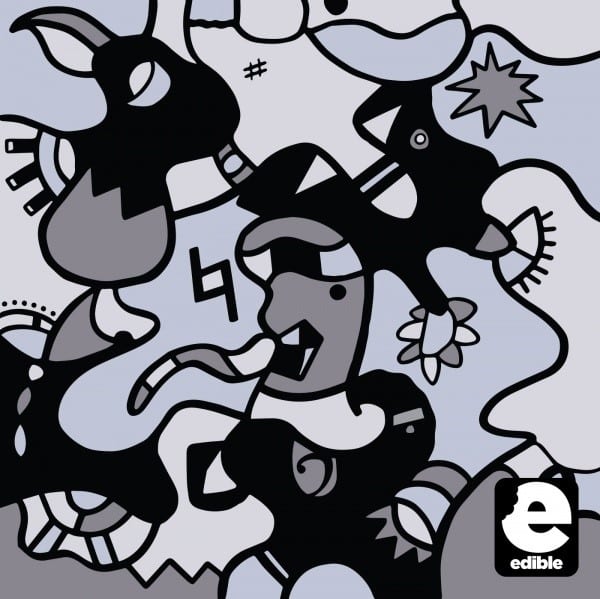 Eats Everything and Nick Harris launch Edible Records
Launching in November, Edible Music is the brainchild of Bristolian movers & shakers, Dan Pearce (Eats Everything) and Nick Harris. A new record label that will ultimately run from a Bristol base, but with a global array of talent, the label will focus on fledgling producers and underground house & techno music that pushes the envelope but with a respective nod to its past.
The inaugural release from Edible comes from Lord Leopard. Direct from his studio, somewhere in the depths of rural Cornwall, he brings some serious heat to the first release through two original tracks. 'Mark Of Passion' is a stellar slice of twisted tech-funk, whilst ''Fantastically Well' is a jazz heavy slugger, in which the good Lord gets deep into the groove, flipping vocal samples and insane breakdowns for a very individual and unique sounding cut.
Edible brings together two music forces; Nick Harris ran one of the house music scene's most enduring record labels, NRK (home to a vast lineup of dance music royalty such as Miguel Migs, Peace Division, Nick Holder and Ian Pooley), a label that ran for 15 years up until its muted closure in 2011, whilst Dan Pearce has risen up the ranks on the Bristol club scene over the years to launch his hugely successful Eats Everything moniker.
Nick Harris explains, "Edible will be first and fore mostly about the music but we're also heavily focusing on the aesthetic of the label. We are rolling out a series of 10" vinyl releases, packaged in some amazing artwork by the British artist Nicholas Dixon that we specially commissioned, and we're about releasing artifacts, not simply just music. The music industry continues to change at a pace, and so our aim is to buck the trend a little, and present music that's just as much a little piece of merchandise or a collectable artifact than it is a disposable download file"
Dan Pearce continues, "Edible is by no means a vehicle for my own music, on the contrary, we want to develop and grow a house music label that can stand the test of time, in much the same way that Nick's NRK label remained a consistent and respected imprint for many years. I'm also really excited about this label giving me the opportunity to be able to break and develop new underground acts".
To mark the launch Dan & Mark have created 'The Never Ending Playlist From Edible' Exploring The Musical Identity of the label