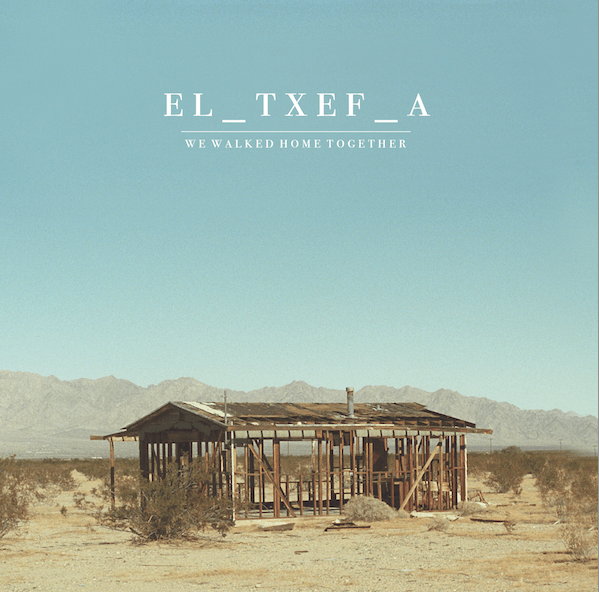 El_Txef_A – We Walked Home Together
On the back of an exciting debut album in 2012 that saw him perform live at Sonar festival and later with his band at Vienna's Volkstheatre, before disseminating music on Permanent Vacation, Suol and Connaisseur Recordings, enigmatic Basque Country producer El_Txef_A returns with his sophomore longplayer 'We Walked Home Together'.

El_Txef_A (pronounced "Elchefa") has crafted a work that just like its journey-conjuring title, charts a shifting palette of sounds and moods, exemplifying its creator Aitor Etxebarria's breadth of skill.

Produced entirely in Aitor's homeland of the mountainous Basque Country, the album showcases the talents of not just its creator who producers, sings and plays piano on the record, but also some of the Spanish region's most outstanding musicians.

Local artist Biskonti is one contributor, whose vocals coat a brooding bed of rough-cut drums on the ice-cold slice of electronica 'I'm Going to Paint You', while Hannot lends his pipes to the moving 'You Left Us In This Physical World' that sweep over a delicately crafted brew of guitars and keys. Both Basque vocalists featured on El_Txef_A's debut 'Slow Dancing in a Burning Room'. Sublime title track 'We Walked Home Together' turns into a family affair, with Aitor's brother Hibai playing the grand piano.

A graduate at 2013's Red Bull Music Academy in Madrid, El_Txef_A has an impressive array of sonic strings to his bow and the Detroit techno inspired 'Claim of Planet Earth' deliciously rubs shoulders with the album's single, the alternative slice of pop 'The Love We Lost' featuring DFA's Woofly.

Elsewhere, Aitor paints a dream-like soundscape with the sublime shoegaze-inspired trip '0730' that seamlessly bleeds into 'Every Day Is Blue Monday', with its atmosphere-heavy swirl of subtle acid lines, floating synths and evocative vocals delivered by Suol records contributor Meggy.
An artist whose music is inextricably connected with his homeland, the album concludes with the stirring 'Mugarrirantz' sung in the native tongue of Euskera by country folk band Napora Iria. It's proof that El_Txef_A is equally adept at doffing his cap to tradition as moving a dancefloor with his inspired brand of electronica.

El_Txef_A 'We Walked Home Together' Tracklist
1. A Heart For Two
2. We Walked Home Together
3. Someone Is Going To Paint You
4. 0730
5. Every Day Is Blue Monday feat Meggy
6. You Left Us In This Physical World feat Hannot
7. Claim Of Earth
8. The Love We Lost feat. Woolfy
9. Mugarrirantz feat Napora Iria

http://www.facebook.com/EltxefaMusic
http://soundcloud.com/el_txef_a
http://www.facebook.com/Fiakun
http://soundcloud.com/fiakun
http://www.fiakun.com