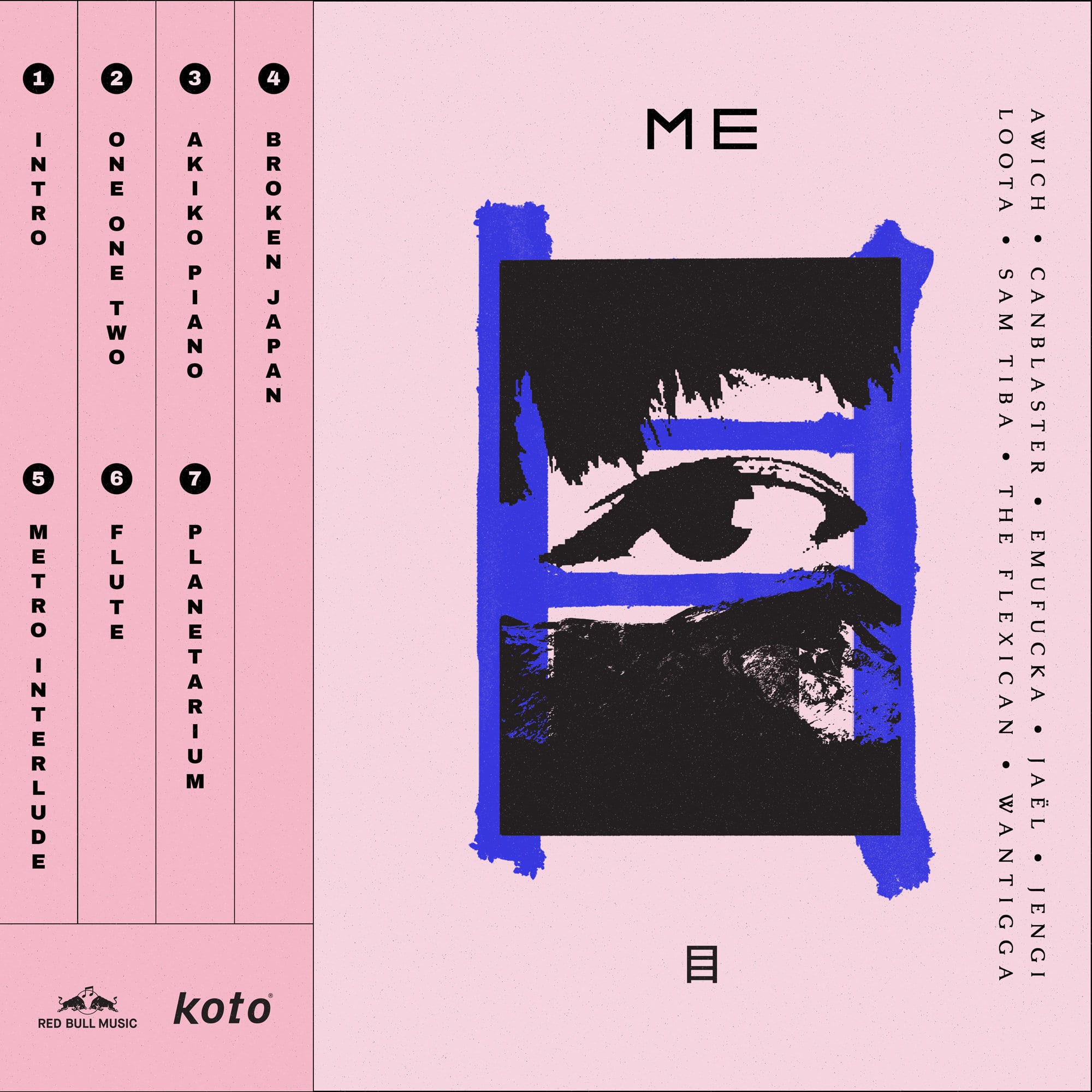 Electronic music meets hip hop in Japan with the release of ME目EP
The Japanese influenced collaborative EP by nine international artists, ME (目 pronounced méꜜ), is now unleashed. An inimitable sound with a unique vibe, modernizing traditional Japanese sounds in an uncompromised forward-looking manner. The EP comes as the first release under Studio Koto, the cutting-edge music label and artist agency launched by Rana Vatanparast. In collaboration with Red Bull Music Studios Amsterdam and under the creative direction of Sam Tiba, Studio Koto and their impressive roster of talent have joined forces to produce this pioneering EP comprised of seven powerful tracks.
From the Netherlands to France and all the way to Japan, distance was no limit for the nine artists who collaborated on this stunning EP from across the globe. The newly-formed team boasts some massive names including the widely-renowned Club cheval members, Canblaster and Sam Tiba, along with Dutch legends The Flexican, Wantigga, Jengi and Jaël, and the prominent Japanese rappers Awich, Loota and producer Emufucka.
Following on from the success of their African-inspired EP, Les Demoiselles d'Avignon, the artists once again set their sights on an exotic theme, choosing a Japanese style with the oriental energy to match. "We've mixed broken beat, electronic music and experimental R&B with chord progressions and instruments regular in Japanese music, to try and blend our personal styles with the Japanese music we love." said Dutch artist, Wantigga.
Recorded partly in Red Bull Music Studios Amsterdam, Sam Tiba said, "It was great to gather in the studio with six producers who have mutual love and passion for Japan. During three sessions we tried to merge our favoriteinfluences with a subjective but sincere depiction of what Japan means to us."
Although the artists were not always in the same country, Japanese rapper, Awich, said it worked, "When you work with multiple different producers from different countries and cultures, it's really exciting to see what they will do with what I had provided them".
Wantigga found working internationally to be particularly inspiring, as he said, "To have been able to work with Japanese artists that I listen to, makes this project extra special for me."
While Sam Tiba also raves about the experience, stating "The result of the EP is seven very diverse tracks, which nicely reflects the signature sounds of all the producers involved and gives a personal interpretation to traditional Japanese sounds."
Released under Studio Koto, this project not only showcases the agency's high calibre artists but also positions the label as an international player to watch, demonstrating to be at the forefront of industry trends.