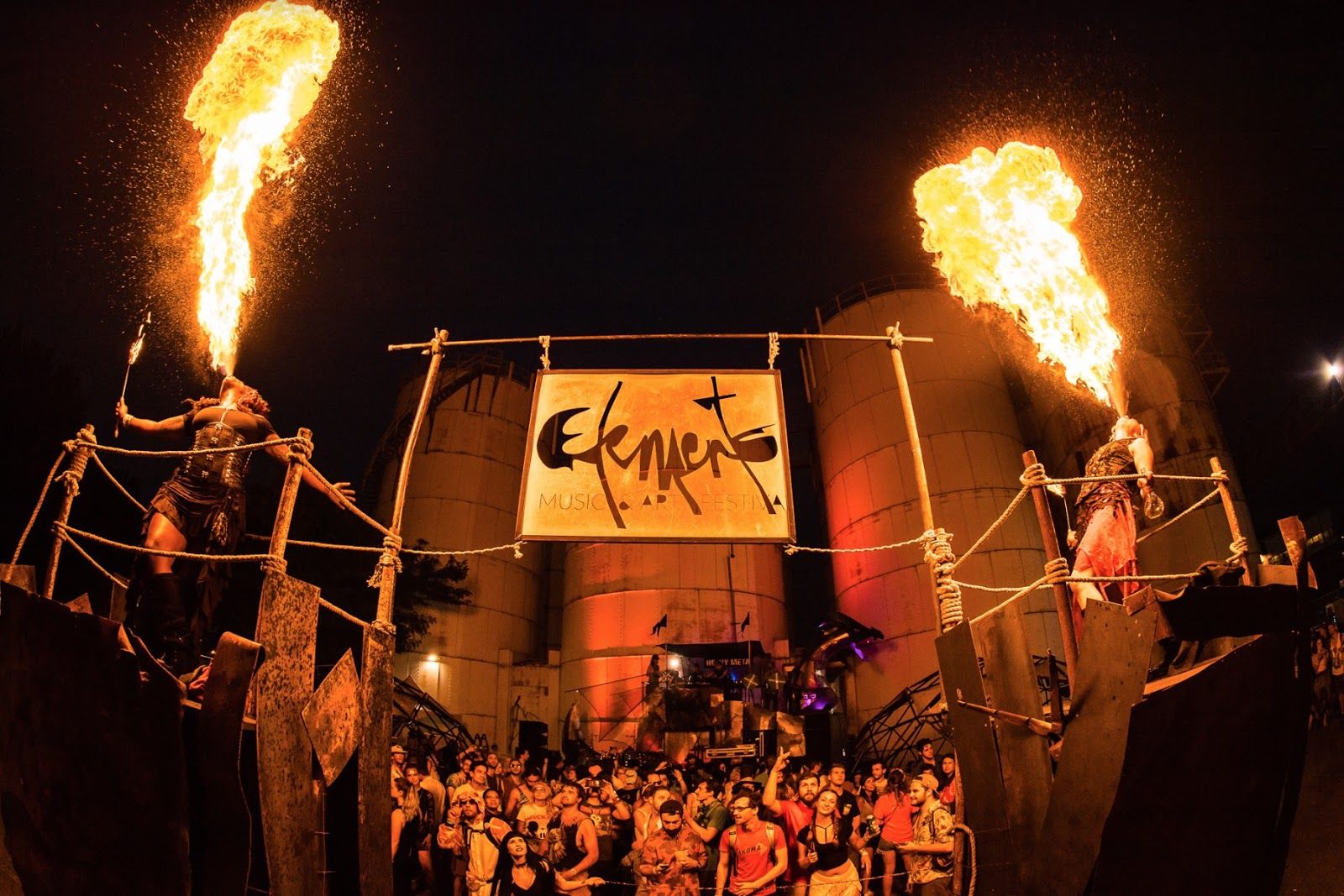 Elements NYC Music And Art Festival Celebrates Five Years With Music, Art & Technology
After a hugely successful exploration into art and music at Elements Lakewood 3 day camping festival in May, BangOn!'s Elements NYC Music and Art Festival returns to New York City on Saturday, August 11th to celebrate its fifth anniversary. Taking place at Hunts Point in the Bronx, the festival welcomes Bassnectar, Emancipator, Desert Dwellers, Snakehips, SNBRN, Goldfish, Justin Jay and more top names as it announces the final set times. Blending an industrial waterfront location with visionary technology, out-of-this-world immersive art, interactive performances and mind blowing musical talent, Elements NYC is a must this summer for lovers of quality music and art with a passion for exploring the latest in creative innovation.

Elements NYC 2018 taps one of its most exciting lineups to date, bringing 32 artists together across dubstep, house, funk and more to perform across five uniquely themed stages. Bass music heavyweight Bassnectar headlines the bill with downtempo guru Emancipator, British hip-hop duo Snakehips, California's own Dirtybird Players with Justin Jay and Sacha Robotti and many more joining the roster. Elements also takes the experience beyond music alone, meticulously placing each artist at the stage that best fits their sound. Both emotional and heavy acts such as Bassnectar and Emancipator hit the Earth Stage, silky smooth artists like SNBRN and Goldfish grace the Water Stage, the lively Dirtybird Players take over the Fire Stage, and ethereal rising performers like Dance Spirit (Live), Lost Desert and more land at the Air Stage.

Elevating beyond the music, Elements NYC curates an immersive experience unlike any other with 'Art of the Future' showcasing installations and technology-driven pieces from 14 artists. Marpi will present a take on interactive, large-scale projection mapping using Kinect (a line of motion sensing devices), while photographer Jarid Blue will use human bodies as his canvas to project digital imagery. Utilizing mixed media, Justin Wood will combine projections with mirrors and fog, and LED sculptures by Orbism will pulse to attendees heartbeats. Rhizome will showcase stunning projection mapping using CNC design creating incredible textures and depth, meanwhile Seth Hosko & Dan Ragan will treat festival goers to an immersive audio and video sound experience. Other notable installations include a sensor-based infinity mirror that responds to one's presence by Brendan Burke, a sculpture by Vicki Lam using mixed media technology that combines projections with UV light and water, "Salix Vivifica," a weeping willow by Dom Romaniello & Rachel Smucker that uses sensor-based misters, and "Whispers in the Grove" a collection of LEDS and sensors that respond to sound by Mirabai Howard-Geoghan, Kathy Creutzburg, and Natalia Lesniak.

After wowing attendees in Lakewood with their exceptional decor, the creative team led by Julianne Irene has collaborated with 30 artists to transform Hunts Point into an interactive playground that begs to be explored. Fans will be impressed by climbable structures and the Lotus art car by Eagle Rock Studios, an alien garden known as the 'Galactic Green House,' and 'Pipe Dreams' – a dark cosmic peep show hidden inside a silo. Other decor that is sure to impress includes pyro at the Fire Stage and psychedelic alien-esque trees growing throughout the Earth Stage by Chateau Brooklyn. Bringing all five art cars from Lakewood, the iconic pirate ship last seen sailing in Pennsylvania will drop the anchor on land serving as the Water Stage. Numerous performers will roam the grounds including Team Kitty Koalition comprised of gogo and choreo dancers, stilt walkers, aerialists, fire, LED performers and thrilling over the top circus antics and jaw-dropping dance numbers with Fou Fou Ha. For those looking to partake in some fun-filled physical activities, festival goers can head over to the Big Kids Carnival Games presented by funtender Rawb Lane. Fans can test their skills at knocking down targets at The Wet Paint Pitch, drop it like it's hot at The Bass Drop vertical target game and after dark, join in on a glow-in-the-dark Champagne Ring-Toss. For those needing to refuel, a plethora of food vendors on site will cater to every palate with options varying from tacos to burgers, Thai, Mediterranean, vegan rolls, lobster rolls and slushies. Keeping health and wellness in mind, Elements will also host an abundance of workshops, bass yoga, sound healing, meditation and much more making this one of the most diverse and engaging festival experiences to hit the East Coast this year.
Advance tickets available now via Night Out.