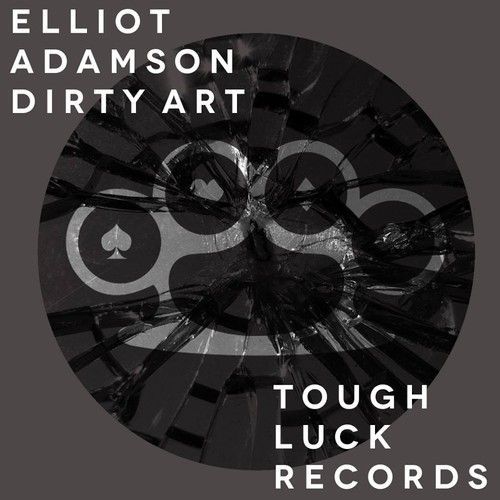 Elliot Adamson – Dirty Art EP
From Newcastle to London via the Midlands comes Tough Luck Records, a label run by four friends – Chris Cue, RebEL, Twon and Anna Wall. Pressing vinyl as well as releasing digitally, their debut release was named "Single of the Month" by Mixmag (UK) in August last year, and like a fine wine the label has been getting better with age ever since. With the last release featuring music from Ed Davenport and The Jaydes (Bloody Mary & Attan) the highly anticipated fourth release is finally here.
Tough Luck Records welcomes Elliot Adamson to its roster with a sole EP consisting of 4 irrepressible and tripped out Techno cuts, "Dirty Art" by name and nature. Young up and comer, Elliot has already been turning heads with his high quality production skills and dancefloor intuition. The appropriately titled Dirty Art EP tells a twisted tale from beginning to end, and shows off his ability to make music that really grabs your attention and with an intellect that makes you think as well as dance.
"Features" Opens the EP with a minimalist intro, tense strings, popping percussion and a heavy industrial kick. The parts bounce and intermingle with each other until the break down where the introduction of an oldschool drum break gives the track a warehouse feel, but the tension never breaks and the track pulls on nostalgic heart strings.
"Deprived" Is centred round a rasping and eery vocal loop that's filled with dark and fierce atmospherics. Echoing rim shots and sinister sounding FX engulf the vocal and fill the mix with an unnerving mood, which both sets the tone and hints at what's to come from the rest of the EP.
"Heb 12" Industrial clangs and the boom of a heavy kick, this work horse of a track is both industrial and emotive. Rising strings that shimmer like a ray of light breaking through a crack in concrete, it gives false hope of arms in the air euphoria which is soon replaced by fist pumping glory.
"Starlight" Closes the EP with distant piano riffs textured with whispers and drones. Layered on top of a heavy drum break and uplifting pads the euphoria that was glimpsed in the previous track finally gets its release like a trapped bird flying to freedom. This carefully thought out EP is a roller-coaster of emotion and tension that no DJ can be without either in the club or on headphones for home listening.