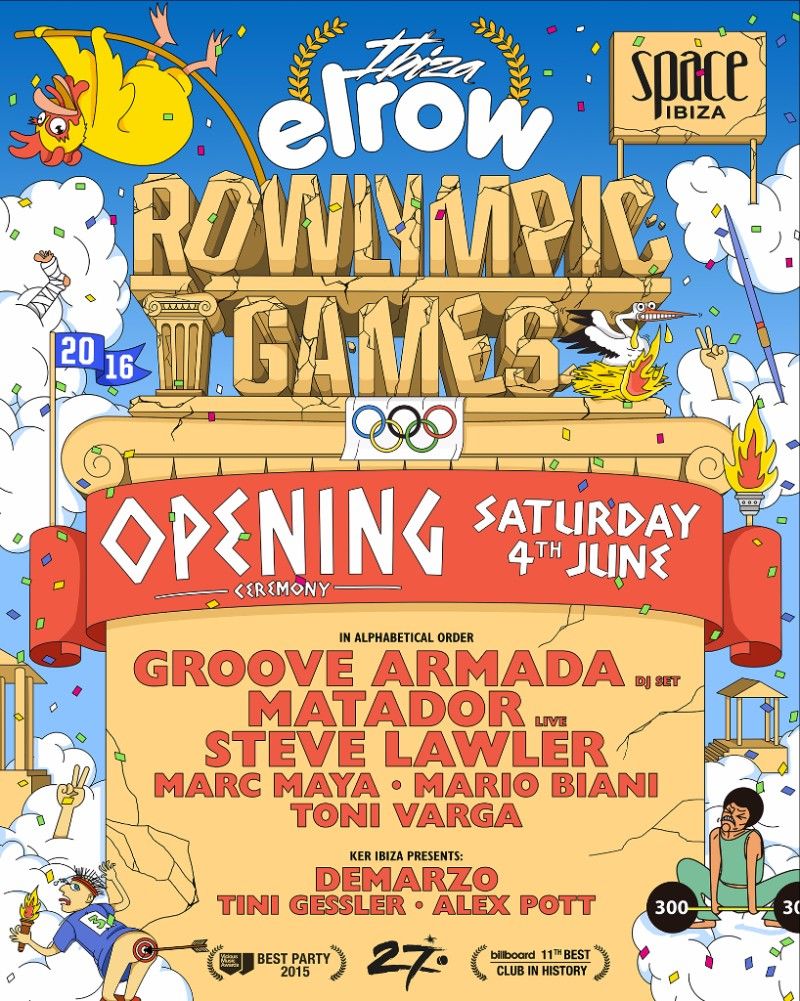 elrow celebrates its last opening at Space Ibiza with an Olympic line-up
elrow starts the summer with a bang this 4th of June with the most anticipated party of the year, the opening, with a line-up formed of a selection of masters in the electronic scene and large scale production inspired by the Olympic Games which will kick off their last season at the iconic Ibiza nightclub.

This summer, for the first time, elrow is taking over the entire club. The Main Room will feature a host of celebrated artists such as British techno talent and VIVa label head, Steve Lawler and the Dublin born producer, Matador, as well as the brand's own residents Marc Maya, Mario Biani and Toni Varga. The creative production of the Main Room will flash back in time to the festive atmosphere of the Olympic Games of Ancient Greece and Rome, raising the heart rate of the audience with an explosive performance, in which original recreations of Olympic tryouts of the time such as combat, races, jumps and animal offerings to the gods will not go amiss.

The club's legendary Terrace will hold two of the evening's highlights: a set from the legendary DJ duo, Groove Armada, as well as the newest elrow show: elrowCity, bringing back the tried and tested 'all night long' formula where a single artist takes full control over the session. The design concept on The Terrace will transport revelers to settings inspired by the home town of each guest artist, with a variety of production elements and performers representing their city, while the dance floor will serve as the stage, hosting a frenzy of outlandish performances; an elrow signature. Groove Armada invites you to London this 4th June.

The Sunset Terrace will see an exquisite music selection to celebrate the most urban and underground brand of elrow, Ker, which will host multi-instrumentalist, Demarzo, and its residents Tini Gessler, Alex Pott and Ion Pananides.

This explosive cocktail will be served with the usual euphoria and debauchery elrow has made its name for. Its burst of color, extravagance, fantasy and oddity enforcing the brand's sole mission: that its guest are as much a part of the show as anything else and that they are dancing and laughing all night long!
Tickets available at this link
LINE UP

Main Room
Matador
Marc Maya
Mario Biani
Toni Varga

Terrace – elrowCity
Groove Armada (all night long)

Sunset Terrace – Kerr
Demarzo
Tini Gessler
Alex Pott
Ion Pananide