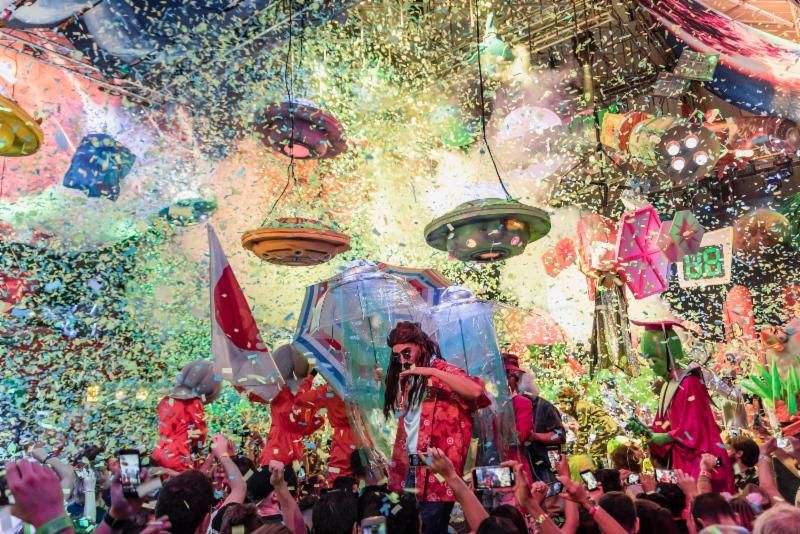 elrow Celebrates Most Astonishing Ibiza Season Yet With Over Half Of Shows Sold Out
As the curtain falls on another Ibiza season, elrow celebrated its most astonishing series yet with 12 of its 20 highly-anticipated shows sold out.
Running from 26th May to 6th October 2018, more than 120,000 party-goers flocked through the doors ofAmnesia to enjoy one of elrow's iconic parties. More than 1700 actors, 300 stilt walkers and 200 aerial performers united to create the vibrant worlds that make up elrow's now legendary themes, with 1.7 tons of confetti dropped throughout the series. With more than 12,000 inflatables let loose across the season and an additional 1300 different costumes worn by performers, it cemented the party's reputation as Ibiza's most unmissable residency.
And after a dazzling closing party, in which otherworldly new theme RowsAttacks was unveiled for the first time, there's little doubt that elrow will return even bigger and better in 2019.
From 26th May to 6th October
elrow Ibiza 2018 Stats
Shows: 20
Sold Out: 12
More than 120,000 party-goers
More than 1,7 tons of confetti
+ than 1,700 actors
+ than 300 Stilt-walkers
+ than 200 aerial performers
+ than 1,300 different costumes
+ than 12,000 inflatables
THANKS TO EVERYONE WHO JOINED US IN IBIZA THIS SEASON!!
SEE YOU AGAIN IN 2019…
www.elrow.com
www.facebook.com/elrowofficial
twitter.com/elrow_
www.youtube.com/user/ElRowChannel
www.instagram.com/elrowofficial