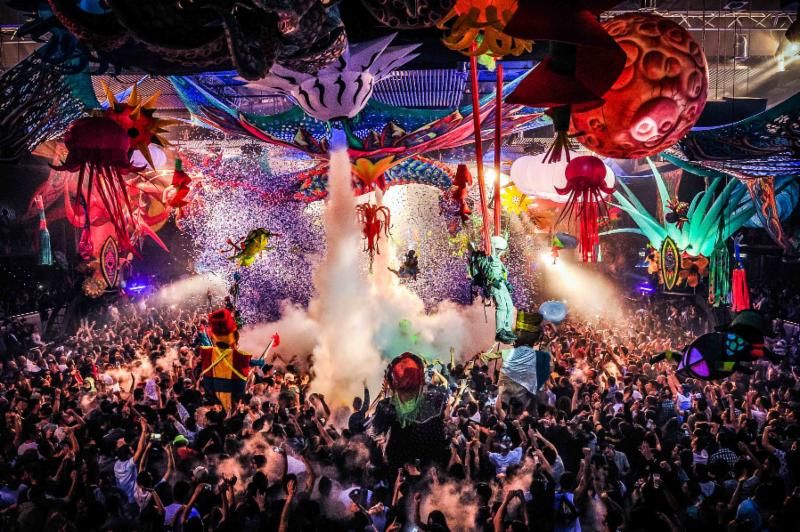 elrow Goes To Glastonbury Festival with Lovebullets
Trail-blazing experiential events concept elrow, join forces with Lovebullets to bring two spectacular shows to The Glade Area legendary Glastonbury Festival on Thursday 22nd and Friday 23rd June 2017.
With limitless creativity, elrow brings another new concept to debut in the UK. 'Nomads, The New World' will tear a whole through time and space, transporting Glastonbury festival-goers to a strange dimension where stone-age cave dwellers, medieval knights, Bedouins and ancient Egyptians dance with giant blue space people and an array of bizarre and unusual creatures, as dazzling bursts of bright colour fill the alien atmosphere with sparkle and delight. Find the star-gate, open it up and time travel your way to the past, present and future for the wildest party in the galaxy.
Celebrating a land-mark, Lovebullets, traditionally hosted for the past 8 years within Shangri-La; Glastonbury's infamous after-hours corner, now steps triumphantly into daylight as they are welcomed, for the first time, to The Glade, located at the beating heart of Glastonbury's sprawling festival metropolis.
Making up and essential part of Lovebullets' immersive festival programme 'The House that Love Built', elrow's Glastonbury debut will bring the full force flamboyance, interactive performances and larger-than-life production that's seen them become one of the planet's most infectious party concepts.
Embarking on a series of festival adventures this summer, elrow will also host arenas at Brighton's WILD LIFE Festival on 9th and 10th of June and Parklife in Manchester on 10th and 11th June, as well as bringing a huge open-air show to London's Queen Elizabeth Olympic Park for elrow Town London on Saturday 19th August 2017.
ELROW AND LOVEBULLETS PRESENT TWO SPECTACULAR SHOWS AT GLASTONBURY FESTIVAL 2017
'NOMADS, THE NEW WORLD' UK THEME DEBUT
Thursday 22nd and Friday 23rd June 2017 | The Glade, Glastonbury Festival, BA4 4BY
www.elrow.es
---
ELROW TOWN CARDIFF – SINGER MORNINGS
SUNDAY 28TH MAY 2017 | CARDIFF CRICKET GROUND
ELROW – WILD LIFE FESTIVAL
FRIDAY 9TH & SATURDAY 10TH JUNE 2017 | BRIGHTON
ELROW – PARKLIFE FESTIVAL
FRIDAY 9TH & SATURDAY 10TH JUNE 2017 | BRIGHTON
ELROW GOES TO GLASTONBURY
THURSDAY 22ND & FRIDAY 23RD JUNE | LOVEBULLETS, PILTON, SOMERSET
ELROW HIDEOUT – ROWLYMPICS
SUNDAY 25TH – THURSDAY 29TH JUNE 2017 | ZRCE BEACH, CROATIA
ELROW TOWN LONDON
SATURDAY 19TH AUGUST 2017 | LONDON GREENFIELD LOCATION TBA
www.elrow.uk
www.elrow.es
www.facebook.com/ElrowSunday
https://twitter.com/elrow_
www.youtube.com/user/ElRowChannel
www.instagram.com/elrowofficial