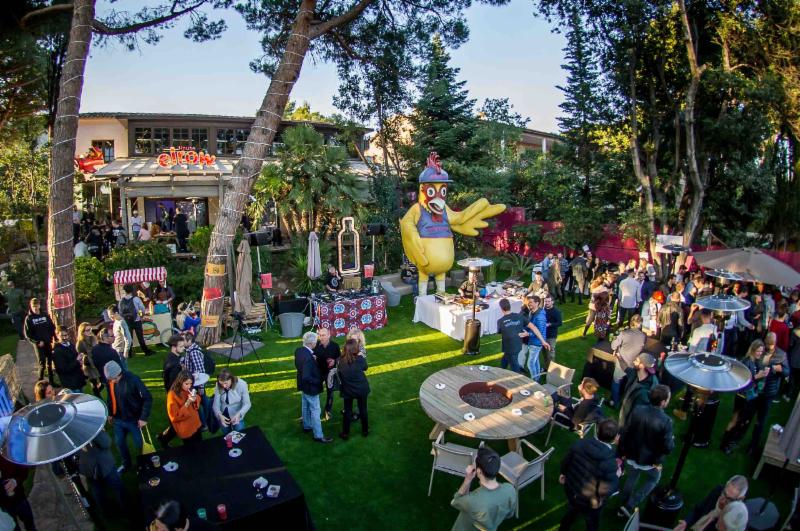 elrow open the doors to new, global HQ in Barcelona – elrow House
A group of people walk cautiously into the enclave. An edgy space in downtown Bronx where shifty characters are buzzing about their business. One of them approaches the group. "You're looking for Rowgelia?". A quick exchange is made as policeman arrives to move the group to a safer place. They are lead to an entrance. As the heavy curtain drops behind them, a voice booms "Cocococoo! Welcome to my new residence in Barcelona. Welcome to the Rowgelia's Life Magic and Mystery tour!"…
On Friday 17th November 2017, award winning immersive entertainment company, elrow, launched unique, new international headquarters in Barcelona, marking their transition to a truly global organisation.
Designed by Marino Casas Rodriguez the new HQ is a stunning and unique space, reflecting elrow's dazzling creativity in all it's glory – welcome to Rowgelia's house!
Each room has been custom designed to reflect a different elrow theme or identity. From the Enchanted Forest, Mafia Secret Room and Wild West Saloon to a Bollywood Boudoir, El Bronx and Rowgelia's chicken coop, behind every door, a stunning new world is waiting to be explored.
Architect and designer Marino Casas Rodriguez is a long-standing friend of the elrow family, having previously worked on projects such as their flagship Row14 club in Barcelona, known today simply as 'elrow', plus the Sala Privee at Florida 135 in Fraga.For elrow House, Marino worked closely alongside the family patriarch Juan Sr who had the initial vision of design, that Marino and his team brought to life.Away from elrow, Marino is renowned for his work on Vista Club at Privilege Ibiza, Apollo Hotels in Amsterdam and Vinkeveen and PUERTA 8 cocktail bar in Melilla.
Spanning two levels, terrace and garden, plus a plethora of open plan work spaces, elrow House provides their growing team with the space and freedom to unleash the full potential of their exceptional creativity, as they continue to push elrow to new and exciting places for 2018 and beyond.
More than 450 industry and media figures attended the launch party, which included a fully immersive tour of elrow House, lead by elrow's zany team of performers plus an exclusively designed cocktail and food menu by world-renowned gastronomist Javier de Las Muelas, plus delicious desert selection by Christian Escribà.
The launch party was streamed live with DJ Mag featuring sets from Melé and elrow's adroit team of residents spinning tunes from the terrace as well as an interview with elrow CEO Juan Arnau, plus a tour of the new HQ for those that were not able to attend.
Having been closely involved with the development of the new headquarters, elrow patriarch Juan Arnau Srcommented on the results, remarking: "An unbeatable combination with the best of a showroom and a unique space to work and create. A new concept of facilities that pretend to be an extension of our shows. Most of our shows are here represented in their small thematic corner."
Founder and Marketing Director Cruz Arnau said: "Better than in our own house. The best place from where to communicate our magic to our friends"
elrow CEO Juan Arnau Jr said: "The Ideal place to create and improve all our shows"
Designer and architect Marino Casa Rodriguez commented: "As "Concept", elrow house is the visual interpretation of the DNA of elrow themes and parties and, of course, Doña Rowgelia as the main and absolute Superstar. Hollywood is not enough!"
ABOUT ELROW:
elrow is an award-winning experiential event concept and party series founded in 2010 by Cruz and Juan Arnau Lasierra; the sixth generation from a dynasty of entrepreneurs also responsible for creating Monegros Festival and legendary Club Florida 135 in Fraga, Spain. From their head-quarters in Barcelona, elrow have taken the world by storm with their unforgettable party style, pairing elaborate production, interactive performers and zany characters with the best electronic music, placing them as a global reference for circus inspired parties with tickets to the visual spectaculars usually selling out in minutes. A myriad of different themes and concepts makeup elrow's zeitgeist with sub-brands including 'Rowlympics'; their own take on the Olympic games, their Brazilian jungle carnival theme, 'Sambodromo de Brasil' and flag-ship theme 'Singermorning'.
With lauded residencies in Ibiza, Madrid, London and Amsterdam already in place, 2017 has seen a game-changing partnership with live entertainment platform, Providence-Superstruct, allowing elrow to push to new heights with a Shangai debut and a festival-scale event at the Queen Elizabeth Olympic Park in August.
www.elrow.com
www.facebook.com/ElrowSunday
https://twitter.com/elrow_
www.youtube.com/user/ElRowChannel
www.instagram.com/elrowofficial