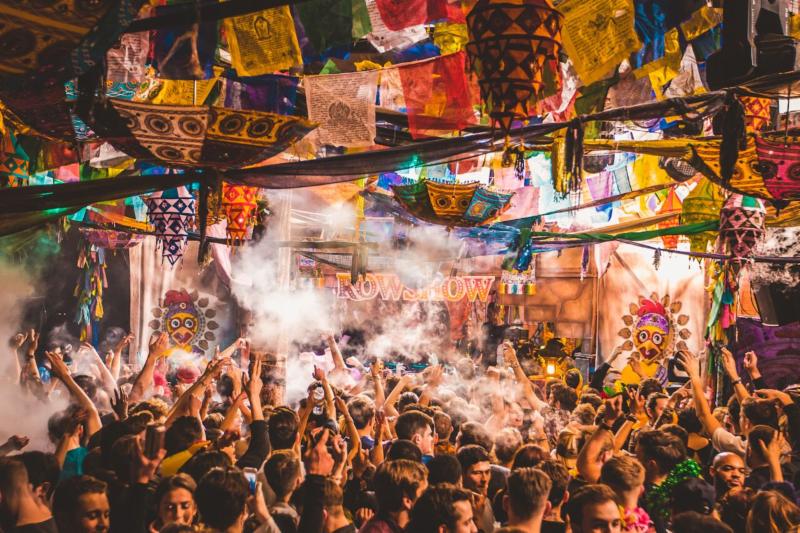 elrow Summer 2017 Festival Takeovers – Round 2
elrow has transformed their immersive, communal music experience into an international institution for underground dance music. From New York to London, the Spanish party starters will pass through the Netherlands, Switzerland, Spain, New York and London with an explosion of joy, colour and fun.

On Saturday 12th August elrow will take their exotic Sambordromo Do Brasil theme to the Street Parade Zurich providing the opening of the whole procession, featuring the likes of Paco Osuna, Marc Maya, De La Swing and Toni Varga, before returning to Spain for this year's gunslinging, rodeo-rocking Far West-themed Dreambeach where they'll host the main stage finale takeover in front of 25,000 people, with more than 12 hours of music.
elrow's two-day Rowlympic Games extravaganza, elrow Town London will be their biggest UK show to date, taking place at Queen Elizabeth Olypmic Park, London on Saturday 19th & Sunday 20th August. Sonic athletes from across Clubland are limbering-up to show elrow Town their best, with champion disc-spinners Seth Troxler, Jamie Jones, Eats Everything and Idris Elba all marked out as top-prize contenders at the festival-scale show.
August's final stop will be the Netherland's well loved festival, Mysteryland, a psychedelic trip where elrow will host their own stage for the second year in a row. The selection of electronic masters on board for the two day takeover include Eats Everything, Paul Ritch, Andres Campo, Benny Rodrigues & Michel De Hey plus many more.
Then, starting from 31st August, elrow take to the high seas with Dennis Ferrer, Patrick Topping, Richy Ahmed, Marc Maya, Toni Varga and their Sambodromo special in tow, in partnership with The Ark for a incredible electronic event aboard the staggering cruise ship, leaving from Barcelona's harbour with stops at rave-friendly destinations, Marseille and Ibiza, for an unforgettable three nights of music.
Zipping across the Atlantic, elrow take their vibrant Bollywood party to New York's Electric Zoo Festival on Sunday 3rd September. Party goers can expect a mind-blowing set, Indian embroidery, incense, belly-dancers and snake charmers all set around a spectacular Taj Mahal with Thomas Jack, The Black Madonna, Claptone, De La Swing, Marc Maya and ALX b2b Charles Meyer serving up a spicy burst of sure-footed floorfillers.
---
STREET PARADE ZURICH
'SAMBORDROMO DO BRASIL'
SATURDAY 12TH AUGUST | ZURICH, SWITZERLAND
DREAMBEACH
'FAR WEST'
11TH -15TH AUGUST | VILLARCIOS ALMERIA, SPAIN
ELROW TOWN LONDON
'ROWLIMPIC GAMES'
SATURDAY 19TH AUGUST | QUEEN ELIZABETH OLYMPIC PARK, LONDON, UK
ELROW TOWN LONDON – CLOSING CEREMONY
'ROWLIMPIC GAMES'
SUNDAY 20TH AUGUST | QUEEN ELIZABETH OLYMPIC PARK, LONDON, UK
MYSTERYLAND
'PSYCHADELIC TRIP'
SAT 26TH & SUN 27TH AUGUST | HAARLEMMERMEER, NETHERALANDS
THE ARK CRUISE
'SAMBORDROMO DO BRASIL'
THURSDAY 31ST AUGUST | BARCELONA, SPAIN
ELECTRIC ZOO FESTIVAL
'BOLLYWOOD'
SUNDAY 3RD SEPTEMBER | NEW YORK, USA
www.elrow.uk
www.elrow.es
www.facebook.com/ElrowSunday
https://twitter.com/elrow_
www.youtube.com/user/ElRowChannel
www.instagram.com/elrowofficial