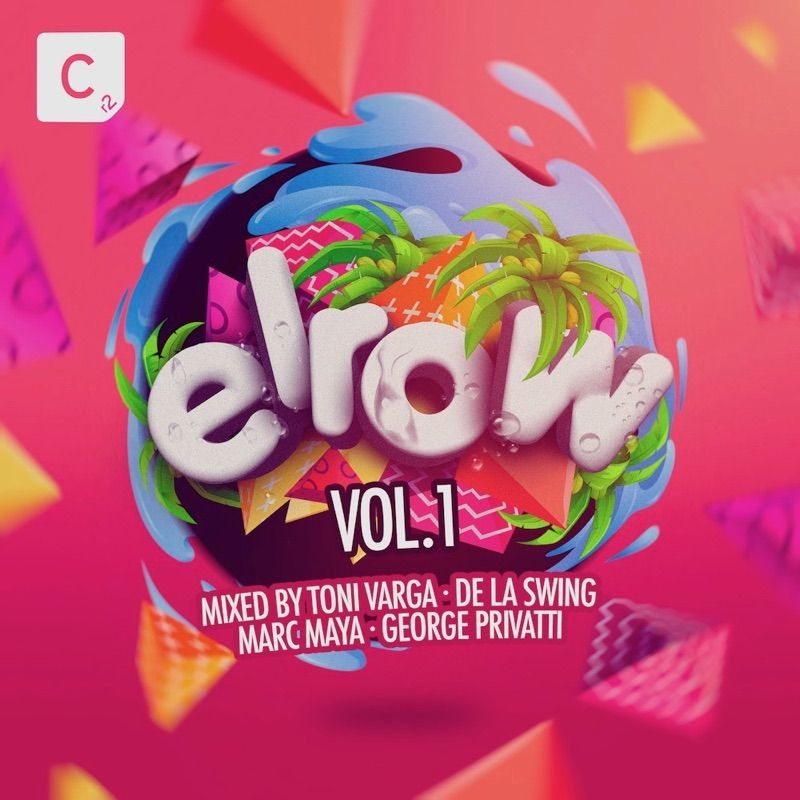 Various Artists - elrow vol. 1
elrow is the innovative clubbing concept that has captured the imagination of clubbers around the globe. They now announce their debut CD, released through respected UK label Cr2, giving a true representation of the soundtrack that fuels their outrageously fun parties delivered by their world class residents.
To get a feel for the elrow experience think mega parties full of bursts of light and colour, trapeze artists soaring through the air as a flood of confetti pours from the sky, eclectic props and inflatable toys, elaborate set design, stilt walkers towering above you, Elvis Presley rocking to techno with thousands of revelers dancing to the beat of the best house and techno.
Everybody joins in the fun – aliens welcome and anything goes. Celebrating weirdness in all its amazing forms, think of it as a massive escape-valve for the seriousness of life. A jam-packed roller-coaster of pure smiles.
elrow is the Spanish club concept from Barcelona that has come to revolutionise the world of club entertainment. Presenting a spectacular twist on the traditional show, it is as wild and bonkers as humanly imaginable, a real sensory explosion of sight and sound and a party that MUST be experienced.
And of course, music is front and center of the elrow experience and as such, keeping the fun element whilst presenting fresh upfront sounds.
Now they are proud to present their debut 2 x cd and digital download mix that reflects the true vibe of the now legendary event, featuring core residents at the heart of the musical experience. This is the beginning of a landmark series with elrow Vol 1 CD1 presented by residents Toni Varga and De La Swing and CD2 by Marc Maya and George Privatti.
Listen out for inclusions from diverse and esteemed artists Melé, Bontan, Route 94, Max Chapman, Dennis Cruz, Waze & Odyssey and special exclusive tracks from George Privatti & Eddy M, Versus, Reelow, Di Chiara Brothers, Cal Johnstone and Cloonee.
Cr2 Founder Mark Brown says: "I have been following the progression and rise of elrow since their first parties in Barcelona and Ibiza as a fan, DJ and label owner. elrow is one of the few brands that has remained true to their original concepts, creating the ultimate clubbing experience and providing forward thinking electronic music along with sensational production. I am excited to be releasing the first ever official elrow album, bringing together two family run independent businesses that are both full of passion for underground dance music.
Victor de la Serna from the elrow family says, "We are very excited to start this new venture with Cr2 for our first ever elrow official compilation, it's been a great experience working the whole Cr2 team and we are looking forward to bringing many more compilations to life!"
London Events: elrow Town London at The Queen Elizabeth Olympic Park on Sat 19th and Sun 20th August.
More info: http://www.elrowtownlondon.com
elrow's residency at Amnesia in Ibiza takes place every Saturday until the 30th September.
Track listing:
2 x CD + Digital Download.
CD1 – Toni Varga b2b De La Swing
Melé – Sunshowers
DJ DEP – Desalojado
Bontan – Control
Sidney Charles feat. Lady Vale – Make Me Moove
Collective Machine – I Want a House Kit
Santé & Toni Varga – In Time
Supernova – Get Hot
De La Swing – Connected
CAAL & Baum – Downtown Beat
Route 94 – House & Preasure
Max Chapman – Body Jack (Get My Swerve On)
Alexis Raphael – Loaded Up (CAAL Remix)
Cloonee – Like This
Mihalis Safras – Pushit
Emanuel Satie Come As You Are – (Luca Donzelli & Mar-T Remix)
Ki Creighton & Makanan – Trivial
CD2 – Marc Maya b2b George Privatti
Coyu & Bastian Bux – Satara
Marc Maya – Alac
Veerus – Arp
Audiojack & Kevin Knapp – Implications
Dennis Cruz – MAD
Scurrilous – They Play It Safe
Lee Walker – Break The System
George Privatti & Eddy M – Basille
Waitz – Break
Paul Darey, Chris Main, Hannes Bruniic – Voices
Bontan – The First Time
Pablo Say – Reencuentro
Fer BR – Jack
Waze & Odyssey – Down With Tha
James Campbell – Solar