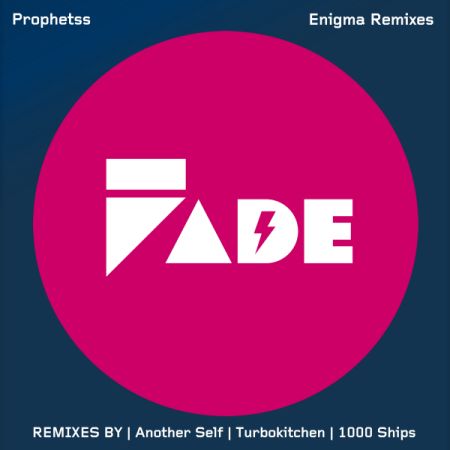 Prophetss - Enigma (Remixes)
Chris Fortier's FADE Records concludes another year of super-stylish releases with a trio of superb remix interpretations of 'Enigma' by Prophetss (originally released as part of the 'On Time EP' FD147 https://www.beatport.com/release/on-time-ep/1739721). The remixes come courtesy of Mexico's Another Self (aka The Midnight Perverts), Italy's Turbokitchen (who previously appeared on FADE with their excellent 'Aztec Warriors EP' FD149) and newcomer 1000 Ships.
Prophetss (a project formed by David Estrella and Sagan Satori, based out of Guadalajara, Mexico) create music with a distinctive storytelling value, fusing organic sounds with machine melodies and dark textures – a style that provides a perfect blueprint for this stylistically diverse selection of remixes. The highly accomplished Another Self is a long-time resident at 'Bar Americas', one of Mexico's best clubs for the last 10 years, and also runs his own Neim record label. Here, he delivers a hauntingly hypnotic, powerful and melody rich, euphoric interpretation of 'Enigma'.
Turbokitchen consists of a trio of young Italian producers – Davide Bartolini, Federico Falascina and Filippo Prati – whose combined influences results in a unique vortex of sounds, melodies and rhythmic sequences. Their stripped-back groove arrangement provides the perfect backdrop for a more menacing Techno take on 'Enigma', as they weave their magnificently magical spell.
To complete this formidable remix package, the highly talented 1000 Ships dives down deep into Techno territory with a dark, spacious, throbbing monster that brings this superb set of 'Enigma' remixes to a perfect peak.
Artist Info:
https://www.facebook.com/tmp.neim/?ref=br_rs
www.facebook.com/turbokitchen
FADE Info:
https://www.beatport.com/label/fade-records/179
https://www.facebook.com/faderecords/
https://soundcloud.com/faderecords
https://twitter.com/faderecords