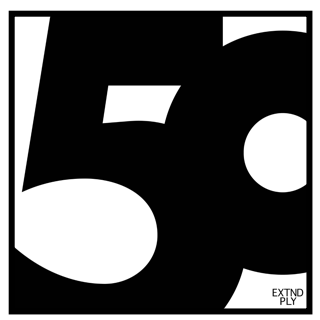 T-Bone & JMX - EP50: 'Statement of Intent'
Bubbling away since 2009, Extended Play Recordings have long been a label at the heart of Northern Ireland's thriving electronic underground, run with love by local heroes JMX and T-Bone. Marking a milestone in the label's history, Extended Play present to the world EP50 'Statement of Intent,' an album that captures the sonic sound of Belfast with fourteen original jams from NI's brightest stars. From banging techno weapons from the likes of Ejeca through to tripped out, dubby acid from emerging maestro JC Williams, EP50 represents a solid city scene about to show the world what it's all about.

Kicking off EP50 is 'Body Sing' from new signing Bloomer White, laced with nostalgic house and garage flavours, setting the tone for what is to come. Jordan takes deep house to a darker level on 'Want to Be' whilst local hero and ex Stiff Kitten resident Cromby explores intergalactic 80's synth-funk on 'Lucid Dancer.' Classic Recordings & Glasgow Underground kings Scoper & Bubba step up with 'Hot In the Valley' – a dancefloor delight with a disco pulse, then Extended Play founder JMX brings blissful vibes with jazzy piano track 'Catch the Feelin'.' Newcomer Sid Carey won over the EP crew after his victory in AVA Festival's production comp last year, and his contribution 'Machines' is an infectious, melodic addition.

Extended Play head honcho T-Bone jump starts the second half with 'Rich Dancing,' a grooving, sub heavy banger packing a big Belfast punch. The killer 'Eastside Rhythm' comes from Moodtrax who explores the darkest corners of club perfection, then Martin De Brig shows us his 'That Fucking Hands In The Air' masterpiece that blends 909 drums and acid blurred 303 noises with a soulful piano edge. Track ten is a Dancemania inspired 'Late Night Roll' from house and techno enthusiast Slurrp.

Chris Hanna brings the first techno missile with peak-time pounder 'B.K.I.T.B.' whilst giant NI export Ejeca presents a stripped back bomb of sonic proportions, already tune of the week by B.Traits on Radio One. A pioneer of the Belfast movement, JC Williams has released on Gerd's 4LUX imprint, Jackmaster's Ultimate Hits and Extended Play. 'Paradox' is his contribution to EP50, an analogue, acid-laced dream. Last but not least is 'Way Mon Tah' eerie techno courtesy of Cophin. But EP50 is about more than just the music, it's about the future, freedom and growing. In the words of T Bone & JMX:

"This release encapsulates a lot of what we love in late night electronics, represented across fourteen new Belfast originals. This is the soundtrack to a romp through our city and for once Belfast blowing up can only be seen as a positive. So this, our statement of intent for the future, we are excited about our scene and what lies in-store." T-Bone & JMX

'Statement of Intent' shows the wealth of talent across NI, plus the intentions of the label, friends and extended family who're shaping the future of the Belfast scene. Last year Extended Play family members AVA Festival (Audio Visual Arts) brought Boiler Room to the country for the first time with sets from NI artists inc. Bicep, Space Dimension Controller, and the EP boss himself T-Bone, whose long played an integral part in nurturing the artists and venues involved. Check his set here: http://bit.ly/1NyFL4G. Belfast is incoming, watch this space.