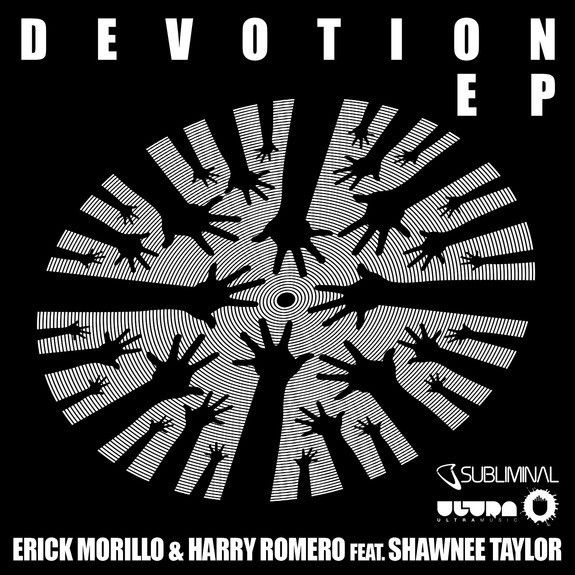 Erick Morillo & Harry Romero feat. Shawnee Taylor – Devotion
Dance music legend Erick Morillo is starting 2015 with a bang, as he finally releases the much-anticipated 'Devotion' together with long-time collaborators Harry Romero and Shawnee Taylor.
First premiered on Pete Tong's world-famous Radio 1 show last summer to great fanfare, the release of 'Devotion' has been a long time in the making. Now, with its release via Ultra Music/Subliminal Records, the Subliminal head honcho is giving us a treat of epic proportions as he also offers us up the original mix for all alongside exclusive remixes from Amine Edge & DANCE, Oliver $ and Simon Field!
Forever the tastemaker, Morillo personally handpicked three of the most exciting and contemporary acts out there for his 'Devotion' remix package and the results do not disappoint. Premiered on Mixmag over the weekend, Amine Edge & DANCE bring their customary 'G House' vibes to the edit, as they pair Taylor's soulful voice with a typically large bassline. Oliver $ broke out in 2014 with a string of Beatport charting hits and he remains on form, as he switches up the original and turns it into a house masterpiece that wouldn't sound out of place being released on a label like Defected. A name to watch over the coming months, Norweigan artist Simon Field rounds out the remix package in style as he utilizes a deeper bassline that serves Taylor's topline perfectly.
'Devotion' marks the second time Morillo and Ultra Music have teamed up for a track following the release of 'Let The Freak Out' late last year, and with more music set to drop in the coming months from artist and label, it is certainly turning out to be a fruitful alliance. Having released 'My Melody' together back in 2013, the release of 'Devotion' is the second time the trio of Morillo, Romero and Taylor have come together as one. Romero's presence on the original cannot be understated, having worked with the Colombia-American since the early 90s on hundreds of tracks and even owning an offshoot on his Subliminal label named Bambossa. Taylor of course lent her voice to one of Morillo's biggest hits of the decade with 'Live Your Life' and has also recently become a go-to presence in the dance scene for her ability to push songs to another level, with no better example than HELENA'S 'Levity' in 2014.
With a busy month ahead, in which the Miami-resident is set to continue his SLS residency in Las Vegas before returning home to play a headline slot at the Groove Cruise on January 28th, the release of 'Devotion' arrives at the perfect time for Morillo, who seems more determined than ever before to make 2015 his most special year yet.