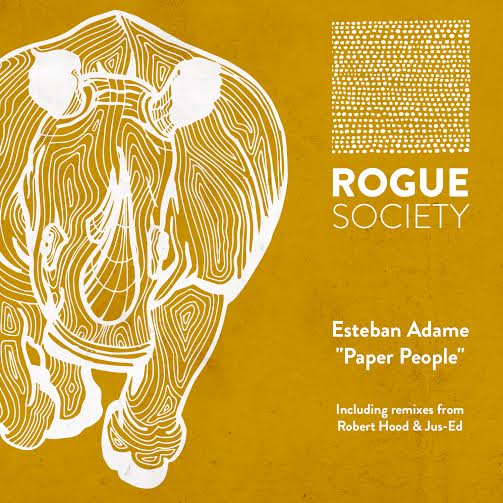 Estebane Adame – Paper People EP
Jordan Peak's Rogue Society imprint returns this October with Estebane Adame's 'Paper People' EP, backed with remixes from Robert Hood and Jus Ed.
Los Angeles born Estebane Adame's shaped quite the career over the past decade, in 2004 Mad Mike Banks of Underground Resistance took note of Estebane's skills as a keyboardist following his studies in the field aged 19. Banks invited Adame's to collaborate on his Galaxy 2 Galaxy / Los Hermanos projects, and following this Adame's teamed up with Santiago Salazar as ICAN which soon led to material surfacing on Underground Quality, Planet E and Subject Detroit, a striking indication of the quality embodied in Estebane's output. Here we see Estebane join the roster of Jordan Peak's Rogue Society imprint, following recent releases featuring Peak himself, Mike Huckaby and John Daly.

Opening the release is 'Rays Of Saturn', a striking Detroit tinged Dub Techno workout, fuelled by crunchy distorted rhythms, wandering arpeggios and penetrating stab sequences kicking things off with a punch. Following is 'Baby Nostradamus' which tips things over to a gritty acidic state with squelching bass licks, bright ethereal pad lines and ever-evolving, dynamic drum programming.
UR founding member Robert Hood steps up to rework 'Rays Of Saturn' to open up the latter half of the release, and in true Hood fashion we're treated to an expansive, unfolding interpretation, laid out over seven and a half minutes with a prevalent analogue drum groove, while the ever-blossoming stab sounds and swirling pads create a profoundly intense atmosphere. Underground Quality's Jus Ed reshapes 'Baby Nostradamus' next, as if the package wasn't punchy enough already, Ed provides a typically classy rework laying the foundations with loose analogue beats, while the cosseting atmospherics smoothly transform over the record six-minute duration.
Then last up to complete the package, offered up as a digital extra, is the third original cut from Adame entitled 'Something', taking on a more stripped approach with the percussion in comparison to the preceding cuts, allowing the multi-layered melodies to radiate through and create a hypnotic, tension building composition.
Estebane Adame's 'Paper People' EP is out on Rogue Society 22nd October 2014.