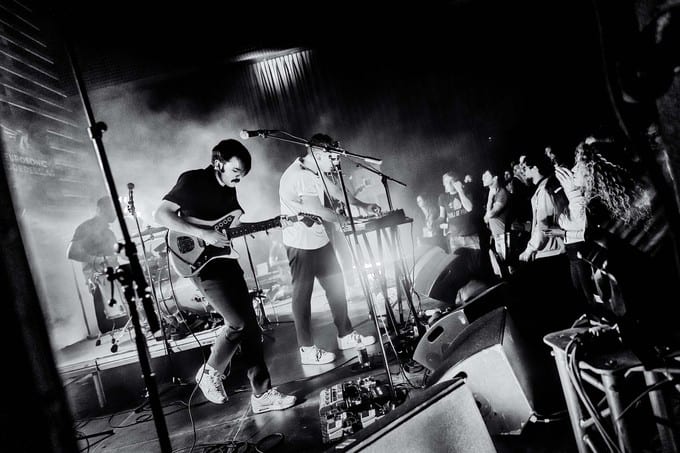 ETEP 2017: Record number of festival bookings for new artists including Shame, Her, Klangstof and more.
In its 15th year, ESNS's European Talent Exchange Programme (ETEP) has for the third time in a row managed to generate a record number of bookings for upcoming music talent on European festivals. With a total of 424 shows by 164 acts in over 30 countries, ETEP ensures the circulation of fresh, bright, young talent across the continent.
We are more than delighted that over 100 festivals are giving these European acts a stage to perform to new audiences from the small and intimate such as Haldern Pop, talent-driven The Great Escape and the major and award winning festivals such as Rock am Ring and Roskilde.
In total ETEP has facilitated 3518 shows by 1254 artists in over 30 countries from the start of the programme in 2003.
ETEP 2017 Results
British band SHAME is at the top of the ETEP 2017 list with a record-breaking 17 ETEP shows! 'It was good for us to play Eurosonic, it enables you to play for so many more people, it's a good stepping point!
Top 10: ETEP ARTIST CHART
1.Shame (gb) 17 shows
2.Her (fr) 8 shows
3.Klangstof (nl) 8 shows
4.Rejjie Snow (ie) 8 shows
5.Alma (fi) 7 shows
6.J. Bernardt (be) 7 shows
7.Tommy Cash (ee) 6 shows
8.Fil Bo Riva (it/de) 6 shows
9.Faber (ch) 6 shows
10.Throes + The Shine (pt) 5 shows
For a full overview of all ETEP shows and acts go to www.etep.nl
Top 11: ETEP FESTIVAL CHART
1.The Great Escape (gb) 33 shows
2.Reeperbahn Festival (de) 27 shows
3.Haldern Pop (de) 15 shows
4.Sziget Festival (hu) 15 shows
5.Europavox (fr) 14 shows
6.Glastonbury (gb) 12 shows
7.c/o pop Festival (de) 11 shows
8.Lowlands (nl) 11 shows
9.Dour Festival (be) 10 shows
10.Tallinn Music Week (ee) 10 shows
11.Waves Vienna (at) 10 shows
For a full overview of all ETEP festivals go to www.etep.nl
Why ETEP?
The European Talent Exchange Programme was introduced to make the "exchange" of European artists across Europe possible on a greater scale than ever before. An initiative of Eurosonic Noorderslag, each year artist that play as part of the showcase festival are eligible to participate in the European Talent Exchange Programme. ETEP then facilitates the bookings of European acts on festivals and generates extensive radio and media exposure for these artists in co-operation with the European Broadcasting Union and local media. In this way, ETEP aims to give a boost to the careers of European acts.
Looking forward to ETEP 2018!
We proudly welcome Acoustic Lakeside Festival (AT), BUSH (HU), Immergut Festival (DE), Metronome Festival (CH), Revolution Festival (RO), Rock in Rio (PT), Tremor (PT), TRNSMT (GB), Woodstock Festival (PL), Zermett Unplugged (CZ) to ETEP in 2018, bringing us to a total of 110 ETEP-festivals. Furthermore, we'd like to welcome our new partners: Why Portugal, Music Estonia, Iceland Music Export (IMX) and the PRS Foundation to the platform. By welcoming them to the ETEP family, we generate even more opportunities for European artists to showcase their music!
We keep investing in a well spread Geographical coverage both in festivals as in members, therefore we have expanded the platform to 16 members from 15 countries. But, we want to go further. To facilitate even more exposure, we want to increase the visibility of European artists outside of Europe. Therefore, we will start inviting music festivals from outside of Europe to join the ETEP programme.
Another new aim for the programme is to strengthen the capacity of the emerging artist and their managements to build and sustain an international music career. Therefore, we will develop a designated educational and training programme for artists on how the international music industry works, what their chances are, how they can develop a career, attract audiences. As part of this we will be hosting sessions in the artist village during Eurosonic Noorderslag.