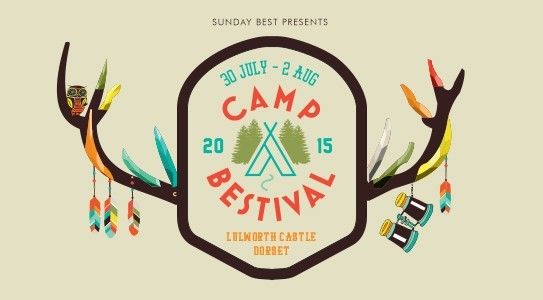 Even More Acts for Camp Bestival ft. Dub Pistols and more
The grounds of Lulworth Castle will be bursting with brilliance this coming 30 July – August 2nd, when Camp Bestival Goes Wild. Featuring a frankly mesmerising music line-up that includes Underworld, Clean Bandit, Kaiser Chiefs, Professor Green, Wretch 32, Ella Henderson and many more, we've also got entertainment galore from the likes of The Cat in the Hat, Mr Tumble, Dick n Dom, Steve Backshall, Michaela Strachan, Bill Oddie, Julia Donaldson's Scarecrows' Wedding and so much more. Plus there's a host of bucolic treats from Wild Time in the Dingly Dell to the National Trust 50 things meadow to keep you and yours captivated throughout the weekend. But, you know us, we just don't know when to stop, as we prepare to unleash even more joy-spreading, foot-stomping music acts who will be following our call of the wild and joining the throng for our Arcadian adventures.
Camp Bestival's wildest man, Rob da Bank says: "Wow, the sun's out, the tents are out in the garden airing, and sleeping bags being unfurled ready for festival season. Camp Bestival tickets are flying out the door, so we thought we'd add a bit more flavour to our wild and wonderful happenings this year. From The Shires country majesty, to the Dub Pistols reggae skank, and new bloods Kiko Bun and Kimberly Anne bringing their up-and-coming vibes to the castle, our musical line-ups never been so diverse".

Heading up our latest catalogue of rampant rock n rollers are our old friends the Dub Pistols. Just about to drop their latest long-player Return of the Pistoleros on our sister label Sunday Best, this is one seven-piece who are no strangers to wild ways, and we can't wait to have a little skank with them down in Dorset! There will also be live music from country duo The Shires, ambitious and arresting behaviour from The Bohicas, dreamy tropicalia from Cristobal and the Sea, Black Butter's Kiko Bun and mad sample-driven beats from Eaves.
Plus we'll have captivating, bespoke music from Kimberly Anne, timeless songs of beauty from Ciaran Lavery, raw blues from Bournemouth duo Jawbone, live electronics from Vice Collective, fresh sounds from singer songwriter Jojo Macari, Celtic rabble rousing from Black Water Count, country & western joys from Clint Westwood, classic rock and pop from Joe Innes Band and country music from Canadian folkster Zachary Lucky.
Tickets for Camp Bestival 2015 (July 30th to Aug 2nd) are on sale now via: Ticketline, 0844 888 4410
WEEKLY PAYMENT PLAN:
You can use our 10 week payment plan to purchase your tickets meaning that an adult ticket can now be bought at a payment of around £19 per week over 9 consecutive weekly payments following an initial deposit payment. Book online via Ticketline only: select 'Camp Bestival 2015 – Weekend Payment Plan'.
Once you have signed up to the payment plan, which basically means giving your agreement by ticking the bank mandate form on Ticketline's website, they will automatically debit your card on a weekly basis.
CAMP BESTIVAL 2015 WEEKEND TICKET PRICES:
Adult Weekend Ticket (inc. camping from Thurs or Fri) – £195*
Student Weekend Ticket (inc. camping from Thurs or Fri) – £180*
Age 15 to 17 Weekend Ticket (inc. camping from Thurs or Fri) – £113*
Age 11 to 14 Weekend Ticket (inc. camping from Thurs or Fri) – £88*
Age 5 to 10 Weekend Ticket (inc. camping from Thurs or Fri) – £20*
Age 4 & Under Weekend Ticket (inc. camping from Thurs or Fri) – FREE (but ticket required)*
*NB: please refer to the Camp Bestival Ticket Terms & Conditions
Car Parking – £15 advance
Campervan Ticket – £72 per vehicle
HOSPITALITY CAMPING:
Hospitality Camping offers luxurious creature comforts in a beautifully designed, spacious campsite with fast access to the heart of the main Castle Stage arena. With premium toilets, hot showers, free yoga sessions, private parking and a meet and greet concierge service, Hospitality Camping is the place to stay for the ultimate high-end family festival experience.