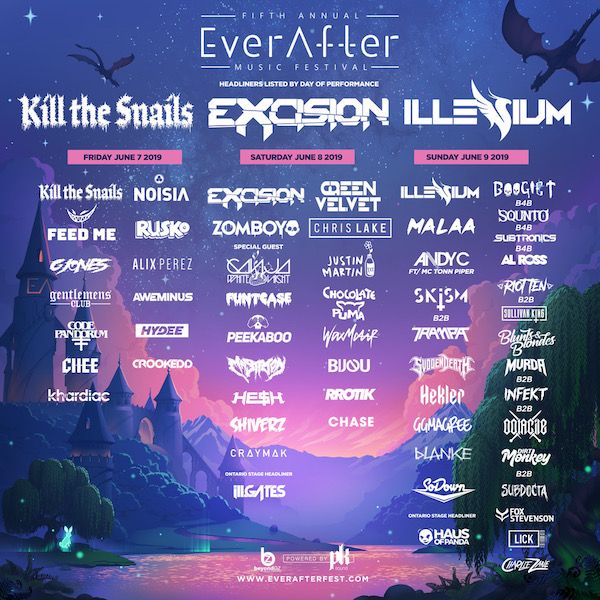 Ever After Music Festival Delivers Official 2019 Lineup
Ever After Music Festival has officially announced its highly anticipated 2019 lineup. Featuring an array of international top-tier talent, the festival will see its return to Kitchener, Ontario, spread across 3-days and multiple stages this June 7, 8, & 9th, 2019.
PURCHASE: EVER AFTER MUSIC FESTIVAL 2019 TICKETS
Following 2018's massive lineup, the 2019 bass doused edition has confirmed performances from Andy C, Chocolate Puma, Chris Lake, Feed Me, G Jones, Ganja White Night, Green Velvet, Justin Martin, MALAA, Mastadon, NOISIA, Rusko, Svdden Death, Wax Motif, Zomboy and more. The festival will see the return of bass music heavyweight, Excision, as well as melodic bass champion, ILLENIUM. Guests will be treated to a special Canadian debut set from Kill the Snails. The lineup also features exclusive back-to-back performances from the likes of Riot Ten B2B Sullivan King, Boogie T B4BSQUNTO B4B Subtronics B4B Al Ross, and dubstep prodigy Mastadon's debut Canadian festival performance, not to mention other exclusives.
WATCH: EVER AFTER MUSIC FESTIVAL 2018 AFTERMOVIE
Canada's leading electronic music event will see enhancements on all fronts with upgraded sound quality, stage developments, water supply, exclusive VIP benefits, and camping perks, set to make the festival the most immersive and expansive edition to date. Attendees can experience the 5 Wonders of Ever After Music Festival including the Mystifying Campgrounds – which will now see early check-in for campers on Thursday, June 6th – Splash Island, The Mad Hatters Playhouse, Vender Village, and The Royal VIP Grounds; complete with additional bars and viewing areas.
PURCHASE: EVER AFTER MUSIC FESTIVAL CAMPING PACKAGES
The festival's 5th annual edition is shaping up to be the most colossal edition yet with extended hours of operation commencing from 1pm to 11pm across all three days. Festival attendees can look forward to enhanced sound quality by fully integrated production house, PK Sound, which will provide over 750,000 watts of full-fledged bass. Festivalgoers can expect enhanced designs for all three stages, presenting an all-encompassing audio-visual experience for attendees across the weekend. The festival's 5th annual celebration brings with it the largest Excalibur main stage in Ever After Music Festival history, as well as a fully activated On The Grand amphitheater stage complete with fully stocked bars, washrooms, and vendors. Local talent will make its way to the Ontario Stage, which will also benefit from sound and visual enhancements.
WATCH: EVER AFTER MUSIC FESTIVAL 2019 PREVIEW
Ever After Music Festival's leading priority has always and will continue to be maintaining the health and safety of patrons and in accordance the 2019 edition will have 5x as many taps & water stations, and 3x as many washrooms in comparison to the 2018 event. Dedicated Ever After staff will be present at water stations located in the AquaWorld, On The Grand, and VIP areas in order to facilitate speed and efficiency for all festival guests.

Having welcomed over 30,000 guests each day across the 3-day festival for the 2018 edition, the 5th annual Ever After Music Festival is prepared to further solidify its position as one of Canada's best electronic dance music events. Fans are encouraged to purchase tickets as early as possible for the largest Ever After Music Festival to date, with tickets now on sale and available via www.everafterfest.com/tickets/.

Media can apply to attend Ever After Music Festival 2019 as press via the accreditation link here: https://getinpr.com/accreditations.


Ever After Music Festival 2019 – Lineup In Alphabetical Order:

Alix Perez
Andy C ft. MC Tonn Piper
Aweminus
Blanke
Bijou
Blunts & Blondes
Charlie Zane
Chase
CHEE
Chocolate Puma
Chris Lake
Code Pandorum
Craymak
CROOKEDD
Excision
Feed Me
Fox Stevenson
Funtcase
G Jones
Ganja White Night
Gentlemen's Club
GGMAGREE
Green Velvet
Haus of Panda
Hekler
HESH
HYDEE
ILLENIUM
Illgates
Justin Martin
Khardiac
Kill the Snails (debut Canadian performance)
Lick
MALAA
Mastadon
NOISIA
PEEKABOO
Rrotik
Rusko
Shiverz
SoDown
Svdden Death
Wax Motif
Zomboy

Exclusive B2B Performances:

Boogie T B4B Squnto B4B Subtronics B4B Al Ross
Mvrda B2B Infekt B2B Oolacile
Dirt Monkey B2B SubDocta

Canadian Exclusive B2B Performances:

Kill the Snails
Riot Ten B2B Sullivan King
SKiSM B2B Trampa (debut Canadian festival performance)
Mastadon (debut Canadian festival performance)
Connect with Ever After Music Festival:

FACEBOOK
INSTAGRAM
TWITTER
YOUTUBE