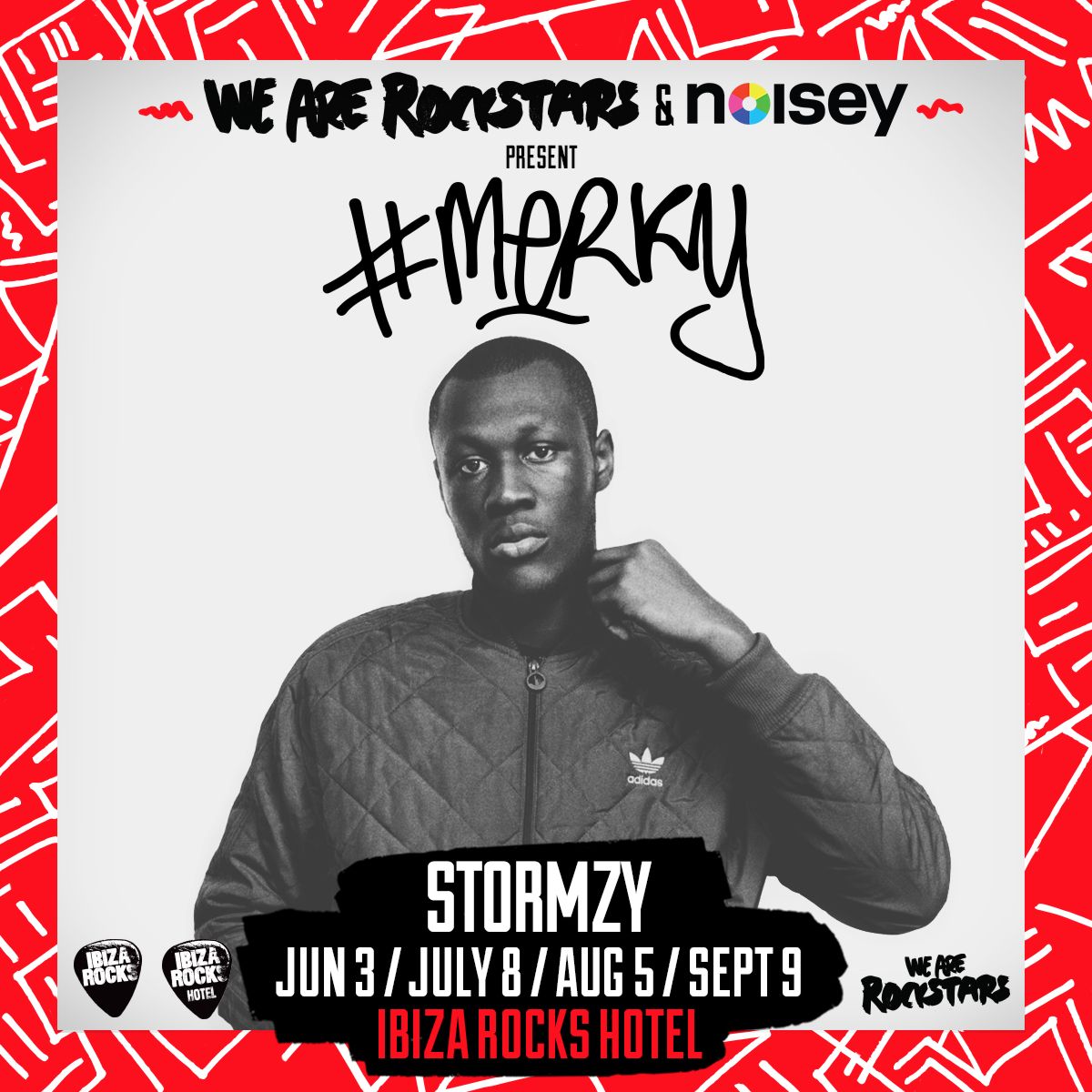 Exclusive Stormzy Residency At Ibiza Rocks Hotel
We Are Rockstars is widely recognised for pushing the boundaries and being first to introduce some of the most diverse, fresh and influential talents to the White Isle over the years. As We Are Rockstars celebrates five years of breaking the line-up mould, including introducing some of the best urban and grime acts to the island, it's in for one of its most exciting residencies yet. New icon of the scene Stormzy will takeover four incredible shows for his exclusive monthly residency We Are Rockstars & Noisey Present #Merky, kicking off Friday 3rd June at Ibiza Rocks Hotel.
With a strong history of giving emerging trends and breaking talent a platform in Ibiza, the promoters of Ibiza Rocks and We Are Rockstars have showcased many 'firsts' over the years including giving debut Ibiza shows to now huge talents including Annie Mac, Chase & Status, Rudimental and Disclosure. Since bringing grime legend Dizzee Rascal to Ibiza Rocks in 2008, the groundbreaking promoters have championed the scene, with performances from forefathers of the genre including Wiley and Skepta plus critically acclaimed artists Krept & Konan, Novelist and Bonkaz. Last summer saw seminal shows from Boy Better Know and Stormzy, and now he's quite rightly getting the Ibiza residency he deserves.
Meanwhile VICE's music channel Noisey has been pioneering urban and grime acts since its inception, with VICE's website and magazine having cast a significant spotlight on the genre for over a decade, beginning with the legendary 2005 "Grimewatch" column. Since then Noisey has vastly expanded grime coverage, with a dedicated editorial takeover and karaoke night, live streamed performances from artists such as Newham Generals and Stormzy, and premiered documentaries including an intimate portrait of Skepta on his North American tour and a JME-hosted investigation into grime's relationship with the police.
Since stacking up six-figure viewings from the Youtube upload of his 'WickedSkengman' freestyles and the massive reaction to the independent freestyle release of single 'Shut Up', Stormzy has ignited a new generation of UK rap and gained an unprecedented amount of support from his contemporaries and fellow We Are Rockstars artists including Wiley and Skepta, claiming 'he is the future.' Whether it's being the first unsigned rapper to appear on Later with Jools Holland or winning the 2015 MOBO Awards for Best Male and Best Grime Act, this is a man who can make history. With both brands in hand representing the progression of UK music, history will indeed be made in Ibiza this summer as We Are Rockstars & Noisey Present #Merky.
Stormzy said: "It's gonna be good vibes, sick artists and some of the best UK talent. Hope to see you there."
Joining Stormzy on the first show in June is Radio 1 and 1Xtra's Charlie Sloth and BBC Sound of 2016 nominees WSTRN. Sloth declared "A Star is born" after Stormzy delivered his untouchable verse on the 'Fire In The Booth Cypher' – a key part of the surge in Stormzy's recent success. Charlie Sloth is a unique talent and a premier industry tastemaker, saying: "Can't wait to play the legendary Ibiza Rocks Hotel, it's gonna be a ZOO!! Party animal central and the line up is insane!!" Completing that line up is West London collective WSTRN whose debut single 'In2' caught fire last year scoring the trio a Top 5 UK chart hit.
WSTRN said: "We're really looking forward to shutting down Ibiza in June. The line up's mad so you already know it's gonna be one to remember. Big up Stormzy and Charlie Sloth… Hope everybody knows how to party!"
July will see Stormzy joined by producer, Radio 1 DJ and long-standing friend and champion of We Are Rockstars Toddla T. Summer wouldn't be the same without him and the feeling is mutual as Toddla T says: "I love Ibiza Rocks Hotel; the staff, the ravers are wicked and the fact Coco ended up shuffling on Bora Bora beach for 3 days non stop was worth the last trip alone." Joining the line up in July is newly signed Black Butter Records rapper J Hus. Having already scored nominations for MOBO's Best Newcomer and BBC Sound of 2016 plus racking up over 6 million streams a piece for singles 'Lean and Bop' and 'Dem Boy Paigon', J Hus is spearheading a new wave of young British rap acts in a big way.
In August it's MistaJam and Big Narstie who will command the We Are Rockstars stage with Stormzy. Big Narstie is currently celebrating the success of his massive collaboration with Craig David 'When the Bassline Drops' and it sounds like the crowd can expect big things from Big Narstie: "I can't wait to bring BDL to We Are Rockstars Ibiza on 5th August! Are you ready for the mayhem and the babes?! Let's have it!"
It was infact Mistajam's 60 Minutes Takeover with Kurupt FM on 1Xtra that brought Big Narstie and Craig David together. Mistajam is one of the most trusted voices when it comes to breaking new music in the UK and he's no stranger to the We Are Rockstars stage, having supported the shows from the start and saying: "Talk about Ibiza Rocks and We Are Rockstars you better #Party so it makes perfect sense Stormzy, Big Narstie and myself are teaming up to bring the #Vibes to #Merky."
Toddla T is Balearic bound with Stormzy for the final show in September together with incredible new talent Coco. After an appearance on Toddla T's Radio 1 show, the result was a no-hook, sub-heavy banger 'Target Practice' which had huge radio support from Charlie Sloth & DJ Target. Followed up with 'Big Bou Yah' and new single 'Big N Serious' Coco has secured huge critical acclaim and been named as 'one to watch in 2016.' Talking of performing Coco said: "Last year I performed 'Big Bou Yah' for the 1st time @ Ibiza Rocks, that record has changed my life, my bank, my diet and my wardrobe. I hope this year will do the same."
Jordan Hallpike, Head of Talent & Programming at Ibiza Rocks said: "One thing we're always focused on at Rocks is championing new talent. Stormzy first came to our attention a few years ago with his Wicked Skengman cyphers and it was clear he was a highly talented, super focused and creative MC. We gave him his first show supporting Dizzee in July last year and – blown away – we immediately invited him back in headline our Rinse FM show in August. What impressed us most was not only his skills and ability, but how professional and determined he was. 2016 is going to be his year, he's breaking out in a huge way and we're delighted to have him headlining his own #Merky parties this summer!"
Alex Hoffman, Head of Music and Global Executive Producer at VICE said: "Grime has been at the heart of Noisey's output for many years and we're proud champions of a scene that's rightly getting the attention it deserves. Stormzy shells it in every town he plays, so to come together with Noisey and We Are Rockstars in the party capital of the world is going to be a #problem."
A host of further line-up additions to the We Are Rockstars line up are to made over the coming weeks.
WE ARE ROCKSTARS & NOISEY PRESENT #MERKY 2016
Friday 3rd June
Stormzy / Charlie Sloth / WSTRN
Friday 8th July
Stormzy / Toddla T / J Hus
Friday 5th August
Stormzy / Mistajam / Big Narstie

Friday 9th Sept
Stormzy / Toddla T / Coco
TRAVEL INFORMATION
Three night stay at Ibiza Rocks Hotel including tickets to
WE ARE ROCKSTARS & NOISEY PRESENT #MERKY
JUNE from £95 per person (2ND – 5TH)
JULY from £150 per person (7TH – 10TH)
AUGUST from £170 per person (4TH – 7TH)
SEPTEMBER from £110 per person (8TH – 11TH)
Prices exclude flights.
Register for priority access to tickets at: www.ibizarocks.com/events/merky